Activists complain about Rs 5 lakh for 1 BHK flat ad under  Pradhan Mantri Awas Yojana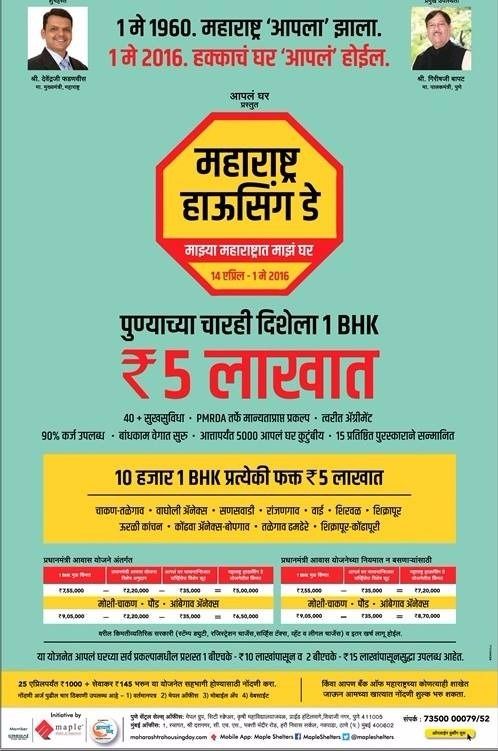 Pune, April 18 – Noted right to information (RTI) activist Vijay Kumbhar and BJP MP Kirit Somaiya has complained to the Prime Minister Narendra Modi, urban development minister M Venkaiah Naidu, Maharashtra Chief Minister Devednra Fadnavis, and Pune guardian minister Girish Bapat, about misleading advertisements last week for providing 1 BHK flat at the cost of just Rs 5 lakhs under the Pradhan Mantri Awas Yojana (PMAY ).
PMAY scheme does not allow any private organisation to invite process and decide priority of beneficiaries. Also there is no application fee or processing fee for applicant under PMAY. "Even then Maple Group Pune has invited application form to participate in PMAY along with 1000 rupees processing fee. As per their press release they expect to receive around 1 lakh applications. This is absolutely wrong, unfair and  nothing but ploy to loot money from poor people," Kumbhar said.
Though the builder has clarified in small fonts that it was not government scheme but an initiative announced by Maple Shelters under PMAY. However they have cleverly used photos of Prime Minister Narendra Modi, Chief Minister of Maharashtra Devendra Fadnavis, and Guardian minister Girish Bapat. The advertisement also claims that applicants will avail subsidy of Rs 2.20 lakh under PMAY scheme.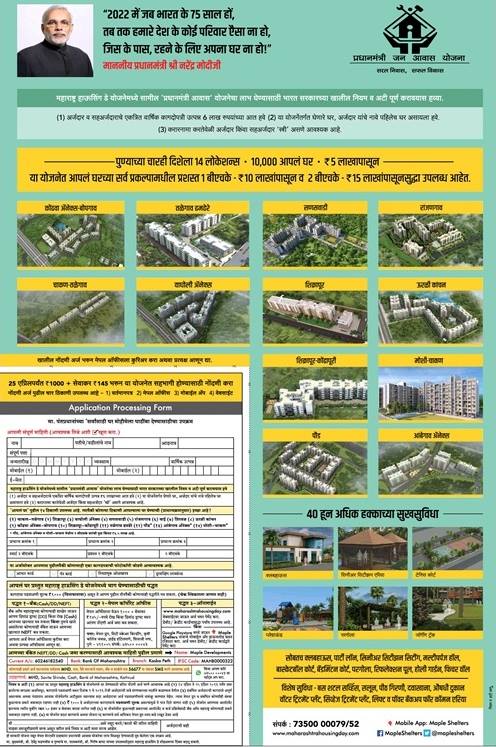 Actually as per PMAY guidelines implementing agencies are the agencies such as Urban Local Bodies (Municipal Corporation), Development Authorities, and Housing Boards etc. which are selected by State Government/SLSMC for implementing Housing for All Mission.
Accordingly government of Maharashtra has announced Maharashtra housing and area development authority ( MHADA) as a nodal agency. Also surveying and assessing of demand houses, inviting application forms, processing it and deciding priority of applicants is local self-governments job. No private entity can invite application to participate in PMAY scheme.
Kumbhar further said, "Advertisement also misleads people that families having annual income up to Rs 6 lakh will get subsidy on 30 metre house. Actually there are two types of beneficiaries EWS and LIG. EWS households are defined as households having an annual income up to Rs 3,00,000 (rupees three lakh). States/UTs shall have the flexibility to redefine the annual income criteria as per local conditions in consultation with the Centre. Accordingly Government Maharashtra has increased annual income of EWS category from 1.8 lakh to 3 lakh rupees per year. And LIG households are defined as households having an annual income between Rs.3, 00,001 (Rupees Three Lakhs One) up to Rs.6, 00,000 (Rupees Six Lakhs)."
As per PMAY affordable housing in partnership scheme only EWS category applicants are allowed to avail subsidy for 30 meter house. For LIG people there are other schemes. From Maple Group's advertisement it appears that they are offering benefits of EWS category to LIG and above category. Also deciding price of units under this scheme is job of state level sanctioning and monitoring scheme and that depends on lands given on subsidized rates and other concessions. So no private entity can decide price of flats under PMAY scheme.
Preference under the Scheme, subject to beneficiaries being from EWS/LIG segments, is to be given to manual scavengers, women (with overriding preference to widows), persons belonging to scheduled castes/scheduled tribes/other backward classes, minorities, persons with disabilities and transgender.
"Deciding such preference is also government's job and no private entity has right to do that. In short Maple Group of Pune has misled the people by using name of PMAY scheme, photos of ministers. As per their estimate if one lakh people register for scheme with Maple they will get 10 crore rupees non-refundable, more over most of them will get cheated as they will not get houses under PMAY. Therefore the government must take action and save innocent and poor people from being cheated," Kumbhar demanded.
#Savdhan House @ ₹5 lac Aaple Ghar….Be Careful of such Dubious Offers/MisSale presented as Govt Schemes pic.twitter.com/W5hTyCWX9u

— Kirit Somaiya (@KiritSomaiya) 17 April 2016