FACE OF INDIA SEASON 2 in PUNE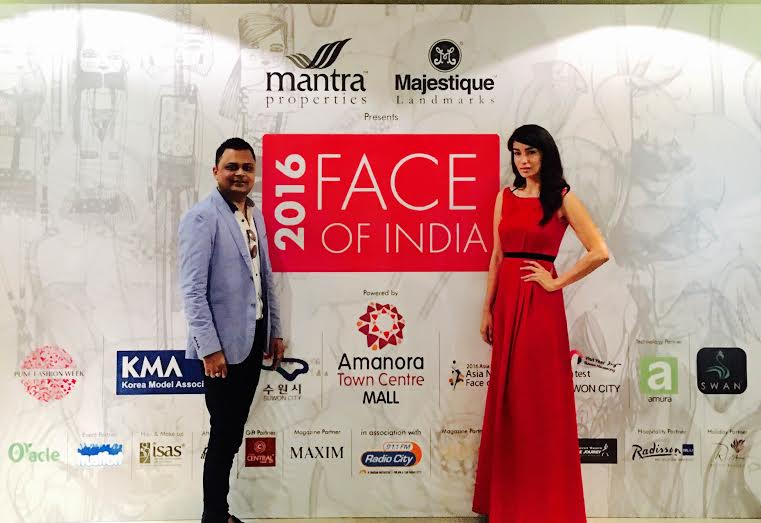 In association with KMA an affiliate of Ministry of Culture & Tourism, Republic of South Korea At Amanora Town Centre
participants from across India to be present
Pune February 11, 2016; The whole world of fashion, glamour and culture will be watching, as contestants from across India battle it out to become the Face of India.
Badal Saboo, Founder – Pune Fashion Week in association with Korea Model Association [KMA] today officially announces Face of India 2016 season 2 dates . This is the second time that India is participating in the Asia New Star Model Contest, the largest and most prestigious platforms in Asia's fashion fraternity.
KMA is an affiliate of Ministry of Culture & Tourism, Republic of South Korea, and KMA is a non-profit organization established in 1976 for the purpose of promotion and protection of Models' rights & interest and related business. There are twenty five participating countries namely: Mongolia, Korea, Philippines, Malaysia, Myanmar, Indonesia, Kazakhstan, Uzbekistan, Kyrgyzstan, India, China, Hongkong, Thailand, Japan, Vietnam, Cambodia, Taiwan etc. KMA has been organizing Asia's largest Model Festival called Asia Model Festival for the past 10 years.
The previous season of FOI turned out to be a grand success and was widely appreciated, moving towards yet another exciting season, Face of India strives to bring the best of opportunities for aspiring models from all over the country who are registering through the website www.faceofindia.in for FOI 2016.
The auditions will take place at Amanora Town Center where 15 male and 15 female models will be selected through online screening out of the 3000 entries that FOI has received. There will be five to six jury members pertaining to the fashion industry along with a few models and celebrities to add on to the glamour. The contestants who enter the final round get to wear the famous Korean clothing designer brand Heil.
Based on the talent and country-wide voting, male and female contestants will be selected for the final round. Delegates from Korea Mr. Yang Eui Sig[Chairman KMA], Ahn Mee Ryu [President of KPMJIA], Yang Hae il [Fashion Designer], Park Sungki [Maxim Magazine] to name a few will be a part of the jury for the upcoming event in Pune
This season, Badal Saboo brings MBC, Korea's best academy's CEO Mr. Kim Chae Ho & CEO of Xeo Hair, Shin Yong Jin, organising hair & make up seminar for the participants.
Face of India Season 2 is set out to be an even bigger celebration than before scheduled on 14th February 2016 at Amanora Town Centre, Pune. 2016 Face of India winners will represent India and will compete with the delegates from twenty five Asian countries for ASIA NEW STAR MODEL CONTEST 2016 at the ASIA MODEL FESTIVAL 2016, Suwon Gymnasium, Sports Complex, South Korea.