GLOBALLY REVERED COUTURIER & ACE FASHION DESIGNER SALIM ASGARALLY's FASHIONABLY EXCLUSIVE PREVIEW UNVEILING OVER AN EXQUISITE HORS D' OEUVRE n PORTATA PRINCIPALE CONNOISSEUR EVENING @ THE OLIVE CANVAS WITH RANJIT RODRIKS AND HIS SIX MUSES DEDICATED TO QUINTESSENTIALLY ICONIC ARTISAN KALPANA LAJMI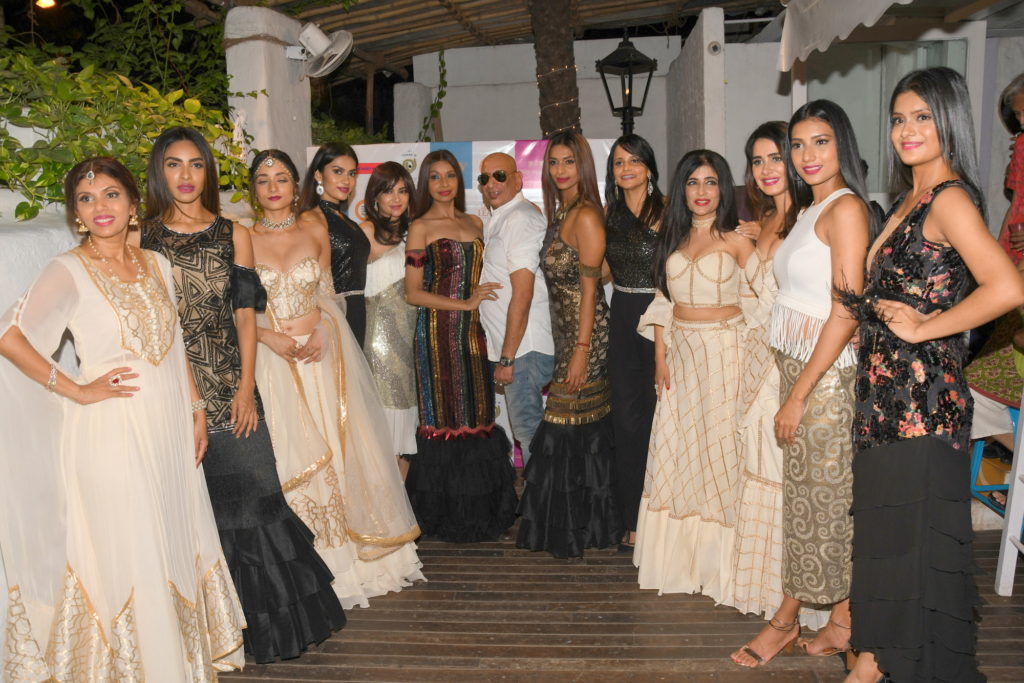 25th September, 2018 in Mumbai- Leading light of Indian Fashion landscape Designer Salim Asgarally previewed his festive collection at Olive Bar & Kitchen on Tuesday night ,noted film maker Vinita Nanda , Kaushik Shrimankar were present.
To salivate the craving for everything precious & luxurious, the festive collection for 2018-19 spans all three labels- Salim Asgarally Couture, Salim Asgarally Pret-a-Porter & Essay By Salim Asgarally.
Salim Asgarally says " Nothing feels better than creating beautiful garments, especially when they are to be showcased by such beautiful & powerful women which my muses are ! & deeply saddened by the demise of my dear friend & mentor the late Ms Kalpana Lajmi, film director & writer, I dedicated this collection to her memory"
Salim Asgarally Couture specializes in gold & silver sequins adorn georgettes and nets coupled with the swirl of ruffles and box pleats in a range of Kaftans, skirts , cropped tops and shirts. A monochromatic line, whites & blacks dominate the color palette in a range of kaftans, skirts & tops, evening gowns, long & short dresses, shirts, lehenga cholis, jumpsuits& kameezes. Assymetric & long flowing silhouettes coupled with the swirl and flounce of ruffles & box pleats add to the sharp look of the line. A combination of style and embellishment, the couture line brings together vintage glamour with a modern day sensibility.
Essay By Salim Asgarally is for the young and brave at heart. Bold & beautiful,  it is both edgy and youthful in look and style. Jumpsuits, corsets, capes, long jackets worn over bell bottom pants and tulip skirts and short mini dresses dominate the range. Floral printed georgettes and digitally printed assamese silks have been used to fashion these pieces. Blues, purples, pinks and blacks is the color palette here. Blues, purples, pinks and blacks is the color palette here.
Salim Asgarally Pret-a-Porter is known for its style, cut and drape. Less is more, is the dictum. Creams, whites, neutrals and pastels such as lilacs, soft pinks, and lemons in tandem with gold & self detailing and delicate cut work embroidery mark the collection as elegant, wearable and stylish. Body flattering silhouettes have been used with emphasis on sleeve styling to add to  the charm of the collection. Ruffled and off the shoulder pieces add to the drama. Linens, Mull Mulls (fine Indian cotton) and georgettes & nets have been used in interesting combination to fashion one of a kind Lehenga sets, Corsets , Kameezes , Shararas, shirts, tunic dresses, tops & capes fashioned for both day and evening dressing.This range has it all, both for the bold and also the not so adventurous woman.
About Salim Asgarally- Trained extensively at the Fashion Institute of Design and Merchandising and the University of California  Los Angeles , Salim Asgarally is one of India's first formally trained fashion designers.
Salim Asgarally's creativity and genius span the broad spheres of Bollywood design, Styling, Diffusion, he has styled celebs like Freida Pinto, Aishwarya Rai Bachhan, Bipasha Basu, Simi Garewal & many more.
His creations can  be found on the racks of chic fashion houses such as OGAAN  Mumbai and New Delhi  , ZOYA  & FUEL in  Mumbai  Pune & Ahmedabad  , IRIS & SADE in Pune , FFOLIO Bangalore, and SAUCE  Dubai , besides  his own studio in Mumbai.