India here is new achievement for you – Shital Mahajan becomes first Indian civilian woman HALO jumper
Pune – In yet another feather in her cap, ace sky diver and Padhma Shree awardee Shital Mahajan from Pune has become the first Indian civilian woman High Altitude Low Opening (HALO) jumper.
The feat was achieved on May 20 in the United States of America (USA) when Shital did skydiving from 30,500 feet in minus 35 degree Celsius and the enjoyed the longest free fall in Skydiving of life 2 minutes 20 seconds.
Shital who is also referred to as the jump queen, has already 5 World records & 17 National records to her name. In a report published on May 18, Punekar News had reported about Shital's plan of the HALO jump and her travel to San Francisco, USA.
After her feat in the USA, Shital posted on her Facebook wall, "My Country… My Pride…India here is new achievement for you…First Indian Civillian Woman HALO jumper. High Altitude Low Opening jump…Did Skydiving from 30000ft in minus 35 degree Celsius enjoyed the longest free fall in Skydiving of life 2 minutes 20 seconds…amazing feeling… fingers got frozen for some time and ear gor pressurized for some time but it was worth to get that thrilling experience of skydiving from 30,000ft…. with oxygen mask on…where commercial aircraft flies.. troposphere ends… woh…. life time experience."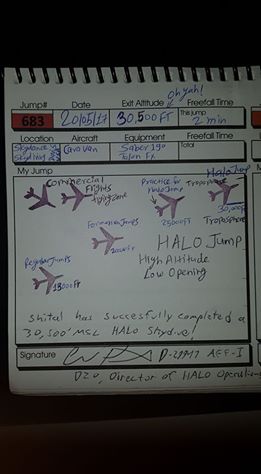 Shital Mahajan was born on September 19, 1982 at Pune in the Western Indian state of Maharashtra to mother Mamta Mahajan, a housewife, and father Kamalakar Mahajan, a machine worker at Tata Motors. She received a BSc in geology from Fergusson College in Pune. Inspired by the feats of a friend's brother, she developed a fascination with para jumping. Her first jump was on 18 April 2004,
Shital is married to Vaibhav Rane, a software engineer working in Finland. The marriage ceremony was performed on a hot air balloon, 600 feet above ground, on 19 April 2008, a feat which has been recorded in the Limca Book of World Records. The couple has two sons.