MP Anil Shirole to get the state-of-the-art automatic Public e-toilets in the city from his fund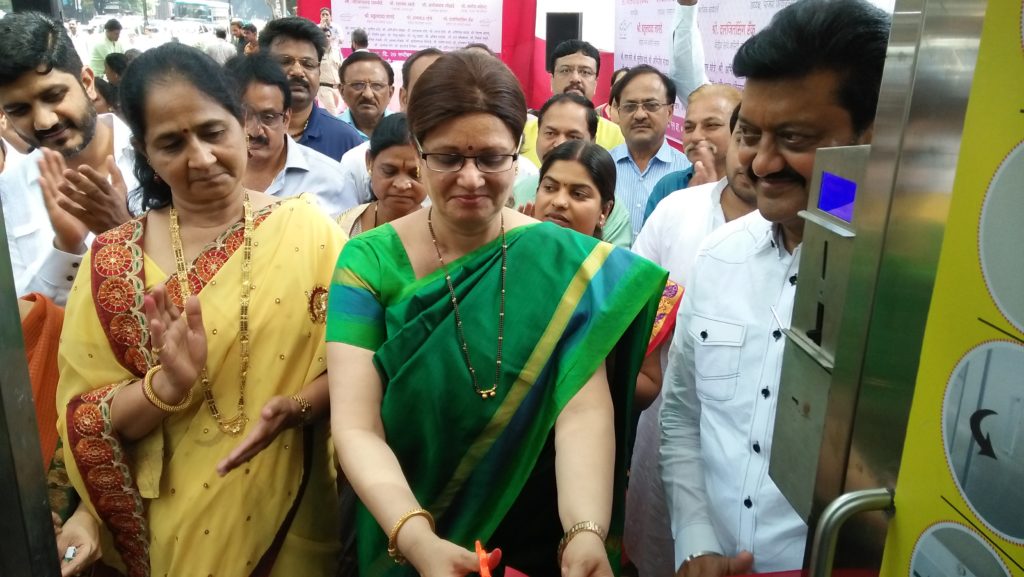 Pune, September 20, 2018: With the aim of providing clean and hygenic toilets in the crowded public areas in the city, Pune's MP Anil Shirole has initiated the state-of-the-art and automatic e-toilet facilities in the city. The first set of e-toilets were inaugurated at the hands of Mukta Tilak, Mayor-Pune stationed on Jungli Maharaj (JM) Road, opp. Hotel Shiv Sagar today.
Anil Shirole, Member of Parliament (MP) , Sidhaarth Shirole, PMC corporator and Director, PMPML, other Corporators namely; Swati Lokhande, Neelima Khade, Jyotsana Ekbote, Bernard Andrade, Senior Manager-Marketing, Eram Sceintifc Solutions and Vishal Kadam and Aditya Chaskar of Ashoka Developers were present during the occasion.
Speaking on the occasion, Mayor Mukta Tilak expressed, "This initiative undertaken by Anil Shirole is a great step and will surely contribute in making Pune a smart city. Such compact and highly functional e-toilets are the need of the hour in the city. They will not only prove beneficial towards clean and hygienic sanitation but also give easy and comforting experience to the users, especially females."
While talking about the initiative, Anil Shirole stated, "Sanitation has always been one the grave issues. Just setting up public toilets isn't always enough. Its cleanliness and hygiene are always questionable given its untimely maintenance. But with these automated self-maintaining e-toilets, I am sure city will get good hygienic sanitation facilities. I strongly believe that difference can be made starting at an individual level and so decided to initiate these e-toilets for Public."
Siddharth Shirole explained the working mechanism of the e-toilets. He highlighted that using these toilets is hassle free and just by inserting any coin of 50 paisa, 1, 2, 5 or 10 rupees one can open the door and use the toilet. "The e-toilet completely works on Human sensor mechanism. It self-flushes the toilets before and after every use. Also, after every few uses the floors are automatically flushed clean. Being an e-toilet, its is linked with app through internet giving live update regarding the usage or any fault in sewage management."
He further informed,"I am grateful that a total of 2.25 crores of Anil Shirole city development fund is invested towards better sanitation. The entire set up, mechanism and installation of e-toilet has been built by Eram Scientific Solutions with help of Ashoka Developers. They will also maintain and manage the e-toilets for constantly keeping the pleasant user experience."
There are separate e-toilet for both men and women keeping cleanliness in mind. For water, each 300-liter water tank has been installed on each toilet. Along with this, the toilets are well attached to the drainage line.
In the first phase, such 14 e-toilets will be installed at 10 different locations in the entire city. Among these, 2 all women e-toilets have been installed opp. Hotel Shiv Sagar on JM Road and other 2 e-Toilets (1 Ladies and 1 Gents) are stationed at Model Colony near Om Supermarket. Other locations of the e-toilets are FC road opp Rupali hotel, Hirwai Garden, Shivajinagar court, Senapati Bapat road, under Warje flyover, Nilayam Talkies Bridge, Viman Nagar and Sinhgad road near Sewage Treatment Plant.