NEETU KHOSLA APPOINTED BRAND AMBASSADOR OF OMPTCON INTERNATIONAL CONFERENCE
March 13, 2018
Mrs Neetu Khosla, Mrs India Universe 2017 – World addressed the International Conference on Orthopaedic Manual Physical Therapy (OMPTCON) on women empowerment as the brand ambassador. The event was organised by AOMPT and was held in Jamia Millia University, New Delhi on 11 March 18.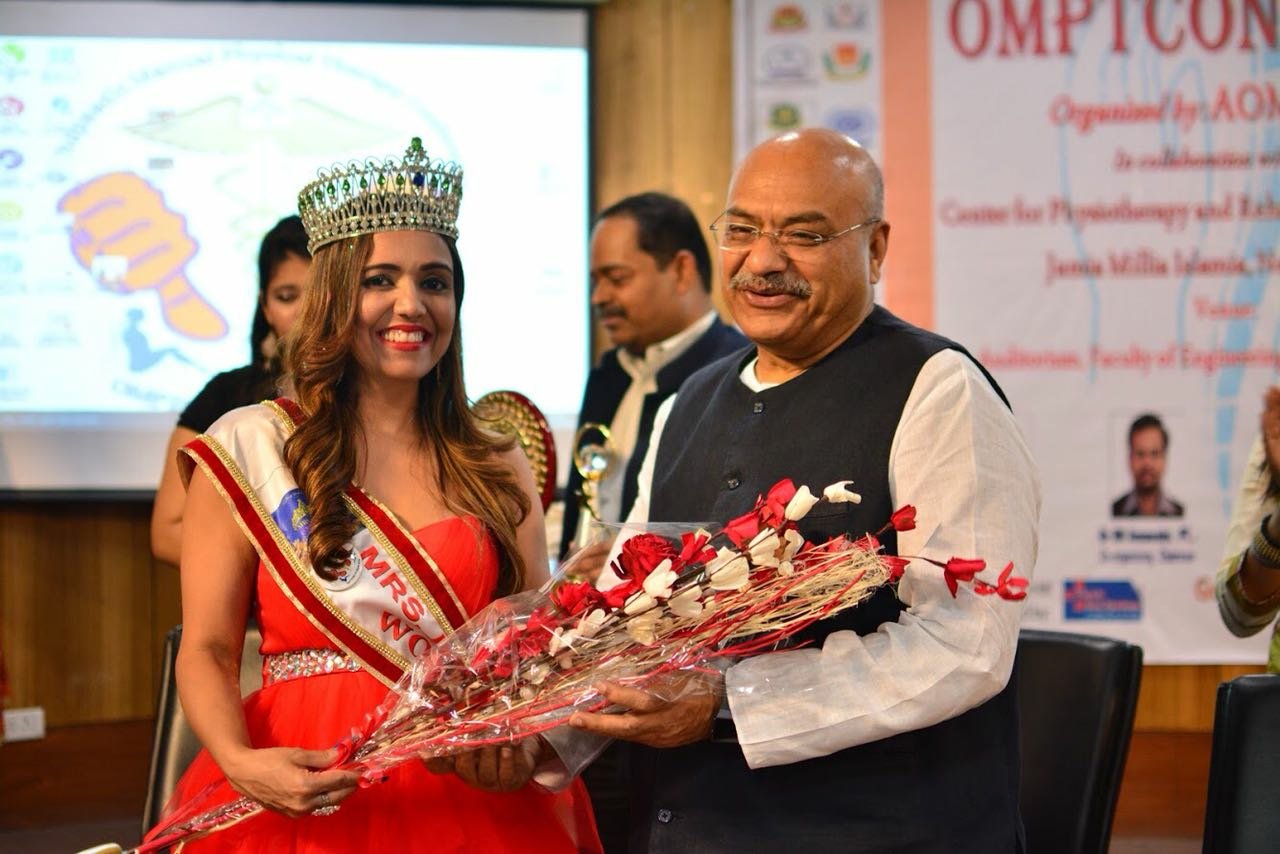 Mrs Neetu Khosla spoke about the empowerment of women in our country. She brought out that women face immense hardships in their lives right from birth, then as a girl and then as a woman being a wife, a mother and as a career woman. She is at the receiving end if she works or if she doesn't. All the trials and tribulations in the family are the responsibility of the woman. Inspite of these challenges Mrs Neetu Khosla said that every cloud has a silver lining and on a positive note things are changing, albeit slowly, with more and people getting educated. Today women are breaking into the bastions of men and are able to compete with men in almost all spheres of life.
Mrs Neetu Khosla was felicitated by Shri Sudhanshu Mittal, Vice President of Indian Olympic Association (IOA) and also by Dr KM Annamalai, Vice Chancellor of Gandhigram University during the event in which 400 physiotherapists from across the globe participated. The main aim of the conference was knowledge transformation through professional collaboration in the field of Orthopaedic Manual Physical Therapy. Mrs Neetu Khosla brought out that Physiotherapy is a dynamic and evolving profession and plays a vital role by contributing to the economic development of the nation by serving the community and helping to alleviate the socail burden.
Mrs Neetu Khosla was appreciative of the tremendous efforts Mr Senthil P Kumar and Dr Neeraj had put to make the conference successful and commended the organising committee for putting up a smooth and seamless event which saw internation participation. She was also thankful to Mr Ejaz Hussain, the Director of Center of Physiotherapy and Rehabilitation Science in Jamia Milia University. She also brought out the important role of Dr Rizwana Sanam, MD of KRV Healthcare and Physiotherapy Pvt LTD.
Mrs Neetu Khosla was especially grateful to Mr Senthil P Kumar, Sharda University, for introducing her to such a important branch of medicine which she could now see from such close quarters.