PRINCIPAL CONTROLLER OF DEFENCE ACCOUNTS (OFFICERS) MEETS ARMY COMMANDER SOUTHERN COMMAND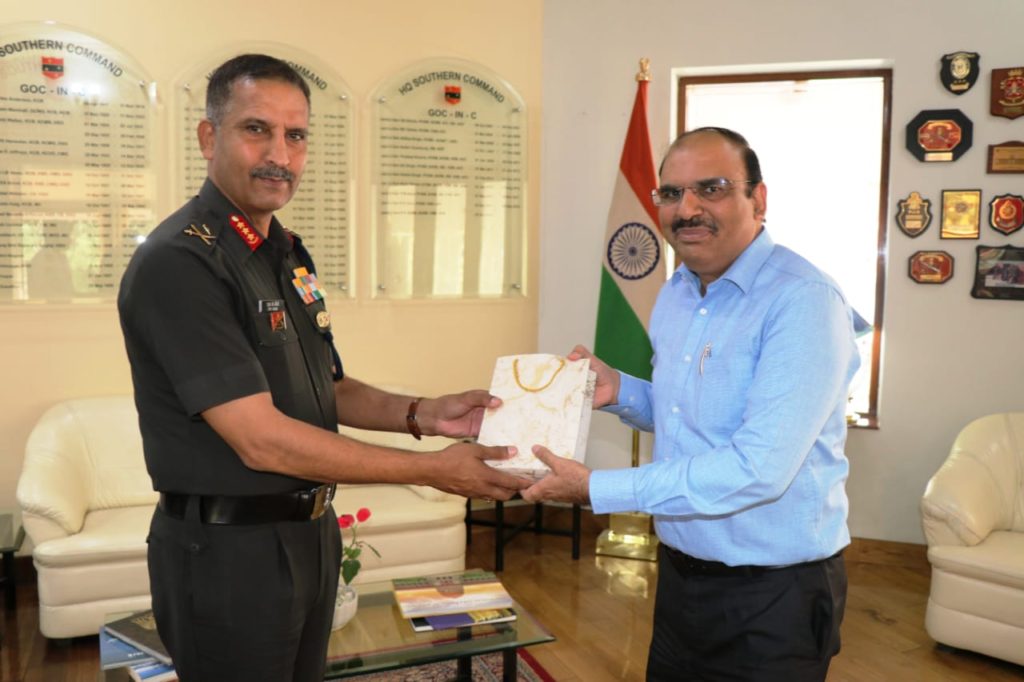 Pune, 13 FEBRUARY 2019 – Mr RK Arora, an Indian Defence Accounts Service officer, has taken over as Principal Controller of Defence Accounts (Officers) on 11 February 2019. On assuming his new appointment, Mr Arora visited Headquarters Southern Command on 13 February 2019 and interacted with Lieutenant General SK Saini, Ati Vishisht Seva Medal, Yudh Seva Medal, Vishisht Seva Medal, General Officer Commanding-in-Chief, Southern Command in his office.
The Army Commander congratulated Mr RK Arora on assuming the coveted appointment of Principal Controller of Defence Accounts (Officers) & welcomed him to the station. During the interaction the Army Commander drew the attention of Mr Arora on various issues regarding the pay and allowances of the service officers like admission of Leave Travel Concession (LTC) claims for journeys whenever a new home town was selected by the service personnel, inclusion of Military Service Pay as part of basic pay for the purpose of computing the amount of leave encashment on retirement, pay fixation anomalies of the serving officers especially Lieutenant colonels and exemption of ration money allowance from Income Tax.
The Army Commander also brought to the notice of PCDA (O) some long pending issues such as clarification on Date of Next Increment (DNI) for the officers, interpretation of Junior Officer for stepping up of pay and implementation of bunching of stages in 7th CPC for Army officers as done for Air Force.
Lt Gen SK Saini also addressed the issues concerning the veterans / officers who were about to superannuate like Notional fixation of pension of Pre – Jan 2016 pensioners and timely release of closing credit balance in respect of officers who are retiring from service.
The Army Commander also brought out that there is a lot of scope in simplification of various procedures for pre-audit of claims and requested Mr Arora to identify such areas and simplify them. He also suggested digitisation of pay related documents especially old and archival records for ease of accessibility by the officers. The Army Commander suggested that interaction of officers with Principal Controller of Defence Accounts (Officers) staff be encouraged for resolving various issues and emphasised the need to speed up the clearance of claims of serving officers and final claims of officers proceeding on retirement. In the end the Army Commander wished Mr RK Arora a very fruitful and rewarding tenure.
********
—
Regards,
Mahesh Iyengar
PRO(Defence), Pune