Wind and Solar hybrid energy project set up at PMPML Swargate depot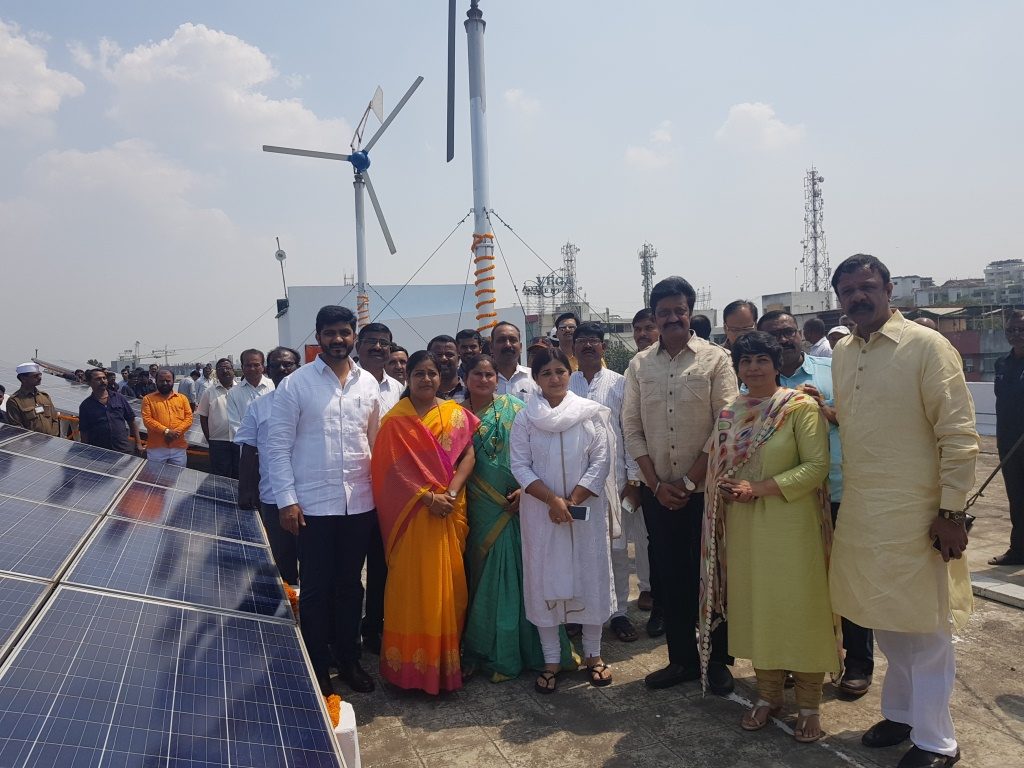 Pune, October 11, 2018 : A wind and Solar hybrid non-conventional energy project is set up on the terrace of PMPML Swargate depot. The system of the capacity of 35 KW can generate the energy of 3,83,250 KWh in next 10 years, providing green power and making savings in electricity bills for PMPML. The fund of Rs. 1 Cr. and 10 lacs for this project was given by Anil Shirole, MP through his Local Area Development funds.
A formal inauguration of this project was done today at the hands of Madhuri Misal, MLA in the presence of Anil Shirole. Siddharth Shirole, Director, PMPML, Nayana Gunde, Chairman & Managing Director, PMPML, Ajay Charthankar, Joint Managing Director, Shrinath Bhimale, leader of the house in PMC, Ajay Khedekar, Kavita Vairage, Rajashri Shilimkar, Corporators, PMC were present among the dignitaries. Along with this project, a servicing workshop shed at Swargate depot is also inaugurated today. The roof of the shade is fitted with solar panels and this shade has also been funded by Shri Shirole' MPLAD fund.
The project consists of the systems of capacity generation of 20 KW Wind and 15 KW Solar energy. The entire system can generate average 80KWh energy daily during the trial phase which can be increased to average 110 KWh daily. So, 3,83,250 KWh generation is expected in next 10 years amounting Rs. 53,65,500. The life of the system is approximately 25 years.
Anil Shirole pointed out the issue of global climate change and the importance of Green Energy in today's times. ''The renewable energy sources like Wind and Solar power are the gifts of nature to us. I feel that the governmental institutions should inculcate this environment friendly approach, so that they will become a role model for the rest of the society. PMPML is the lifeline of Pune and I wish that it becomes more and more environmentally greener in the coming days,'' He said. Anil Shirole has also provided 100 passenger friendly bus stops to PMPML from his MP fund.
Siddharth Shirole said that this non-conventional energy project will help to reduce the cost and increase the non-operational income of PMPML. He also said that PMPML is inclined towards CNG and Electric buses and promotes Green Energy.