Home Minister Deshmukh appreciates Pune Police, survey finds 83% Punekars satisfied with Pune Police work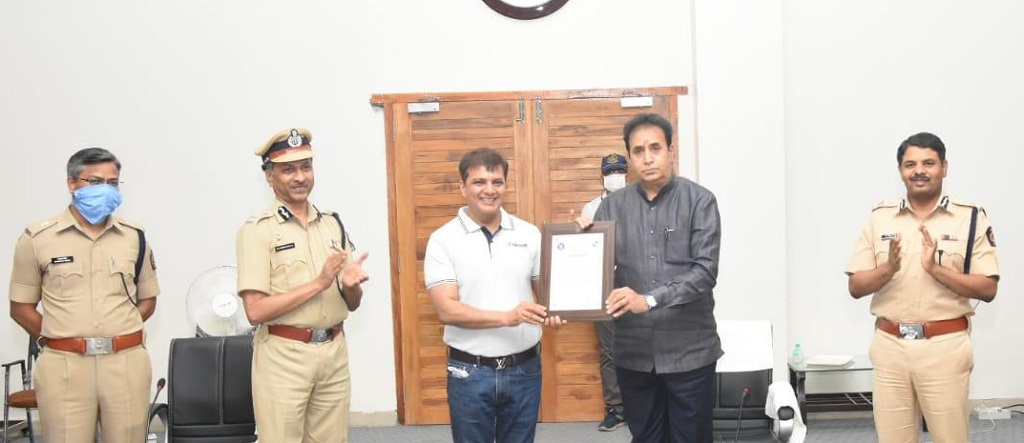 Pune, June 7, 2020: Pune Police have received the appreciation of the Maharashtra Home Minister Anil Deshmukh, as an online survey has shown that 83 percent of the people in Pune have expressed satisfaction over the work done by Pune City Police.
Deshmukh held a meeting at the Pune Police Commissioner office today to review the law and order situation in connection with Covid-19 epidemic. He also released a booklet 'Public Pulse Survey' prepared by the Pune Police Commissionerate.
At this time, Pune Police Commissioner Dr K Venkatesham, Pimpri Chinchwad Commissioner of Police Sandeep Bishnoi, Superintendent of Police (Rural) Sandeep Patil, Joint Commissioner of Police Dr Ravindra Shisve, Additional Commissioner of Police (Crime) Ashok Morale, Additional Commissioner of Police (West Region) Dr Sanjay Shinde, Additional Commissioner of Police (East Region) Sunil Fulari, DCP (crime) Bachchan Singh and other senior officers were present.
Home Minister Deshmukh appreciated the officers by saying that he was proud that many police officers and employees in the state have shown sensitivity, and improved the police department's image, citing examples of police initiatives and works across the state. Earlier in the day, he visited Tadiwala Road and other containment zones, interacted with the citizens, and expressed satisfaction over the police work. He appreciated the Pune City Police for appointing 5,500 special police officers to assist the police during the lockdown period.
He said that information should be collected along with photographs of the officers and employees who are doing an excellent job in Pune district so that a coffee table book can be prepared on behalf of the Maharashtra Police Department. He further said that those who spread false information during the lockdown period should be prosecuted, and strict action should be taken against those who spread rumours and create fear and a social rift.
Pune Police Commissioner Dr K Venkatesham, Pimpri Chinchwad Police Commissioner Sandeep Bishnoi, Pune Jt CP Dr Ravindra Shisve, Superintendent of Police Sandeep Patil gave information about the measures taken to maintain law and order in urban and rural areas during the lockdown period. They also apprised the minister of the work done for the travel of students, migrant labourers and other people as well as the measures taken for public awareness.
The Zonal Deputy Commissioners of Police of Pune police who were also present on the occasion, informed about the implementation of the lockdown, and the necessary facilities provided to the citizens. At this time, the police officials informed the Home Minister about providing food kits to the needy migrants, issuing travel permit passes, provision of vehicles, etc.
Pune Police is going to impart online training to the children of police personnel to enhance the quality of school education. Arunesh Kumar, Assistant Vice President, Business, Baiju Education Technology Company, who provided technical assistance, was felicitated today.
Arun Nathani, Chief Executive Officer, Cybage Software, which developed the digital pass system for issuing travel passes during the lockdown, under the leadership of Deputy Commissioner of Police Bachchan Singh, was also honoured with a certificate of appreciation.
Home Minister Deshmukh also appreciated Pune Police's Sanjeevani Van prepared for disinfection of police personnel, COVID contact tracing cell, and detection of patients by collecting information on customers purchasing medicines.