Is TikTok a free video sharing application?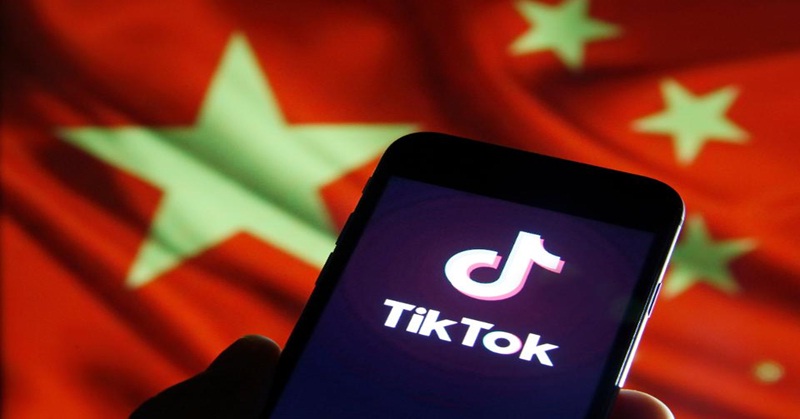 Rahul Shitole
Pune, June 21, 2020: As Anti-china sentiments are growing across the nation, many Indians are boycotting Chinese products, many state and central authorities have started cancelling tenders given to Chinese companies. TikTok has just crossed over a billion downloads across the globe, that means around 14% earth's population has this video sharing app in their Smartphones. Now the question come IS THIS REALLY A FREE & SAFE APP? 
Answering this question seems pretty simple for its users as almost everyone answered, "YES IT IS FREE" but here comes the little tweak and by the end of this article we will prove you that the app is not Free instead probably the most expensive app you have ever used.
Company Introduction: Before starting our investigation, lets first understand their parent company and its products. ByteDance, (parent company of TikTok) is a china based AI company. Their primary product is neither TikTok nor Helo, but Key product of Bytedance is their ALGORITHM, their AI which is built on DATA which they collect from us through their apps like TikTok.
So next question will be even Google is an Algorithm company, and they are also building their AI-based out of collected Data. So why should we worried about TikTok and not Google, to answer this question lets find out what data this video sharing app is collecting?
Data Collection : 
In Google Play Store they have asked for Camera, Contacts, Microphone, Storage fairly the kinds of stuff required for a video sharing app. But wait, this is not everything we went through their privacy policies to identify are they accessing and storing any other sort of data, and we are shocked after reading their privacy policies. Here is what we have found: https://www.tiktok.com/legal/privacy-policy?lang=en#privacy-us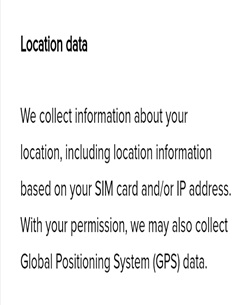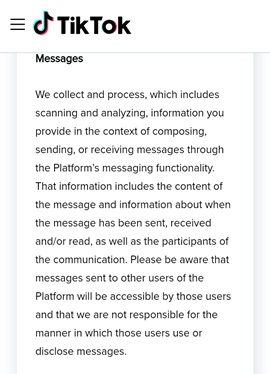 It says TikTok can collect and store our data such as "Geo-Location, IP address, Browser History, Data from other social media automatically "WITHOUT BOTHERING TO ASK YOUR PERMISSION" Most shocking point is "TikTok" is collecting data directly from your "SIM CARD" and no one knows about it, no one even talks about it. They are also collecting and storing your "Messages", the interesting point to consider is what is the necessity to store messages for a video sharing app??? Storing these data means they know everything about you, from your likes, dislikes, your earnings, spending's, Sim card related information that is everything for a person. So now what you think, "Is this app free?" 
"Data is the new oil" once said by Reliance chairman Mukesh Ambani. As we know, "ByteDance is an Algorithm company so they are surely going to use your data to build their AI". Now let's see if your data is Safe or not?
Data Security :

We are out of our words when we went through their data storage and security. TikTok is using HTTP server and not HTTPS, that means your data can easily be hacked or it can be easily given to our Chinese counterpart. You don't believe is just go through this: 

https://www.imore.com/developers-spoofed-tiktok-server-and-replaced-real-videos fakes#:~:text=The%20gist%20is%20surprisingly%20simple,That%20means%20there's%20no%20encryption.

 

China Perspective :

As we all know China is not a free country in fact in Free press index, countries like Saudi Arabia, Oman are way ahead of China. But China wants to be a superpower in AI by 2030.
As per China's Plan, their IT industry will be focused on 3 sectors. Let's talk about "NATIONAL SECURITY", China is implementing its AI against its People, We saw what they did in Hong Kong "By using facial recognition technology they have identified and probably killed the protesters". The same AI is used in "Tibet". You will ask China is doing it with its people why show we worry about it right? So here is the answer 
Your entire data is stored with China and the Chinese government can access it any time against you. With the kind of Data, they have they can do anything and we will be helpless to stop that cyber-attack. 
Conclusion: We are not going to tell you whether to delete this app or not, it is your decision and you are smart enough to take the right decision. Coming back to our initial question, IS THIS APP FREE AND SAFE???? The answer is TikTok is neither safe nor Free.  How much money you are spending to use the app will be determined after India face any loss due to Data breach but it surely going to be more than 15 Lakh Rs. Not just TikTok but we should be smart enough to check what kind of data these companies are taking and delete any such app immediately. So while supporting #BanChina also take a look at this side. 
(Rahul Shitole is CEO of Pune-based CityGlide Auto. You can tweet about your thoughts @rahulshitole11)