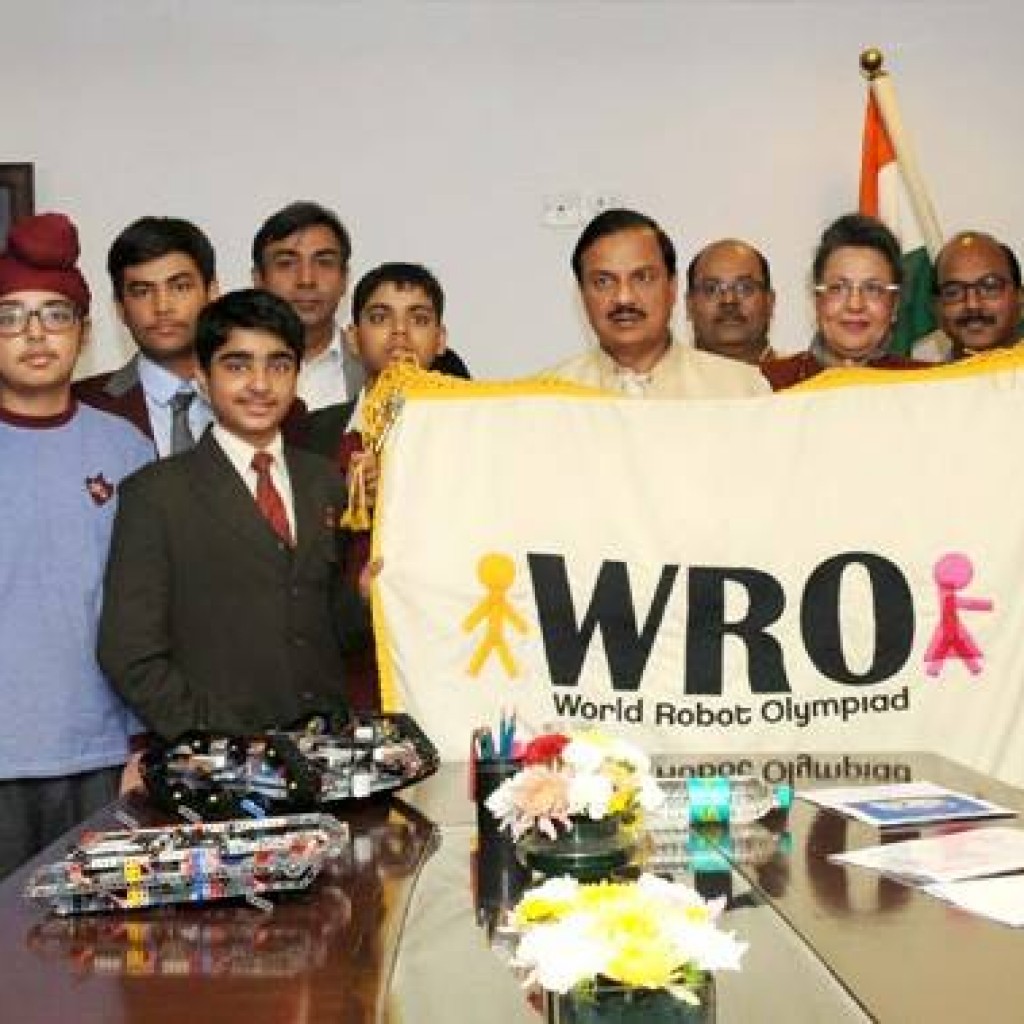 Dr Mahesh Shrama Meets Indian Medal Winner Students of World Robot Olympiad – 2015
Indian Students, who won Medals in "12th World Robot Olympiad-2015" held in Doha, Qatar from 6th – 8th November 2015, called on Dr. Mahesh Sharma, the Minister of State (Independent charge) for Culture and Tourism in his office here today. The theme of this year's World Robot Olympiad was 'Robot Explorers'. Students representing more than 55 countries participated in the event. The winner students shared their experiences with the Minister. The Minister interacted with the winners and wished them grand success in the forthcoming events.
'13th World Robot Olympiad' will be held in Delhi during November, 2016 for the first time. It will be organized by National Council of Science Museums (NCSM) with India STEM Foundation (ISF).
First time in the history of World Robot Olympiad, Indian students won three medals (1Gold & 2 Silver) and one position (Eighth) in the WRO- 2015. Team India Storm Divers and India Thunder Divers from Ahmadabad won 1st and 2nd rank respectively in Elementary category and Team India Shadow Bots and Path Finders from Delhi won 2nd and 8th rank respectively in Open category. To showcase their talent and creativity teams from over 225 different schools across India participated in this event.
Team India Storm Divers (Elementary category) (Ranking-1) includes Aaman Shah, Aarav Savla, Shaurya Goenka from Ahmedabad; Team India Thunder Divers (Elementary category)(Ranking Two) includes Vir Gandhi, Ishan Patel, Param Adani from Ahmedabad; Team India Shadow Bots (Open category) (Ranking Eighth) includes Jayant Sharma, Aman Thakur, Rohan Verma; and Team India Path Finders (Open category) (Ranking Eighth) includes Dhariya Gupta, Ishaan Saini and Laxman Prasad. The Indian delegation was led by Smt. Arvind Manjit Singh, JS (Culture).
NCSM, an autonomous society under Ministry of Culture administers 25 Science Centres/Museums/Planetariums spread all over India. All having its Regional Centres and District Level Centres called Satellite Units (SUs). ISF is an organization engaged in generating interest among students towards computer science, science, technology, engineering and mathematics (CS-STEM) through the innovative use of Robotics learning platform and other research based hands-on learning tools.