75 GLORIOUS YEARS OF MILITARY INTELLIGENCE TRAINING SCHOOL AND DEPOT (MINTSD)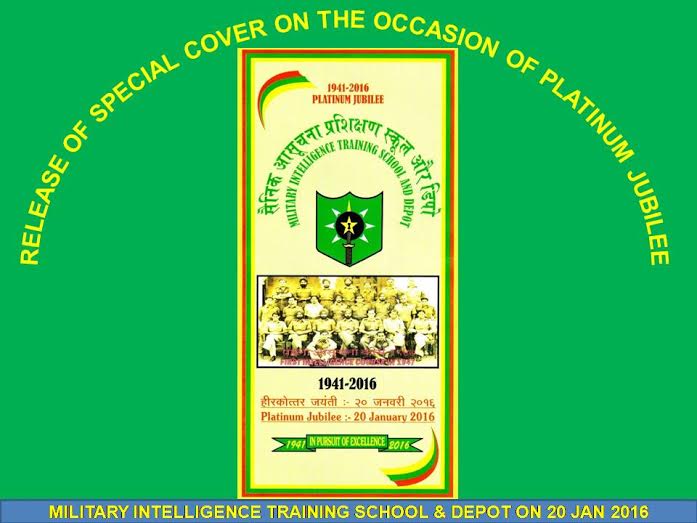 The premier Military Intelligence Training School & Depot (MINTSD) which trains the intelligence professionals of Indian Army, Navy, Air Force, Para Military Forces, Civil Intelligence Agencies and Friendly Foreign Countries has turned 75.  The Platinum Jubilee Celebration commenced at the MINTSD, Pune with release of Special Cover by Director General of Military Intelligence.  A seminar on 'Relevance of Human Intelligence in Contemporary Military Environment' was held on 19 & 20 Jan and was attended by a large number of senior serving officers and veterans. The growing relevance of MINTSD in past 75 years can be gauged from its journey which started modestly in Karachi in 1941 under then British Commandant, Maj J Campbell. MINTSD moved through Murree (Pakistan) and Mhow (MP) to its present location in Pune. Today, the MINTSD can boast of being a Centre of Excellence in intelligence  with  latest hi tech  gadgets and well organized campus under an efficient team of officers, JCOs, NCOs and men, led by the Commandant, Lt Gen LN Singh, VSM**.
This institution has imparted training on Intelligence, Security and Imagery Interpretation to Officers, JCOs and NCOs of Indian Army, Air Force, Navy and Army Officers of the Friendly Foreign Countries and also to Para Military Forces and Police. The same continues in many cases.  Since 2012, this institution is conducting the Intelligence Staff Course which is comparable to the Defence Services Staff Course. The institution aims to provide excellent Field Intelligence Operators and Intelligence Staff Officers, JCOs and NCOs, so as to provide "Decision advantage" to Formation Commanders. MINTSD can proudly boast of having two officers who later rose to become army chiefs and 14 officers who later become Lt Generals in its instructors honour roll. In past 75 years, thirty five alumni of the MINTSD have laid down their life in the line of duty. Intelligence Corps personnel trained in MINTSD have received 139 awards which include One Mahavir Chakra, Two Kirti Chakra, Eight Shaurya Chakra, Two Param Vishisht Seva Medal, Two Ati Vishisht Seva Medal, Three Yudh Seva Medal, 57 Vishisht Seva Medal and 64 Sena Medal.
 A year long celebration in the form of reaching out to veterans, disabled soldiers and veer naris of the intelligence fraternity are being organized.  In continuation with Indian Army commitment for a better society and cleaner environment, MINTSD is organising various activities, where social and environmental concern of the people can be integrated with professional excellence and overall projection of Indian Army image. Projects/Lecture on Living with Nature, Go Green, paperless office, waste management, no poly zone, clean drinking water, health is wealth, waste land management, donate your organ, women empowerment, training of wards of serving/retd army pers to join India Army, encouraging small family norms etc are being planned throughout the year.                   Naik Ramesh Puri, SM a paraplegic veteran is being regularly assisted and was also presented a laptop by MINTSD.  Additionally MINTSD is also facilitating Indian Army in carrying out military diplomacy by organising various intelligence courses for armed forces of friendly foreign countries and conducting visits of various foreign dignitaries in Pune. On this historic occasion, the existing Staff Officer Mess has been dedicated for 'SATARK FRATERNITY' and has been designated as 'PLATINUM JUBILEE OFFICERS MESS'.