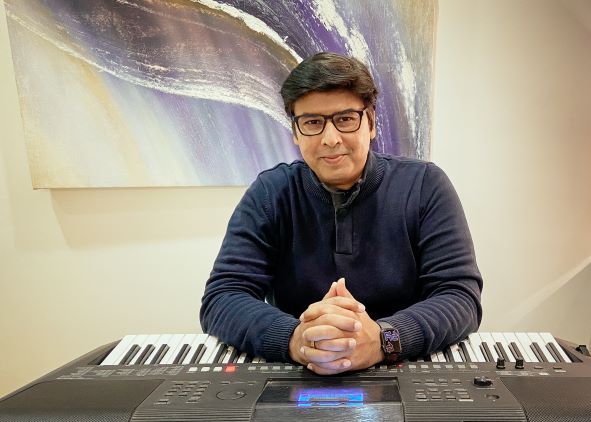 Pune, 8 July 2020: A.K.International Tourism launched their new gospel song 'Tu Hi Hai' a day before the Feast of Saints Peter and Paul, which has been sung beautifully by popular gospel singer  Shirin George. This melodious worship song has been music composed, penned and conceptualized by Dr. Amit Kamle, M.D (Russia), popularly known as A.K,  Director of A.K.International Tourism and Founder of Glorify Christ. The song has been shot across the picturesque locales of Chicago, USA.
This year marks the 5th Anniversary of Glorify Christ since its inception in 2016, under the umbrella of A.K.International Tourism, having created more than 50 gospel songs in Hindi, Marathi, Tamil, Telugu, Malayalam, Bengali, Punjabi, Assamese, Khasi, Nagamese languages and even in Hebrew. Glorify Christ is a complete non profit venture of A K International Tourism, who are specialists in organising the Holy land Tours of Israel, Jordan and Egypt and are venturing into Outreach program of the gospel through Gospel Music.
"Glorify Christ is a musical platform for Gospel music across the globe. Creating worship songs is on our priority list. We are creating interesting worship fusion, sufi, ghazals, rock, pop and various other genres too.   But currently we are focusing on Biblical Verse based songs", smiles Dr. Kamle, who wears many hats – Doctor, Entrepreneur, Educationist, Consultant, Philanthropist, Globetrotter, Guide, Creative Director, Scenarist , Music Producer , Lyricist & now Music Director.
Dr Kamle as a music composer has worked with prominent singers, namely, SP Balasubrahmanyam, Hariharan, Kumar Sanu, Alka Yagnik, Shaan, Suresh Wadkar, Sudesh Bhosale, Keerthi Sagathia, Dev Negi, Divya Kumar, Abhay Jodhpurkar, Vijay Benedict, Vijay Prakash, Ash King and Cameron Mendes. Kamle directed gospel songs like Aardhana and Samay which featured Tridha Choudhury and Kamle's daughter Adwita Amit Kamle in the lead respectively.
A music aficionado, Kamle reminisces playing the Tabla in his school days, and even learnt to play the guitar.  But his passion for music took a backseat for many years, after he went to Russia to pursue medicine. "I don't have any formal training in music, but I create it with my heart and miraculously it touches the souls of the listeners. I am indeed in love, touched and inspired by Saint Paul's writings", says the humble doctor.
Last month, they had launched the gospel song 'Prarthana' on World Environment Day to create awareness about the ill-effects of overpopulation, water usage, deforestation and climate change.
"We have created 50 plus gospel songs as of now and God willing we wish to have  more in the near future. We wish to collaborate with Indian as well as foreign artists be it singers, musicians, sound engineers, lyricists", sums up Dr. Kamle.