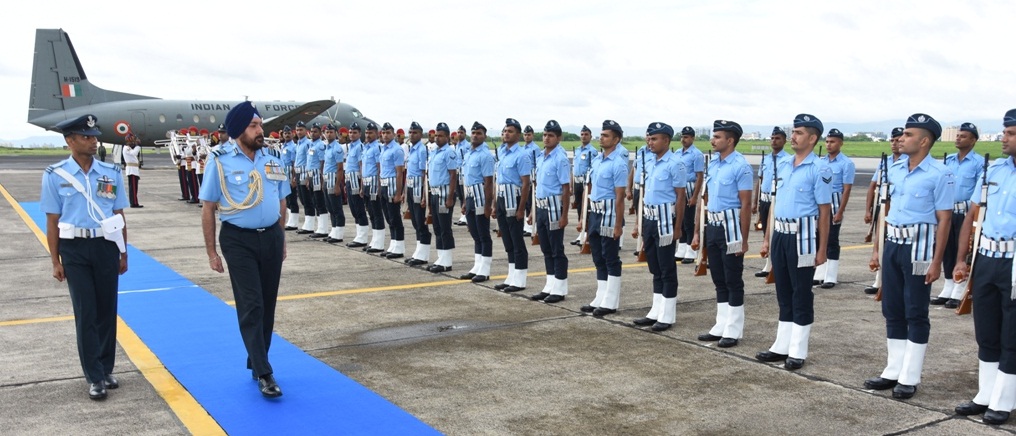 Pune, July 11, 2019 : Air Marshal HS Arora, AVSM ADC, Air Officer Commanding-in-Chief, South Western Air Command arrived at Air Force Station Pune on 10 July 2019 on an inspection visit.  He was accompanied by Mrs.BaljeetArora, President Air Force Wives Welfare Association (Regional). They were received by Air Commodore Rahul BhasinVM, Air Officer Commanding Air Force Station Pune and Wing Commander (Mrs) NeerajCharakBhasin, President AFWWA (Local).
The Air Marshal reviewed the ceremonial Guard of Honour at the airbase and visited important installations of the Station. In his address to the Station personnel, he emphasized on the importance of training to win wars across the entire spectrum of conflict. He lauded the vital role played by locally based units and the air warriors of the station during the recent activation, post Balakot. He exhorted the station personnel to be extra vigilant and remain focused on safety and base security at all times.
Air Marshal HS Arora also called on Lt Gen SK Saini, GOC-in-C Southern Command during the visit. During the interaction they shared operational plans and discussed measures to further enhance jointmanship as well as integrated operations in presence of their operational staff from both the Hqs.
Mrs Baljeet Arora, President Air Force Wives Welfare Association (Regional) South Western Air Command visited various AFWWA ventures at Air Force Station Pune and appreciated the facilities. She showed keen interest in the functioning of Umeed Asha Kiran School for special children.  She complimented the efforts put in by the station in providing specialized trainers and equipment to facilitate the teaching-learning process. During the visit she presented customized furniture to the Umeed Asha Kiran school and distributed sweets amongst the children. In her interaction with other 'Sanginis' she highlighted the complimentary and positive role that a spouse can play in the growth of an air warrior. She also stressed upon the importance of women empowerment and issues like personal hygiene, balanced diet, physical well-being and marital harmony in enhancing healthy family life.
Follow Punekar News: