Amazon Prime Unveils 'Sach Mein Too Much' Campaign, Emphasizing the Delight of Abundant Benefits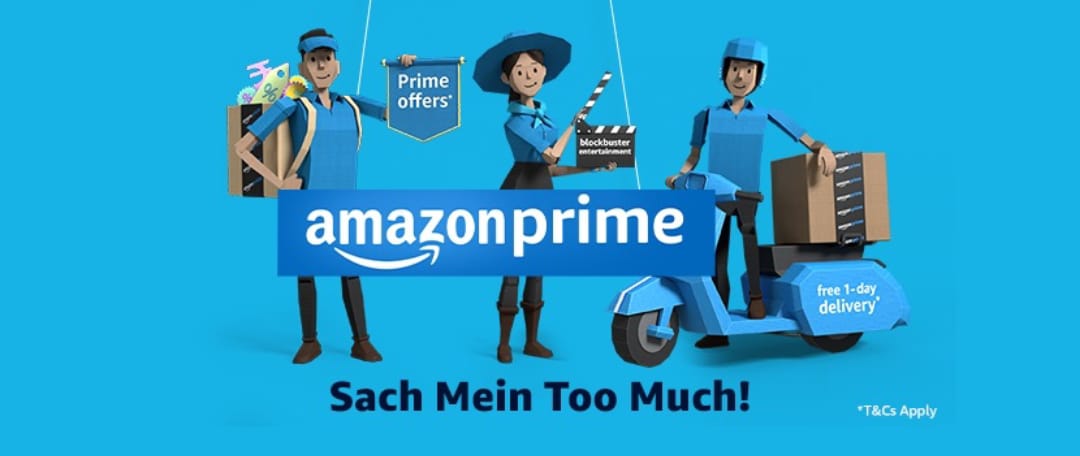 Pune, 30th May 2023: Amazon Prime, the renowned membership program, is captivating customers with its latest campaign, 'Sach Mein Too Much,' which encapsulates the essence of experiencing more in every aspect of life. This initiative aims to encourage members to make the most of their Prime subscription by enjoying a diverse range of benefits, spanning from shopping to entertainment.
Under the Amazon Prime umbrella, customers gain access to an extensive array of perks. With over 40 lakh products available, members can enjoy the convenience of free one-day delivery. Furthermore, the program offers exclusive "Prime offers everyday" on a wide range of products, including everyday home essentials, smartphones, clothing, home décor, and beauty products.
The campaign features two sets of films tailored to different audiences. One set is targeted towards potential Prime customers, emphasizing the manifold advantages of a single membership. Meanwhile, the other set speaks directly to existing Prime members, reiterating the numerous benefits they can relish through their subscription. The campaign showcases the moments of a couple, showcasing the compelling aspects of an Amazon Prime membership for non-members, and for current members, it portrays how their expectations have expanded across various facets of their lives. Notably, the campaign introduces evolved versions of the Prime mascots, which now embody greater diversity and inclusivity, enhancing the brand's visual identity.
Pragya Sharma, Director of Consumer Marketing at Amazon India, expressed her thoughts on the campaign's launch, stating, "At Amazon, our customers are at the forefront of everything we do, and our latest campaign, #SachMeinTooMuch, underscores this commitment. We bring together numerous valuable benefits under one membership to enable customers to experience the joy of more. Through this campaign, we aim to raise awareness about the extensive bouquet of benefits that Prime offers and encourage customers to make the most of them."
The creative collaboration behind the campaign involved Media Monks and Ogilvy, who played integral roles in conceptualizing, scripting, and executing the project. Neville Shah, Senior Executive Creative Director at Ogilvy, commented on the journey, stating, "An Amazon Prime membership truly offers everything. It's no wonder then that we begin expecting the same level of abundance in every aspect of our lives. This simple insight served as the foundation for our concept."
Azazul Haque, Chief Content Officer at Media.Monks, explained the vision behind the 'Sach Mein Too Much' campaign, stating, "Our aim was to highlight the incredible bundle of benefits that people can enjoy by becoming Prime members. The idea of 'Sach Mein Too Much' captures the element of surprise that comes with the membership, and it resonated instantly with everyone."