Anup Badhe Joins HiDoc Dr. Inc as Chief Technical Officer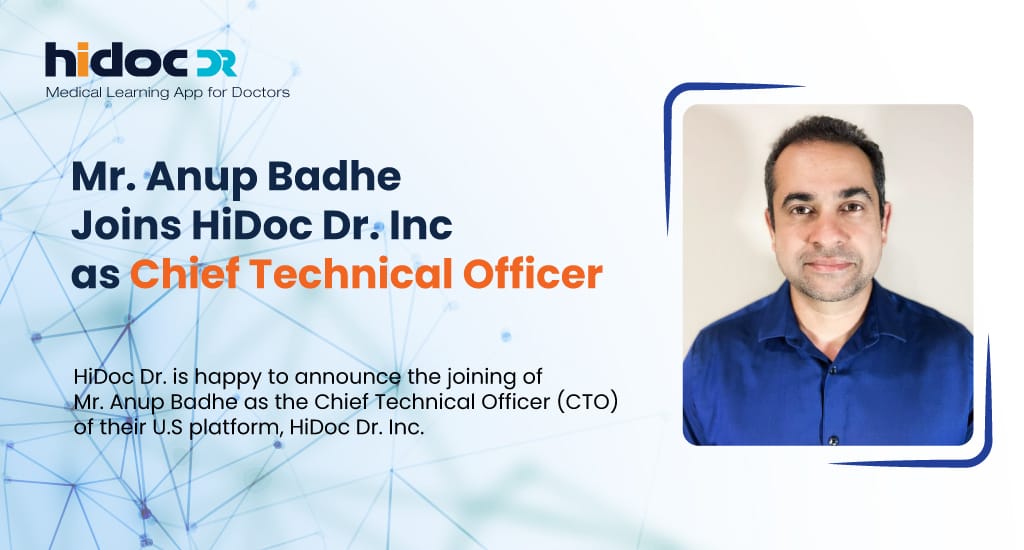 Pune, 31st October 2022: HiDoc Dr. is happy to announce the joining of Mr. Anup Badhe as the Chief Technical Officer (CTO) of their U.S platform, HiDoc Dr. Inc.
Mr. Badhe also is the Director of Engineering at a leading adtech and martech company in the US.. He has been successfully managing their marketing intelligence platform that drives outcome-based marketing objectives.
Mr. Badhe's formal announcement of joining HiDoc Dr. Inc comes after years of working with the company as a technology advisor. He has been guiding the HiDoc team since 2017 and has assisted in the development of the initial architecture of the doctor's networking platform including the Cloud Architecture and Process.
"HiDoc Dr.'s concept excited me from the beginning. It is the first of its kind platform where doctors can engage with each other, discuss cases, and get access to the latest news and training videos. I have been working with Dr. Rajesh Gadia and Varun Gadia for a few years now and trust Dr. Gadia's experience and Varun's business acumen. Although I have been providing technical advice from the beginning, I believe that if we need to make an impact in the U.S., HiDoc can benefit from my experience here. And hence, I decided to join in as the CTO," says Mr. Anup Badhe who is all set to spearhead the U.S platform.
HiDoc Dr. is the number 1 doctors' networking platform in India associated with more than 8 lakh doctors from various specializations. Earlier this year, the company launched its U.S. platform HiDoc Dr. Inc to cater to healthcare professionals based in the United States of America, Canada, Australia, and New Zealand.
"Mr. Badhe has played an integral part in our technology development and we could not think of a better person to join our team as the CTO. His expertise in this field is phenomenal and we look forward to him further advancing HiDoc Dr. Inc's technical leadership in doctors' networking worldwide," says Dr. Rajesh Gadia as he welcomes Mr. Badhe onboard.
An engineer at heart and passionate about technology, Mr. Badhe visualizes HiDoc Inc as the 'Netflix' of medical content. He aims to evolve the company as the numero uno platform globally for doctors and patients by providing related and unique content.
"I want to take HiDoc in the web 3 world and explore new forms of engagement in the virtual space," explains Mr. Badhe. "The medical industry is rapidly changing and evolving post-COVID. There is a need to introduce new engagement models that are seamless. We need to harness the full power of AI and ML to create futuristic interactions that enable faster decision-making. We also need to move to advanced forms of advertising from the traditional ones." He adds as he shares his views on the future of the medical industry.
An avid technology buff who loves working with all kinds of machines, Mr. Badhe is a foodie who loves working out and mountain biking.
As he joins the HiDoc family, we are sure that he will take the company to greater heights under his able guidance.