APPRENTICESHIP APPROACH TO DEVELOP SKILLS CRITICAL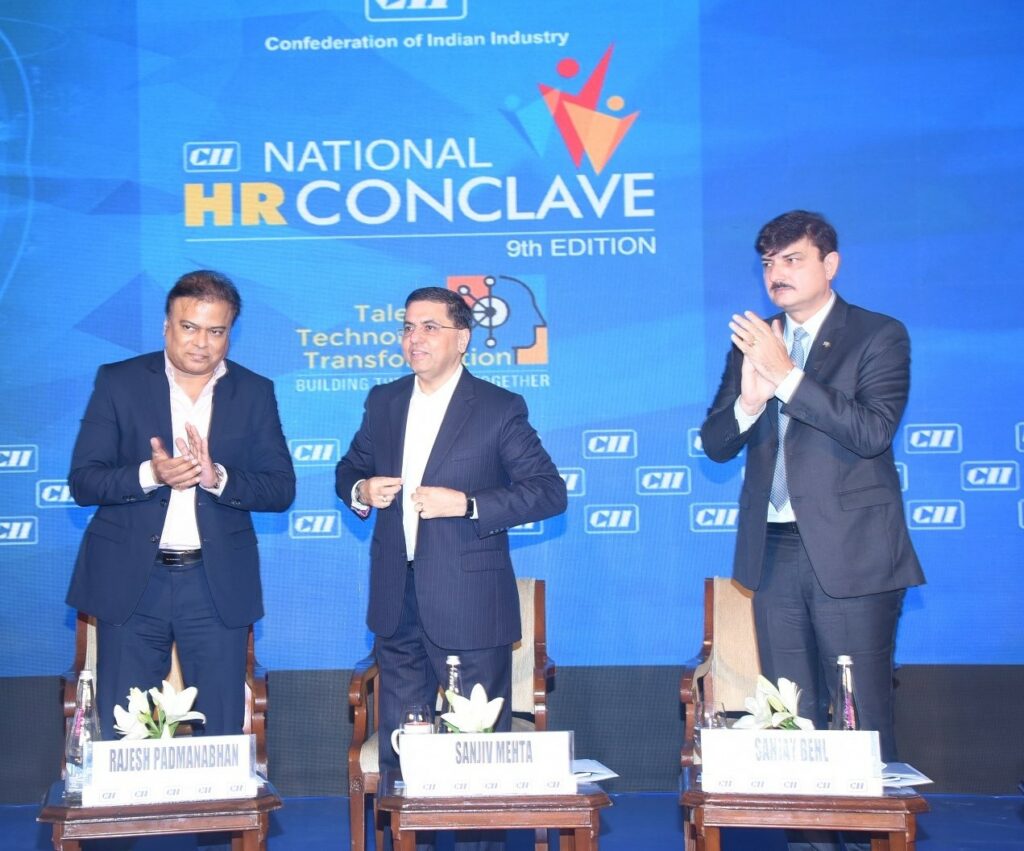 Mumbai, November 14, 2019: Skilling and re-skilling exercises have to be taken up on a massive scale in an era where rapid technology disruption is a commonplace, and when the country is seeking to offer jobs to its growing young population, said Mr. Sanjiv Mehta, Chairman & Managing Director, Hindustan Unilever Limited, while delivering a keynote address at the CII 9th HR National Conclave organised by the Confederation of Indian Industry (CII) in Mumbai.
"With technological advancements, robots have become part of several processes. You cannot ask a private enterprise not to be productive. Integration of man and machines call for different skilling of people. Organizations have to use skilling to retain, strengthen and building teams for furthering their competitive advantage," said Mr Mehta at the conclave deliberating on theme 'Talent, Technology and Transformation'.
Buttressing the need for creating jobs for a million of new youth entering the job market in the country every year, Mr Mehta said, "Organizations have to evolve an environment that is conducive for tech-savvy millennials as they are expected to form 50 per cent of the workforce soon." The skills of yesterday are not suited for the skills needed for tomorrow, Mr Mehta added.
Stating that learning has a different meaning in corporate human resources lexicon, Mr Mehta said, that the education system should address the present day skill needs. "Unlearning (old skills) and re-learning of new skills would be required at a time when new technologies like artificial intelligence (AI), machine learning (ML), Predictive Analytics and Internet of Things (IoT) are taking over some of the critical functions in today's organizations. That will increase employability of people in modern organizations."
"Forging partnerships between academia and research institutions is necessary for promoting innovation as it is done in the US. For building these partnerships, India must go up quite a few notches in building this partnership," Mr Mehta said, and adding that the country has to promote apprenticeship approach in a big way to develop and sustain high skill levels in line with Japan and Germany.
Mr Sanjay Behl, Chairman, CII National Committee on Leadership & HR and CEO, Lifestyle Business, Raymond Limited, said to take advantage of the demographic dividend that the country is enjoying the industry has to create enough employment opportunities to the millennials. Nearly a million of millennials are turning 18 every year and start looking for employment."
In the wake of changing paradigms in the global scenario, particularly the agility of product and process innovations, the leadership of organizations are looking to the HR function, to help with their change management requirements. The demand on the HR function to align with businesses as a 'strategic' partner by understanding, appreciating and leveraging technology to its advantage and creating necessary interventions for transformation is increasing phenomenally.
Highlighting the changing dynamics of HR function at organizations in future, Mr Rajesh Padmanabhan, Chairman, CII National HR Conclave & Director, Group CHRO, Welspun Group, said, "The HR function is gaining importance in the wake of its policies affecting the profitability of an organization, participation as a strategic partner to the top management, and building capability and culture influencing the enterprise credibility."
Dr. Prince Augustin, Co-Chairman, CII National HR Conclave & EVP – Group Human Capital and Leadership Development, Mahindra & Mahindra, said that if we improve employability for the country as a whole our growth target to become a $5 trillion economy becomes meaningful. "Therefore, building a purpose driven organisations become very crucial. Purpose is what changes lives and purpose is what creates a direction."
"Retaining competitive edge has become more difficult because of reducing product cycle life, products and offerings are becoming uniform, natural resource optimization will become scarce and expensive. Excelling in regulatory compliance will be one the big differentiator for organizations," Mr Kalra added.
(EoM)