Author Peter Csizmadia-Honigh unveils the secrets of Indian Wines At EVVIVA Sky Lounge, Courtyard by Marriott Pune City Centre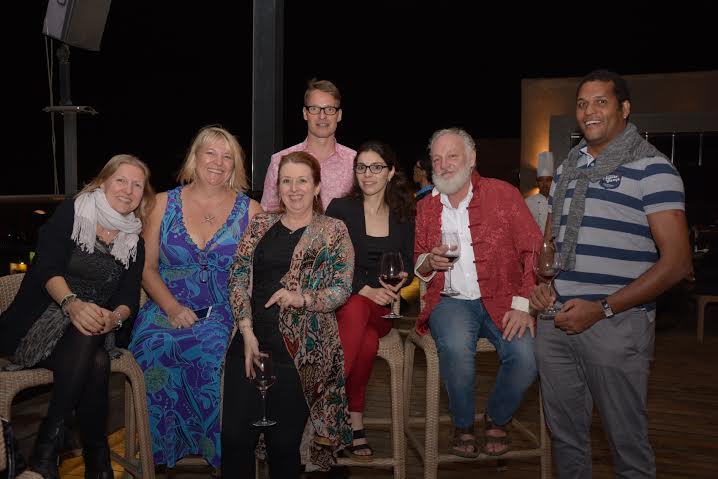 India's first internationally authored and fully illustrated guide on Indian wines unveiled in Pune at the award-winning rooftop bar Evviva Sky Lounge.
Pune, January 16: London-based author and wine consultant Peter Csizmadia-Honigh was in Pune to speak about his experience documenting the wines of India for his book 'The Wines of India: A Concise Guide' at Evviva Sky Lounge on Friday, 15th January 2016. Evviva Sky Lounge, an award-winning rooftop bar at Courtyard by Marriott Pune City Centre hosted this evening studded with the city's wine enthusiasts.
'The Wines of India, a Concise Guide' is a 452 page guide which comprises of the first authoritative classification of Indian wines by the author with brief tasting notes, detailed producer profiles, 11 specially commissioned maps and a glossary of wine terms. It also takes account of 50 producers and nearly 400 wines with up-to-date and precise information that helps the reader explore the spectacular diversity of regions and producers in India.
Peter is a WSET Diploma holder and a graduate from Eötvös University in Hungary and the Budapest Business School. He was responsible for the study and examination programmes for the Institute of Masters of Wine in Europe, North America and Australasia between 2005 and 2014. He is also a certified sherry educator who crafts Juhfark wines for Michelin-star restaurants and the co-proprietor of Royal Somló Vineyards. Peter judges at the Decanter World Wine Awards, the International Wines & Sprits Competition and the International Wine Challenge.
Gagan Deep Singh, General Manager – Courtyard by Marriott Pune City Centre said, "It is our privilege to host Peter at Evviva Sky Lounge. It was extremely interesting hearing about his journey visiting over 50 wineries around our country. I'm elated that tonight's event was a big success and that Pune's wine lovers got a chance to raise a toast to Indian wines with Peter."
Speaking at the event, Peter expressed, "India is not a country associated with wine but this book is my effort to change that perception. My journey of discovering how grapes grow in a sub-tropical climate like India's was an exciting experience and I'm sure oenophiles and non-wine drinkers alike will find it an easy and interesting read. Pune's wine enthusiasts have been a great audience at tonight's event and Evviva a great host!"
During the event, the guests were seen enjoying a lavish spread of delicacies accompanied by refreshing Indian Wines selected and recommend by Peter himself who was enthusiastically interacting with all present at Evviva.