Bajaj Auto welcomes Chetak Electric Yatra in Pune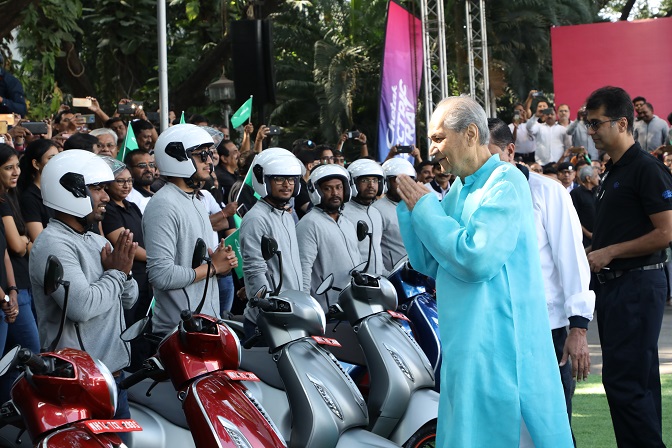 14th November 2019, Pune: Bajaj Auto, The World's Favourite Indian, today presented the Electric Chetak , in Pune today.
The Chetak was unveiled in New Delhi on 16th October 2019. To commemorate the event, the Chetak Electric Yatra was flagged off by Mr. Nitin Gadkari, Hon Minister for Road Transport & Highways, from New Delhi. Riders on 20 Chetaks have travelled more than 3000 kms through North and Western India to finally reach Pune. It has already travelled from Delhi to Agra, Jaipur, Udaipur, the Chetak Samarak in Chittorgarh, Ahmedabad, Mumbai, Panaji before reaching Pune on the 14th of November 2019. The Yatra was welcomed and felicitated by Mr Rahul Bajaj, Chairman, Bajaj Auto Ltd at its Corporate office in Akurdi today.
The Chetak is a legend that symbolises individual freedom and empowers human ambition. The Chetak is once again poised to lead Electric Vehicle adoption and transformation in India and across the world for a better 'Hamara Kal'.
This pioneering product is a marvel of riveting design, precision engineering and flawless manufacturing, making it a global benchmark in electric scooters. The new Chetak is more than a mere launch; it is simultaneously a homage to a glorious past as also a harbinger of a promising future
Iconic Brand
The original Chetak was more than just a scooter. It pioneered personal transportation and fulfilled the aspirations of generations of Indians. At its peak, the Chetak enjoyed unprecedented popularity with waiting periods exceeding 10 years and a resale value greater than its purchase price! No wonder that more than 1.3 crore Chetaks were sold in India. Its incomparable popularity earned it the endearing sentiment of 'Hamara Bajaj'.
Timeless Design
Its iconic design lends the Chetak with a beauty that transcends time. Simple lines and smooth surfaces are woven together softly to create a classic style that democratises distinctiveness.
In the new Chetak, this timelessness has been updated with exquisite detailing, the use of premium materials & finishes, and a choice of 6 eye-catching colours that embellish its familiar form to achieve exceptional visual delight and touch & feel quality.
Exquisite Features
The new Chetak features a hypnotic horseshoe shaped LED headlight with DRLs, feather touch activated electronic switches and sequential scrolling LED blinkers. A large digital console intuitively displays vehicle information with crisp clarity. Moreover, fine craftsmanship is visible in the smallest of details – from handlebar grips, levers and mirrors, to the softly opening of the glove box and the damped seat closure mechanism.
State-of-the-art technology
At the heart of the new Chetak is an IP67 rated high-tech Lithium Ion battery with NCA cells, the battery is easily charged using a standard household 5-15 amp electrical outlet. The on-board Intelligent Battery Management System (IBMS) controls charge and discharge seamlessly. Additionally, an elegant home-charging station is available at a nominal cost.
The Chetak offers 2 drive modes (Eco, Sport) and a reverse assist mode to ensure that all the demands of a rider are satisfied. Regenerative braking via an intelligent braking system that converts braking heat into kinetic energy helps maximise its range.
The Chetak offers a fully-connected riding experience by virtue of being embedded with mobility solutions like data communication, security and user authentication that will enable customers to have a seamless ownership and riding experience. The Chetak mobile app gives the rider a comprehensive overview of all aspects of his / her vehicle and its ride history.
Robust Build
A rigid frame clad with sheet metal body panels and a tubular single sided suspension vest the Chetak with the uncompromising strength and durability that it is famous for. The powertrain similarly employs a unique single-sided cast aluminium swing arm which houses the traction motor that drives the wheel through a high-efficiency automated gear box.
Magical experience
Quiet, clean, comfortable and convenient to ride; elegant yet understated; robust yet refined. As much as riding the Chetak is an almost surreal experience, so also is the process of its creation. The new Chetak is made at a state-of-the-art dust-free, temperature controlled facility at Chakan to exacting standards using the best materials and cutting edge robotic technology. With a work force comprising 80% women, this is truly a production line of the future!
For more information on Chetak please visit our social media handles indicated below.
Global markets
As the World's Favourite Indian, Bajaj is uncompromising in its endeavour to create world class products that are worthy global ambassadors of Indian automotive engineering. The new Chetak will over 2020 find presence beyond the shores of India, across the relevant markets of Europe. It is born and bred to go beyond the objective of earning some valuable foreign exchange exporting our cost competitiveness towards a higher purpose of acquiring a fine reputation for our skills in the most ferociously competitive international arenas.