"Best Apprentice Award 2015"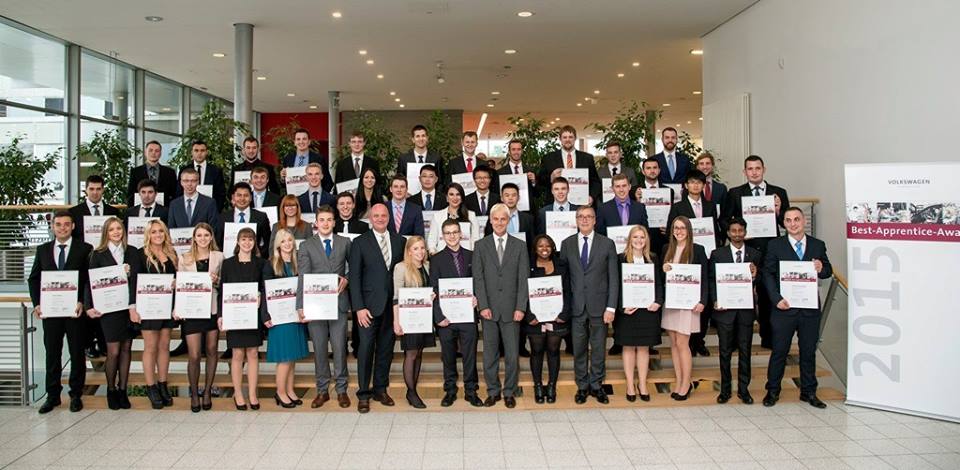 Volkswagen Group honours its best apprentices from all over the world including one from Volkswagen Pune Plant
Pune, October 10, 2015 – The Volkswagen Group today presented its "Best Apprentice Awards 2015" to its best apprentices from all over the world. In Wolfsburg, 12 women and 33 men aged between 18 and 30 from 40 locations. They were honoured by the Group Board of Management and the Global Group Works Council for their outstanding performance and specialist competence. Throughout the world, the Volkswagen Group is currently training about 20,000 young women and men.
The awards were presented by the Chairman of the Board of Management of Volkswagen Aktiengesellschaft, Matthias Müller, the Member of the Board of Management responsible for Human Resources, Organization and IT, Dr. Horst Neumann, and the President of the Global Group Works Council, Bernd Osterloh. The ceremony took place at the CongressPark in Wolfsburg following a joint meeting of the Group Board of Management and the Global Group Works Council.
"Our 20,000 apprentices are a key part of Volkswagen team," said Matthias Müller at the presentation ceremony. "We are proud of them. And we need them to tackle the changes that are now required: Changes within our Group and changes faced by the automobile industry as a whole."
"Specialist knowledge and skills lay the foundation for professional performance and personal development opportunities," Dr. Horst Neumann emphasized. "This is why first-class dual vocational training with close links between theory and practice is one of the top priorities for Volkswagen. It provides the basis for lifelong training in the professional families."
Osterloh said: "With its dual vocational training system, the Volkswagen Group assumes social responsibility for young people and the development of the regions of its plants at 119 locations throughout the world. Our dual vocational training system is highly successful. The young colleagues we are honouring today bear witness to this fact."
For the first time, the award-winners included two apprentices from Audi Brussels and from Sitech Sitztechnik – Jason Elsocht from Belgium and Kamil Krupiński from Polkowice in Poland.
14 of the award-winners had already been honoured in their home countries for their commitment, knowledge and skills in their training vocations.
In addition, seven of the award-winners will be receiving two years of individual support in their professional family within the "talent group for young specialists". A further six young people will be taking part in the "Wanderjahre" (years abroad) program. They will be working for a year at a Group location in another country.
This year's "Best Apprentice Award" was the 15th of its kind presented by the Volkswagen Group, and a total of 386 apprentices have been honoured since 2001. The Group currently offers training in about 60 vocations and 50 dual courses of study.
‪#‎volkswagen‬ ‪#‎automobile‬ ‪#‎makeindia‬ Volkswagen IndiaMakeinindia