Brace Up For 3rd Wave Of COVID19 – Ajit Pawar Tells Officials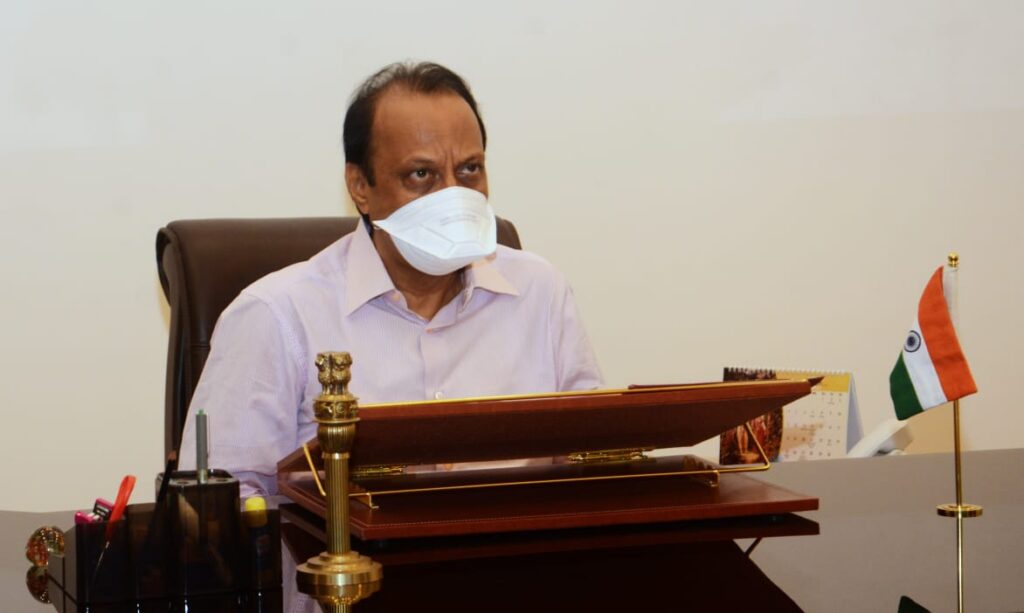 Pune, 15th May 2021: Deputy Chief Minister Ajit Pawar chaired a review meeting on the Covid-19 situation and measures at Council Hall in Pune on Friday. The Deputy CM instructed the district administration that health infrastructure should be prepared for the 3rd wave of Coronavirus.
India Increases, UK Reduces Gap Between Covishield Doses
Pawar said the state government is planning to provide timely treatment to children who might be affected by the possible third wave of Coronavirus. A task force of paediatricians is being set up. Preparations are being made for the provision of guidance, preventive medicines, necessary equipment and medical facilities for the treatment of children. Major hospitals like Sassoon Hospital, Yashwantrao Chavan Hospital, Hospital, Naidu Hospital, Bharti Hospital, Symbiosis Hospital, Ruby Hospital, Dinanath Mangeshkar Hospital in the district should also take action to reserve separate beds for children in the hospital.
Cyclonic Storm Likely To Hit Maharashtra And Gujarat Coast On Sunday
He also said that the incidence of Mucormycosis disease is increasing in covid patients. To ensure a smooth supply of medicines for this disease to the hospitals and also to prevent any malpractice, action is being taken to supply these medicines through the District Collector.
Serum Institute Set-Ups Plant For Supplying Oxygen Cylinders To Hospitals
There are 44 oxygen generation plants proposed in the district. Out of these, Pune and Pimpri-Chinchwad Municipal Corporations have started a total of four oxygen generation plants, two each. He suggested that other oxygen generation plants should also be started as soon as possible.
In Pune and Pimpri-Chinchwad, the drop in the number of patients this week is reassuring. However, infection is still on the rise in rural areas. State restrictions have been extended to June 1st to break the chain of corona infection. He appealed to the citizens to abide by the rules and cooperate with the administration.
Deputy Chief Minister Ajit Pawar reviewed the measures including:
– Construction of Oxygen Generation Plant
– Efforts to expedite 'Covid-19' preventive vaccination
– Fire audit of hospitals in the district
– Planning of measures to treat children if they become infected
– Emphasis on the preparation of health facilities including oxygen and -ventilator beds, medicines, remedies.
In this meeting, Home Minister Dilip Walse-Patil, MP Girish Bapat, MP Vandana Chavan, Pune Mayor Murlidhar Mohol, Pimpri Chinchwad Mayor Usha alias Mai Dhore, MLA Adv Ashok Pawar, MLA Sunil Tingre, MLA Sunil Shelke, MLA Chetan Tupe, MLA Rahul Kul, MLA Bhimrao Tapkir, MLA Madhuri Misal, and Divisional Commissioner Saurabh Rao, Yashada's Director-General S Chokkalingam,  Groundwater Survey Department Director Mallinath Kalashetti, PMC Commissioner Vikram Kumar, PCMC Commissioner Rajesh Patil, PMRDA Chief Executive Officer Suhas Divase, Collector Dr Rajesh Deshmukh, PMC Additional Commissioner Rubal Agarwal, Pune Police Commissioner Amitabh Gupta, Pimpri Chinchwad Police Commissioner Krishna Prakash, Special Inspector General of Police (Kolhapur range) Manoj Lohia, District Superintendent of Police Dr Abhinav Deshmukh, Chief Executive Officer of Zilla Parishad Ayush Prasad participated.