Call for cooperation in making Hanuwantiya global level tourist destination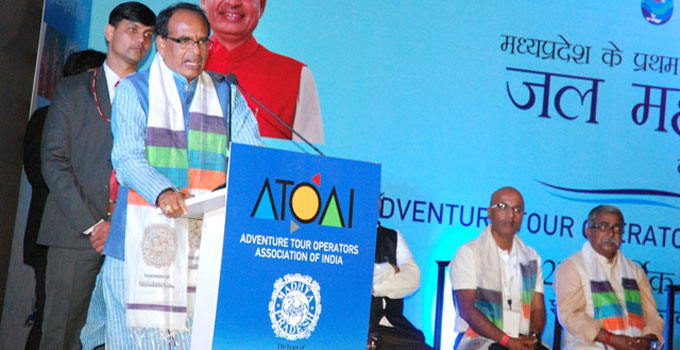 Hanuwantiya to have airstrip
CM Shri Chouhan and Union Minister Shri Naidu inaugurate Jal-Mahotsav amidst festivities
Bhopal : Chief Minister Shri Shivraj Singh Chouhan has said that sustainable development of tourism sector is state government's priority. This would be done keeping environment in view. Shri Chouhan said that at the cabinet meeting held at Hanuwantiya, its was decided to constitute Tourism Cabinet and amend Tourism Policy. An airstrip will be developed at Hanuwantiya, he added. Shri Chouhan was addressing the inaugural function of Water Festival at Hanuwantiya today.
Union Urban Development Minister Shri Venkaiah Naidu, Minister of State for Tourism and Culture Shri Surendra Patwa, MP and State BJP President Shri Nand Kumar Singh Chouhan and State Tourism Development Corporation's Chairman Shri Tapan Bhowmik were also present on the occasion.
Shri Chouhan said that Madhya Pradesh will be made pioneer in all sectors. Today, launch of Smart City Project is being made in Indore. He thanked Union Minister Shri Naidu for selection of 3 cities in Madhya Pradesh under Smart City project.
Shri Naidu said that he was pleased to see natural beauty and massive water body at Hanuwantiya. He hoped to see a new look of Hanuwantiya when he visits it next time. It's beauty is beyond imagination which cannot be described in words. Shri Naidu said that it is the result of Chief Minister Shri Shivraj Singh Chouhan's innovation, research and study that such a beautiful tourist destination has been developed. He congratulated Chief Minister Shri Shivraj Singh Chouhan for continuous increase in agriculture growth rate and conferment of Krishi Karman Award for consecutive 4th year to MP. He described Shri Chouhan as 'All in one' saying that Madhya Pradesh will become pioneer state in the country under Shri Chouhan's leadership.
Shri Naidu inspected Hanuwantiya tourism complex. On the occasion, awardees of ATOI Convention were felicitated. Hanuwantiya was conferred the award for 'Best Adventure Tourism Indian State in Innovation in Creating Adventure Destination'.
An MoU was also signed between Madhya Pradesh State Tourism Development Corporation and Adventure Tour Operators Association of India (ATOI) to impart training in adventure tourism to youths. ATOI's office-bearers Shri Akshya Kumar described Hanuwantiya as a new tourist destination of India.
During the 10-day event, a tent city near Hanuwantiya has been decorated attractively and illuminated colourfully. As many as 120 Swiss Cottages have also been constructed. Battery-run golf carts are being used for internal transport. At the inaugural function, folk dancers from Mandla district gave attractive performance. Large number of domestic and foreign tourists attended the function.