Check Areawise Number of Coronavirus positive patients in Pune city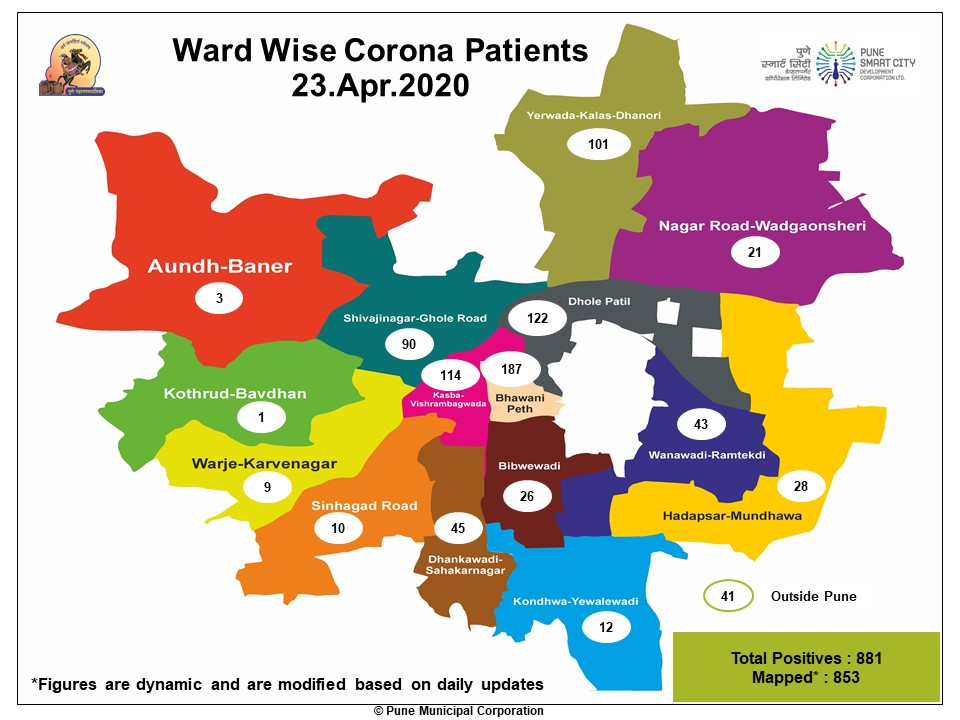 Pune, April 24, 2020: The number of Coronavirus positive patients is rising rapidly in Pune district especially the Pune city area.
According to the district health officer (DHO), till 7 pm on 23 April ie yesterday, the number of total patients in the district increased to 985. The same number on April 22 at 7 pm was 881. Officials said that out of 985, a total of 150 patients have been cured and discharged, while 61 have died in the district.
There has been a massive rise in number of new Coronavirus positive patients in Pune city yesterday. Till 9 pm, 104 new patients tested positive for COVID19 which is the highest number for single day in Pune city.
Now total number of Coronavirus positive patients has increased to 876 in areas under Pune Municipal Corporation (PMC). Four patients died taking the tally to 59, while eight patients were discharged yesterday.
There was one new positive case in Pimpri Chinchwad and the total cases in PCMC areas has reached 69 now out of which 3 have died till now and 21 have been discharged.
Across Maharashtra, there 778 new Covid-19 cases yesterday taking the state tally to 6427. Death toll in Covid-19 patients has now gone up to 283 in the state.
Out of 96,369 laboratory samples, 89,561 were negative and 6427 have been tested positive for
coronavirus until yesterday.
As per the guidance from Government of India, cluster containment action plan is being
implemented in places where clusters of patients have been found in the state. There are 477 active containment zones in the state currently. Total 7491 surveillance squads worked yesterday across the state and surveillance of 27.26 lakh population was done.
840 patients have been discharged till date after full recovery. Currently, 1,14,398 people are in home quarantine and 8,702 people are in institutional quarantine.
Covid-19 related counseling to migrant workers: After lockdown was declared for COVID-19 prevention and control, many workers in Maharashtra and from other states working in the informal sector were stranded at some places in the state. Their accommodation  and food arrangements have been done in 944 worker camps across the state.
Being away from home, economic crisis and an inherent fear about the disease are the key factors that are making them face mental health issues. To address this, counseling of these workers is being done through the district Mental Health Programme. 46,436 workers have been benefitted until now under this initiative.
Information about the disease, do's and don'ts, its preventive aspects is being given to the workers in a simple language. Psychological counselors, psychiatrists and mental health nurses in the state are playing a key role in this. A positive effect of this initiative is being seen among these workers. From among these workers, those who have moderate to serious mental health illnesses are being admitted and treated accordingly.
A 3-tier treatment system for COVID-19 patients and suspects: As per Government of  India guidelines, a 3-tier care and treatment system has been executed in the state.
Currently, there are 208 Category-1 hospitals in the state, 483 Category-2 hospitals and 782 COVID Care Centres. A total of 1,61,499 beds have been readied in these 1563 hospitals. There are 6077 ICU beds and 2509 ventilators available in these facilities.