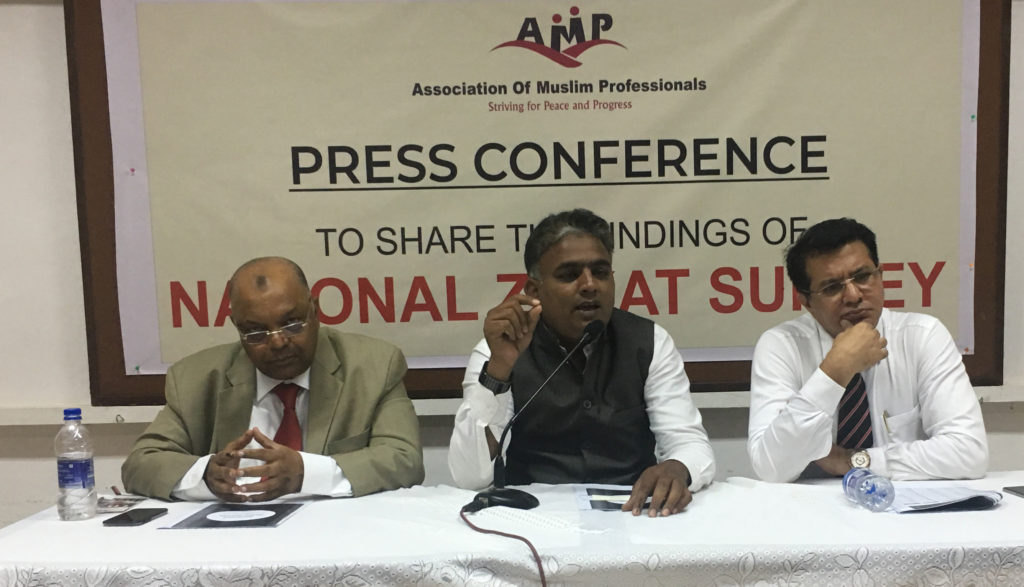 Mumbai, 3 May 2019 : Zakat is one of the Five Pillars of Islam. It is a religious obligation for all Muslims who meet a particular criteria of wealth. All such Muslims have to voluntarily contribute 2.5% (or 1/40) of one's total wealth deducting the annual expenses of the family
including accommodation.
The Zakat is an act of piety through which one funds for the well-being of underprivileged fellow brethren, as well as for preserving social harmony between the wealthy and the poor. It is an important tool, which can transform the lives of the disadvantaged from the Community, if used correctly and in an organized manner of collection & distribution.
Association of Muslim Professionals (AMP), is a not-for-profit Organisation, which has been working in the domains of Education and Economic Empowerment since more than a Decade. AMP has, since past more than 5 years, been striving to promote the centralised form of Zakat as this has the potential to change the lives of the marginalised people from the Community and transform them from being 'Zakat
Takers' to 'Zakat Givers'.
In order to understand the current practices of Zakat collection, distribution and its impact or the lack of it on the Muslim Community, AMP decided to carry out a 'National Zakat Survey'. The following steps were followed and post completion of survey, data was analyzed and findings were presented in a Press Conference held at the Press Club in Mumbai on 2nd  May, 2019.
 Detailed survey questionnaire was designed basis discussion with research experts which was also vetted by community scholars.
 Post finalization of survey questionnaire, online survey link was developed.
 Online survey methodology was used to conduct this survey and invites were sent to various community people through Press & Social Media to participate in this survey.
 A total of 4589 respondents participated from 175 Indian cities and 13 countries around the world including Saudi Arabia, UAE, Kuwait, Oman, Qatar, UK, USA, Malaysia, Singapore, Germany, Canada, Japan & Rawanda from Africa.
 Mr. Aamir Edresy, President AMP, present at the Press Conference said "Zakat is an economic tool that has the potential to transform the Muslim Community from its current social and economic backwardness to the forefront of the National development. AMP has been leading the Community professionals to achieve their potential and this initiative will help us in improving the impact of Zakat in Community Building and thus in Nation Building."
While presenting the Findings of the National Zakat Survey Mr. Edresy said that "It is astonishing that only 84% of eligible Respondents pay Zakat but only 33% of them have most knowledge about it. Another disturbing finding is that more than 60% of the people donate to same set of individuals every year whereas when asked about whether they have seen changes in the lives of zakat takers, majority of them (55%) mentioned they do not worry about that and just wanted to complete their duty of paying zakat."
Mr. Edresy told to the press that "One of the important findings of AMP's National Zakat Survey is that 40% plus respondents who pay zakat, opined that they are not so confident to correctly calculate zakat. AMP has already taken the initiative in this regards and has
uploaded a Zakat Calculator on their website for the benefit of the Community."
Mr. M. Z. Rehman, President, Indo-Arab Chambers of Commerce, invited as a special guest at the Press Conference said "AMP has done a commendable job of carrying out the National Zakat survey. He further added "Zakat is the 3rd most important pillar of Islam after Faith & Worship. In the Arabic language, Zakat means growth, blessings, purification and development. The issues of poverty and deprivation being faced by almost 5 crore of Muslims in India can be overcome if all Zakat eligible Muslims pay their Zakat in a collective manner and address those issues. Our educated class has to learn more about their religious obligations so they do not miss the Almighty's blessings in the World as well
as the Hereafter."
Mr. Majid Khan, Member of AMP's EDP (Economic Development Plan for the Muslim Community) Committee and CEO of Business Barons said "The tool of Zakat is intended to bring in equal opportunities to all through centralised collection & distribution. 90% of eligible Muslim Zakat Donors agree that there should be a process of transforming today's Zakat taker as tomorrow's Zakat giver."