Coronavirus: SWaCH appeals to stand with waste pickers in Pune, Pimpri-Chinchwad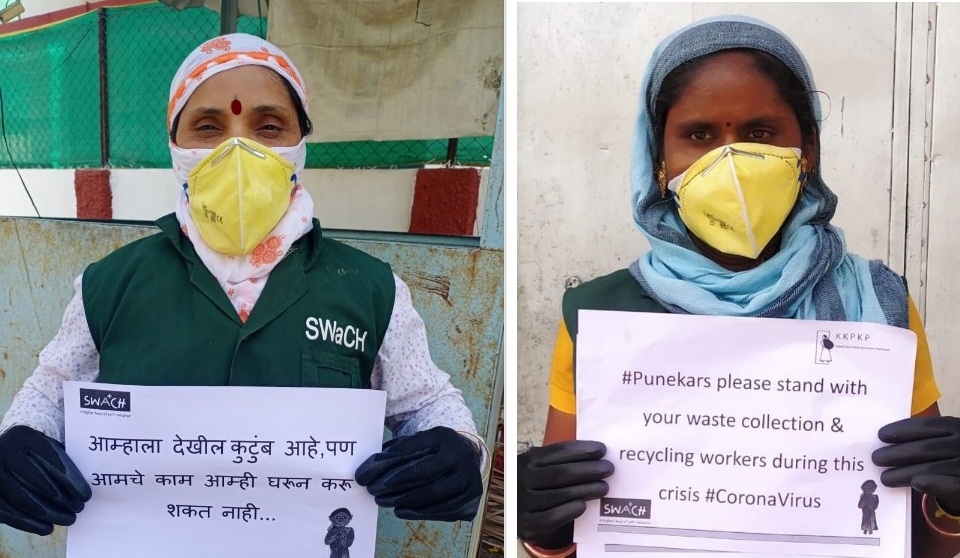 Pune, March 25, 2020: The Corona lockdown has different meanings residents of the city. For the members of SWaCH Coop it is the recognition of the enormous responsibility of household waste collection that rests on their shoulders.
Their role in the maintenance of public health is extremely important but often overlooked. Life in the times of corona provides Punekars an opportunity to appreciate their contribution to the cleanliness of the city. Yes, the municipality is under obligation to provide SWaCH collectors and staff with personal protection equipment.
Chart 1 lists what has been provided and the source. That said the fight against the corona virus is a collective effort of the city, and of each of us who lives in it. How would we like to be known? Would we want to be a conscious city that tells the government what we need done? Of course! Would we want to be a caring city? Of course! Would we want to be a humane city? Of course! What does all this mean in a real sense?
It means that Punekars come forward to provide waste collectors with soaps, gloves and face masks so that they are protected. It means that each household puts aside a food staple kit for their waste workers and domestic workers as they stock up for themselves. It means that every building, apartment complex and housing colony ensures that those who work tirelessly to provide services for them do not sleep hungry and are protected. It means that each neighbourhood looks out for those who may be old or invalid or ill amongst them. It means that we ask the government to set aside resources to provide dry rations and other essentials to the workers who keep the city functioning.
Hailing from the poorest and socially marginalized sections of society, waste-pickers of  SWaCH Pune Cooperative provide essential services in almost 75% of the city. They are the swachateche varkari, at the frontlines of the fight against corona ensuring cleanliness and hygiene across the city, while at the same time being vulnerable to the virus.  Waste pickers and staff of the Swach Pune Cooperative are determined to ensure that the city's waste-management system continues to run smoothly during this unprecedented time of crises.  The challenges are rising with the restrictions on mobility, the fear and chaos associated with Covid-19. Waste-pickers travel across the city to provide door-step waste collection service and are hit hard by the travel restrictions and reduction of public transport.
Waste pickers working against odds
Despite family's fear, Rama Tupere stepped out on Tuesday from Bibvewadi to travel to Bhandarkar Road for waste collection, but was unable to travel due to the absence of buses. Finally on Wednesday, they walked to Swargate and took a bus, but on the way back had to walk all the way to Bibvewadi, and were stopped by the police multiple times. "I waited for 4 hours but there no mode of transport available. Finally, I walked all the way back. I don't know how to come to work tomorrow", he says.
In other cases, police have stopped waste-pickers from travelling due to the restriction on travel. On occasion police have even threatened to attack them. "We go in a tempo to collect waste, but as no private vehicles were allowed, we couldn't go to collect waste today", says Supriya Bhadakwad, working in Kothrud Area.
The Pune Municipal Corporation (PMC) has since provided authorization for travel for work within the city as it is an essential service and is attempting to provide transportation for waste-pickers across the city as well.
"A few housing societies and citizens have also asked us not to collect waste till the 31st of March due to fears of infection. A few others have asked us to come only once in few days", says Pinky Sonawane, who works in Aundh.
There are a few cases where waste-pickers are fearful to provide collection in areas with home quarantine cases.  At such times the householders must ensure disclosure and contact the PMC's Local Ward Office for a separate collection system for such waste.
"Some citizens on my route are scrubbing their door-knobs and waste buckets with sanitisers, but still throwing their masks and gloves openly in the waste without packing and labelling. They need to be careful and take care of us in the same way", said Saru Waghmare, working in Shivajinagar area.
Any personal healthcare item used by citizens such as masks, gloves, cleaning cloths, diapers, sanitary napkins etc. should be wrapped carefully in a newspaper and marked with a RED DOT so that waste-pickers do not open such items for sorting.
There are also cases of insensitivity arising out of the fear of infection. "Citizens are scared just like us. But some of them are throwing the waste into my pushcart from afar instead of giving in my hand. Some others are just leaving waste on the road and then I have to pick it up otherwise I will get into trouble" said Vidya Naiknavare working in the Dhankawadi Sahakar-Nagar area.
As of the last two days, close to 90% of SWaCH workers and all staff have reported to work. Repeated changes in rules and frequent announcements of extensions leading to the countrywide lockdown have  led to a state of confusion and some mild reduction in collection over last two days. But Swach and PMC are working to figure out solutions and alternatives. This is unprecedented.
Do not deduct SWaCH worker payment
SWaCH stated, "We appeal to the citizens of Pune to be calm and considerate during this crisis. If waste-pickers have not come, please contact our helpline at 9765999500 and we will attempt to provide replacement services. Please do not deduct any amount from what you pay to your SWaCH collector."
SWaCH has distributed informational pamphlets to all the waste-pickers and conducted basic training in hygiene and safety for waste-pickers. Use of personal protection equipment is being enforced where it has been provided. Please ensure that you provide the washing facilities in your building or neighbourhood. Most importantly please do not dump waste on the street.
"If we don't collect the waste, what will happen to the waste in the city? Where will it go? It will affect our children and our environment. We are scared. But we know that what we do is critical. We will collect waste, but citizens should be extra careful at time of disposal. We always take care of the city we know that citizens will take care of us", says Shobha Bansode, waste-picker working in Prabhat Road area.
What should a citizen  do?
Citizens need to segregate waste into wet, dry and sanitary waste.
All citizens who can, must compost their waste at source, and reduce the growing pressures on the system.
All masks, handgloves and other safety items used by citizens should be wrapped carefully in a newspaper and marked with a big RED DOT, before handing over to waste-pickers. This will ensure that waste-pickers do not open / touch such items.
Payment of Monthly User Fees – Waste-pickers are not paid employees of the Pune Municipal Corporation or SWaCH. They depend on monthly user fees from citizens and daily sale of recyclable materials. The scrap markets are currently closed so they will lose some income. . We appeal to all citizens to pay waste-pickers their monthly user fees, even in case of some service disruption, on the lines of the appeal made by the Hon. Prime Minister and Hon. Chief Minister.
Most waste-pickers are women in charge of running their households and they are dependent on such user fees. The elderly are not able to work anymore and would be further distressed as their caretakers may not earn enough because of the lockdown. Swach is raising funds to support the most vulnerable with food, cash and medicines.
If any citizen/s wish to contribute towards supporting the waste-pickers of Pune, please call or whats app 9765999500 or write to swachcoop@gmail.com
For Citizens Information
| | |
| --- | --- |
| Collection Service | Will Continue. Disruptions will happen (mobility, restrictions), but we will provide best possible service. |
| Segregate | Wet, Dry, RED DOT – Diapers, Sanitary Napkins, Masks, Gloves etc |
| Reduce – Compost | Compost wet waste at source and reduce stress on system. |
| Store (in case of disruption of service) | Plastic, Metal, Glass, Paper, Cloth etc. – wash, dry and keep safely packed till service can reach citizens. |
| Households with Self-Quarantined Persons | Don't give any waste in regular stream. Contact Local PMC Ward Office or SWM Department |
| Washing / Hygiene | Water / Common Taps to wash with Soaps, Sanitisers to waste-pickers. |
| User Fees | Pay Monthly User Fees |
| Contribute | Towards Rations, Medicines, Equipment |
| Inform | Generate awareness and share widely |
| Contact | 9765999500; swachcoop@gmail.comq |
| Be Considerate | Don't Throw. Call helpline. Wait for service. |
Also Read this 17,479 People approach Pune police for moving out, other help
If citizens wish to assist with Rations to waste-pickers, potential costs and details are as follows
| | | | |
| --- | --- | --- | --- |
| Item | Approx. unit cost | Units per waste picker family per month (Kg / Lt) | Total Cost |
| Jowar | 30 | 5 | 150 |
| Wheat | 30 | 5 | 150 |
| Rice | 35 | 5 | 175 |
| Pulses | 140 | 2 | 280 |
| Legumes | 200 | 1 | 200 |
| Sugar | 30 | 5 | 150 |
| Tea | 480 | 0.5 | 240 |
| Oil | 120 | 5 | 600 |
| | | Total | 1945/- |