Crown Prince of Abu Dhabi calls on the President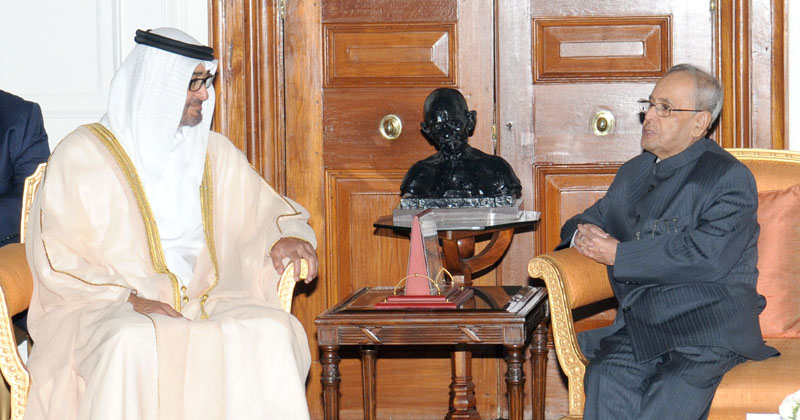 HH Sheikh Mohammed bin Zayed Al Nahyan,
Crown Prince
of
Abu Dhabi
and Deputy Supreme Commander of UAE Armed Forces called on the President of India, Shri Pranab Mukherjee at Rashtrapati Bhavan today (February 11, 2016).
The President warmly recollected his meeting with the Crown Prince in May 2008 during his visit to UAE as the then External Affairs Minister.
Welcoming the Crown Prince, the President conveyed that India shares UAE's desire for a closer partnership between the two countries. India appreciates the vision of the Crown Prince's father, HH Sheikh Zayed and the personal commitment of the Crown Prince to strengthen bilateral ties with India. President said it was a matter of great satisfaction that the two countries have decided to elevate their relations to a comprehensive strategic partnership.
The President said the Prime Minister Narendra Modi's visit to UAE has resulted in increasing mutual understanding and bonds of friendship between the two nations. The Joint Statement issued during that visit reflects the desire to intensify cooperation between the two countries in a wide range of sectors – political, economic, security as well as on regional and multilateral issues. The President remarked the Crown Prince's visit and its timing will contribute to this end.
The President expressed happiness over the establishment of good institutional mechanisms including a Joint Commission between India and the UAE. He said close collaboration through these institutional dialogues and mechanisms will address pending issues and progress cooperation to the desired levels.
On economic relations, the President said India attaches high priority to enhancing bilateral investment ties with the UAE. He added that through bilateral trade ties between the two countries are growing satisfactorily, UAE investment in FDI in India – of about US $ 3 billion – is far below the existing opportunities and potential.
The President said during the Prime Minister's visit to the UAE, the two countries had agreed that investment institutions in the UAE would be encouraged to invest in India's infrastructure – including through India-UAE Infrastructure Investment Fund and a target of US $ 75 billion is set for the same. India looks forward to working together with UAE to achieve this.
The Crown Prince warmly reciprocated the President's views and expressed his desire to create a strong bridge of friendship and cooperation between India and the UAE.
The President hosted a private lunch in honour of the Crown Prince of Abu Dhabi which was attended by Prime Minister Narendra Modi, External Affairs Minister Sushma Swaraj and other dignitaries from India and UAE as well as business leaders. In a special gesture, the President presented HH Sheikh Mohammed bin Zayed Al Nahyan a historical photograph of him calling on the Crown Prince's father, HH Shiekh Zayed during the latter's visit to New Delhi in 1975.