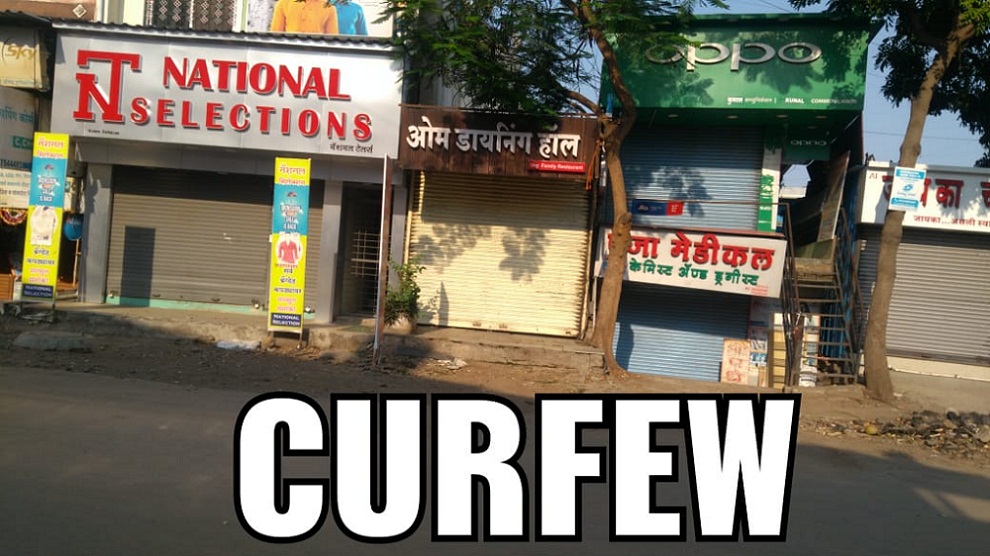 Sumit Singh
Pune/Pimpri, 12 July 2020: Pune Municipal Corporation (PMC) and Pimpri Chinchwad Municipal Corporation (PCMC) has released detailed guidelines about what will be allowed, not allowed during the 10 days of strict lockdown from July 14 till midnight of July 23.
These things are not allowed
 All grocery stores, all groceries and wholesalers, will be completely shut down from July 14 to 18. They will open from July 19 to 23 from 8 am to 12 noon.

All home food delivery by Swiggy, Zomato etc will remain closed from 1 am July 14 to midnight July 23. 

Public/private sports grounds/ open spaces will be completely closed. Morning/evening walk banned.

Canteen/cafes, lodges, hotels (except those being used under Vande Bharat Mission), bars, resorts, malls, markets, will be completely closed.

All hair salons/spas/ beauty parlours will be completely closed.

Locations of all groceries and wholesalers Market / Adat Vegetable Market / Fruit Vendors / Weekly and Daily Markets / all these places will be completely closed from July 14 to 18. They will open from July 19 to 23 from 8 am to noon.

Mutton, chicken, fish shops will remain closed from July 14 to 18. They will open from July 19 to 23 from 8 am to noon.

Schools, colleges, educational institutions, all types of teaching classes will be completely closed.

Public and private vehicles, two-wheeler, three-wheeler and four-wheeler will be completely banned. Only airport, railway station pick up and drop will be allowed by govt approved autorickshaw, cabs. Private vehicle for medical service, railway station, airport can be used with prior permission.

Public and private bus services in the city will be completely closed.

Goods carrying vehicles like truck, tempo, trailer, tractor etc will not operate.

All types of construction work will be completely closed except in-situ construction site where labourers live at the site. 

All cinema halls, gymnasiums, swimming pools, entertainment industries, theatres, bars, theatre halls, auditoriums will be completely closed.

All types of Mangal Karyalaya, halls, as well as reception ceremonies, will be completely closed. But those who have taken permission earlier may go ahead with the ceremony with 20 guests. 

All private establishment offices will be completely closed.

Social / political / dance / entertainment / cultural / religious programs and meetings will be completely closed.

Religious places / public places will be completely closed.

All private offices will remain closed.

E commerce services by Flipkart, Amazon etc will be completely closed from July 14 to 18. They can start services from July 19.
 Guidelines for essential things which will be allowed:
Milk vendors will be allowed to distribute milk at home  

All private and public medical services will be available at regular intervals for veterinary services.

All hospitals will remain open.   

All medical shops will be open 24 hours a day.

All Courts and Offices of State Government / Central Government will operate with limited employees (10%) as per govt order dated June 29. No pass required by them for travel. They need to keep identity card with them. 

Government petrol pumps and company-operated petrol pumps will open from 9 am to 2 pm. They will only supply fuel to government vehicles and essential services vehicles.

The LPG service will be as per the Home Delivery Gas Distribution Rules.

Transportation of industrial and other goods will continue as per Government Rules.

Newspaper, media offices will continue to operate as per Government Rules. Newspaper distribution to be done from 6 am to 9 am.

Tankers supplying water will be allowed as per rules.

Institutional quarantine/isolation, COVID care centres to operate.

All nationalized and RBI approved banks will operate as per the rules. But customers will not be allowed to go to banks. Other customer services of the bank such as online, cash delivery service, bank ATM service will continue.

Court staff, officers, Judge, Advocate, Govt. Employees, Doctors, Anganwadi Workers, ASHA workers, newspaper and media staff, pharmaceuticals and medical shop staff, dairy farmers, essential services like agriculture, fertilizers, gas distributors, water supply, police, fire brigade, municipal corporation employees, revenue department as well as employees assigned to the containment zone, will be granted permission to use four-wheelers, two-wheelers. All these employees/officers will have to keep their identity card, vehicle documents and Aadhaar card.    

Pharmaceutical, food processing, export-oriented industries suppliers (contractors) can continue to operate with earlier permission given by MIDC. Those who have not got the permission can apply on MIDC web portal.

IT companies can operate with 15% employees. 

Care takers of senior citizens, patients allowed to work.

Home delivery of essential commodities, medicines allowed 8 am to 10 pm with permission from police commissioner office.

No person allowed to go out except medical emergency. If anybody is found walking/using vehicle then cases will be registered. Also, the vehicle will be seized and driving license cancelled.

All employers have to ensure that their employees have downloaded Aarogya Setu app.

For using vehicle or going to workplaces which are allowed, employees will have to apply for travel pass on punepolice.in if he/she is residing in Pune city police jurisdiction. 

People from Pimpri Chinchwad who want to travel outside will have to apply on covid19.mhpolice.in   

For industries in PCMC they need get pass from PCMC by sending email to epass.addl2@pcmcindia.gov.in 
If anyone is found violating the lockdown order, the FIR will be registered against the person for offences under section 188 of the Indian Penal Code, Epidemic Diseases Act, Disaster Management Act. 
PCMC lockdown order in Marathi
 This is how you can travel to Pune airport, railway station or in emergency without using own vehicle