Deccan Literature Festival ' in Pune from 31st January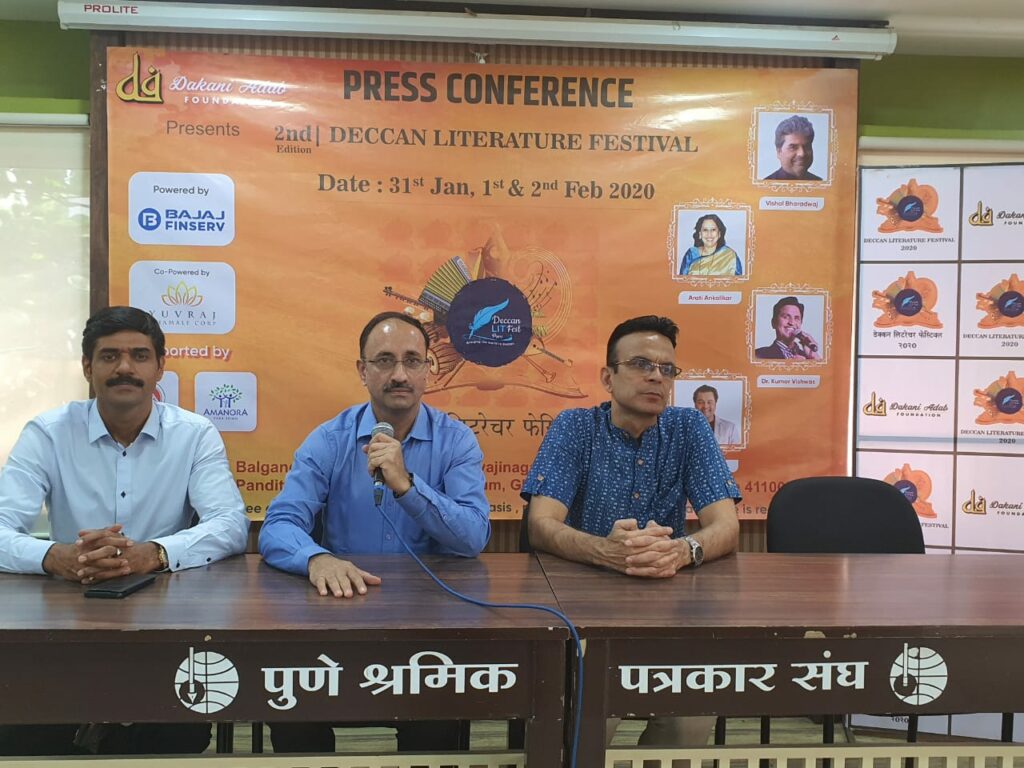 22 Jan 2020, Pune:
'Dakani Adab Foundation' is organizing three days 'Deccan Literature Festival' in Pune from 31st January to 2nd february 2020.
Jairam Kulkarni, Director, Dakani Adab Foundation, informed in a press conference held at Patrakar Sangh.
It is a 3 days event organized on 31st Jan, 1st Feb-2nd Feb 2020 at Balgandharva, Shivajinagar, Pune.This Festival will include multilingual poetry recitals, theatre act, open mic sessions, musical performances among others.
Vishal Bharadwaj,Dr. Kumar Vishwas,Swanand Kirkire,Munawwar Rana,Uday Prakash,Subodh Bhave,Ashok Naigaonkar,Vaibhav Joshi,Danish Hussain,Nizami Brothers,Arati Ankalikar,Salim Arif,Lubna Salim are few among over 50 artists participating in this festival.
Online Registration is mandatory for this festival which is FREE OF COST on http://deccanliteraturefestival.org/
This is second year of this festival. Bhagat singh Koshyari(Governor of Maharashtra)will inaugurate this festival at 6pm, on 31st January, 2020 at Balgandharva Rangmandir,in presence of noted Bollywood director and Producer Vishal Bhardwaj and Satya Pal Singh , MP, (Ex-Police commissioner Pune), Sugar Commissioner Saurabh Rao, IAS and Pune District Collector Naval Kishore Ram, IAS will also grace the occasion.
Bollywood director, Vishal Bhardwaj will also participate in a panel discussion on 'Creative side of commercial cinema'. The first day will close with musical performance by noted classical singer Arati Ankalikar.
Jawahar Lal Nehru Auditorium at Ghole Road and Balgandharv Ranga Mandir will be the venues for morning and evening sessions respectively.
Drama by Swatantra Group Pune will kick start the day 2, Feb 1st, followed by panel discussion over changing language of society where noted Bollywood script wrtiter Javed Siddiqi, famed web series director from Pune, Shravan Karat and others will participate. Shahir Visharad Dr. Azaad Naikawdi will share the folk music in Marathi culture. In the evening sessions for day 2, noted Marathi actor Subodh Bhave will share his thoughts over rise of regional cinema and TV. The session will be followed by famous Bollywood lyricist and singer Swanand Kirkire who will interact with Punekars on his lyrics and music in a session called 'Geetkari'. In an attempt to bring art forms from other languages, DastanGoi an art of Urdu storytelling will be presented by talented story teller Danish Husain. Day 2 finale is Grand Mushaira – Rang, where famous poets across the country will recite their poetry. Dr. Kumar Vishwas, Munawwar Rana, Swanand Kirkire and others will entertain Punekars.
Day 3, will open with a session on Marathi Poetry. Noted Marathi Lyricist Vaibhav Joshi and Legendary Ashok Naigaonkar will talk about the journey of Marathi poetry and also recite their poetry. Critically acclaimed writer Uday Prakash will share his thougts on modern Indian literature. Dakani Adab foundation has always experimented in presenting poetry in various forms. Zikr Uska, Ishquiana are some examples. Keeping the same spirit, there will a multilingual poetry recital called Dhanak where poets from Hindi, Urdu, Marathi, Bengali and Gujrati will recite poetry from single platform. In the evening sessions for day 3, famous drama Gudamba by very talented thatre and TV artist Lubna Salim will be the first attraction of the evening. Famous Urdu poet, Munawwar Rana will interact with Punekars about his poetic journey and the social fabric of India. The festival Finale will be the Qawwali by very talented group Nizami Brothers.
Schedule:
Venue : Balgandharva Ranga MandirDate & Time : 31st Jan , 1st – 2nd Feb 2020, 5:00pm-11:00pm Venue: Pt. Jawaharlal Nehru AuditoriumDate & Time : 1st – 2nd Feb 2020 –10:00am-03:00pm.