Document your age old family recipes to conserve our cultural heritage: Sudha Menon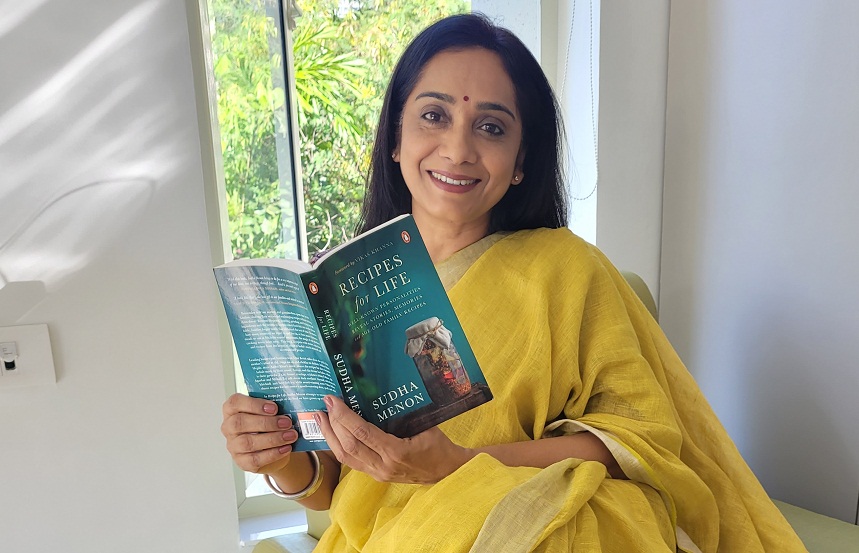 Pune, 18 November 2021: Food is an important part of our identity and we lose a significant part of our cultural legacy and identity when we fail to document precious family recipes, best-selling author Sudha Menon said recently.
Menon was speaking at the launch of her latest book, Recipes For Life, a collection of conversations with eminent Indian men and women about the food that they ate growing up and recipes that have been in the family over generations.
Replying to a question by moderator, R J Tarun about the genesis of the book, Menon said the idea of this book came to her when her mother-in-law, a passionate cook who treated her family to delicious food from the CKP community passed away from dementia a few years ago. 
"The summer after she passed on, I realised that my pickle jar and the spice containers in my kitchen were empty because it was aai who prepared these things every year and gave it to her extended family. I realised then that none of us had written down the recipes that aai had said she had learnt from her own mother and mother-in-law", Menon said.
What began as a documentation of personal family recipes eventually turned into a giant celebration of mothers and family recipes, with Menon reaching out to thirty accomplished people from different walks of life and talking to them about the food their mothers raised them with.
From Olympian boxer, Mary Kom talking about craving her mother's simple food cooked with vegetables and herbs from the garden patch behind their tiny mud house in a village in Manipur to superstar Aamir Khan's mother reminiscing her growing up years in Benaras where she learnt the art of making Biryanis, Kebabs and dessert under the tutelage of her paternal aunt, the book is a veritable food tour across India.
She added, "My brief to the people interviewed in the book including actor Vidya Balan, Indian women's cricket team captain Mithali Raj, eminent artist Atul Dodiya, banker Uday Kotak and author Amish Tripathi was to just give me recipes of the food that they ate at home every day.
The result is amazing: author Manu Pillai gave me his mother's Maampoo Chammandi, a unique rustic mango blossom chutney from Kerala, Atul Dodiya shared his mother's Kathiawadi Karela (bitter gourd) recipes while former cricketer Irfan Pathan gave me his mother's recipe for a lip-smacking Green tuvar, methi, potato and brinjal subzi."
ADVT