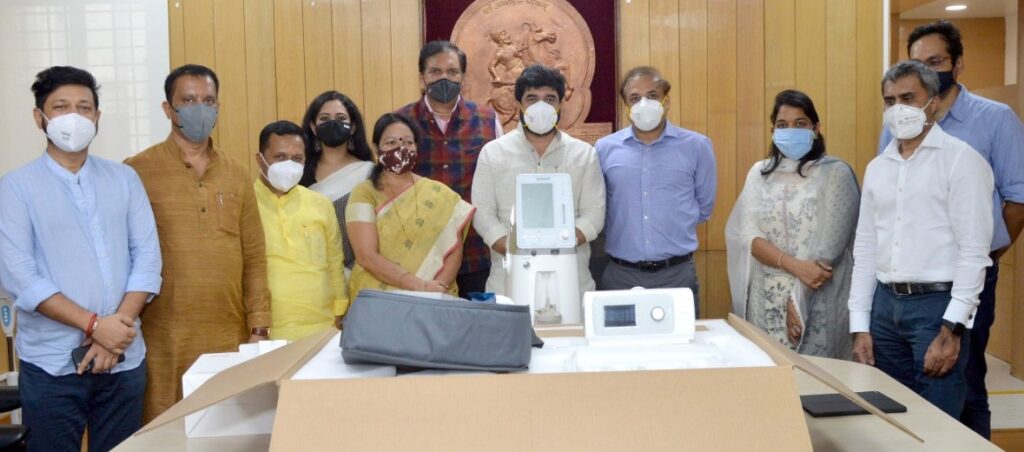 Pune, April 8, 2021: Considering the need to boost the healthcare system in India to battle the COVID pandemic, e-Zest Solutions, a software company has made a contribution of Rs 15 lacs comprising of five units of Ventilators and Oxygen concentrators as part of Mission Vayu, which is a civic-led scheme to support the healthcare infrastructure and tackle the pertaining oxygen shortage in India.
Mission Vayu has been anchored by MCCIA Pune and PPCR (Pune Platform for COVID-19 Response) to help government and healthcare organizations strengthen the medical infrastructure and get aid to accelerate the response to COVID-19.
As a part of the scheme, the company contributed five units of BiPAP ventilators in presence of Murlidhar Mohol, Pune Mayor, Vikram Kumar, PMC Commissioner, Rubal Agarwal, Addl PMC Commissioner, Sunita Wadekar, Dy. Mayor, Prashant Girbane, Director General MCCIA, Dr. Deepak Shikarpur, noted IT expert, Former DG of Rotary District 3131 also Executive Committee Member MCCIA, Ganesh Bidkar, Leader of house in PMC, Hemant Rasane, Chairman, PMC standing committee, Sujit Jain of Mylab and Dalia Dutta of e-Zest.
Speaking on the initiative, e-Zest CEO Devendra Deshmukh said, "The second wave of COVID-19 has been very tough nationwide. At a time when India is facing a shortage of critical medical equipment for oxygen and ventilators, we are glad to be able to lend a helping hand to those in need by contributing five units of BiPAP ventilators as part of Mission Vayu."
e-Zest Healthcare, the strategic unit of e-Zest is a specialist provider of healthcare technology and a strategic partner to some of the world's largest healthcare organizations.
Follow Punekar News: