Express Bike Works, backed by Mark Mobius, comes to Pune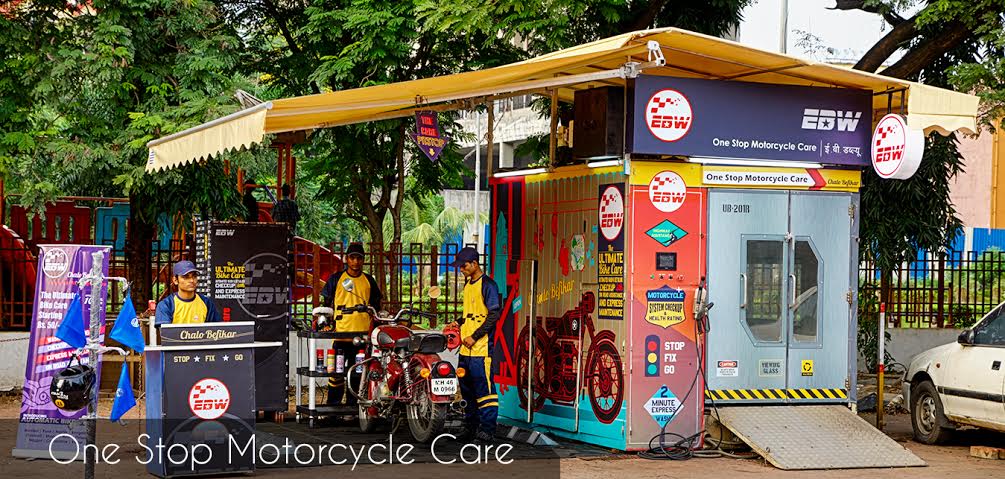 Entropy Innovations brainchild 'Express Bike Works' was funded by Mark Mobius- Executive Chairman, Templeton Emerging Markets, Vaaman Sehgal – Motherson Sumi Group, Abhimanyu Munjal- Hero FinCorp Ltd and KunalKhattar of Carnation Auto India Pvt Ltd in 2015
Proud & successful 'make in India' venture – Invented, designed and manufactured in India with Provisional Patent
The most exhaustive bike care center in india- 40 point check
Record of washing 230 bikes

in 10 hours

– fastest in the world
Pune : Express Bike Works (EBW), world's fastest bike wash centre and India's own invention, is launching Pune's first EBW store in Mundhwa. Services available at EBW store will include 2-minute automated motorcycle washing, detailing, health check-up, express maintenance and on-road assistance anywhere in India. Express Bike Works is a one stop shop for all two wheelers.
EBW's motorcycle wash machine is compact in design and highly efficient in cleaning. The EBW Machine is capable of washing even the dirtiest of motorcycles and scooters within 2-5 minutes. It requires around 10 litres of water per wash, which is recycled and around 90% of the water is reused. A conventional bike wash wastes 50-60 litres of water per bike whereas EBW helps conserve water.Furthermore, there is zero water or oil spillage and EBW uses biodegradable solvents for washing. Also, the price for a wash at EBW is equal to the amount one would spend at any local bike wash centre and that too in lesser time. EBW stores delivers touch free, scratch free, shining bikes with no waiting time to their customers along with offering them a world class bike care experience.
"According to a census report of 2012, Pune City has seen an annual increment of nearly 20% y-o-y in two wheelers, which means there are around 50-55 lakh two wheelers on Pune roads today. Pune also is the two wheeler capital of Maharashtra. This makes Pune an important market for us where our expertise, strong IT systems and skilled work force gets a chance to deliver exceptional results to a larger audience. Also, we get an opportunity to generate more jobs in the city, thus contributing to the overall progress and economy of the country." says Niraj Taksande, co-founder of EBW.
Express Bike Works uses smart cloud based technologies to remotely monitor the operations of the centre. The technology enables them to keep a track of the number of washes that happen a day, billing and consumables, thus making the stores self-reliant. Installation of EBW machine is as simple as plug and play and it is a mobile unit that can be installed anywhere.
EBW machines are regularly and rigorously tested by Hero Moto Corp and other OEMs and have successfully catered to more than 1,50,000+ bikers till date. Also, Indian Oil has partnered with EBW for installation of wash care centres at all IOCL petrol pumps across Maharashtra & Goa.
"We are very happy with the response that we are getting for our 'Make in India' initiative with EBW. A biker will always be happy to see his bike shining, scratch less and new as ever and our end motive is to keep our customers satisfied. We are also conserving water thus saving precious resources which makes EBW a true Indian company." adds Bhushan Karn, co-founder of EBW.
EBW Stores are running successfully at two locations each in Mumbai and Navi Mumbai and one store each in Delhi, Pune, Nashik, Dhanbad and Hubli. They will soon be coming up with new stores at Thrissur, Bengaluru, Coimbatore, Vijaywada and Cochin.
EBW Pune Store Address:
SN.94, Near Police Chowki, Mundhwa, Pune, Maharashtra 411036
About EBW:
Founded in early 2013, Express Bike Works is a brand of Entropy Innovations, an engineering innovations company that has disrupted the two wheeler service industry. The team, alumni of IIT & IIM, has designed and manufactured India's first fully automated motorcycle wash machine that addresses multitude of problems faced by an individual owner as well as a service station. The machine is capable of washing even the dirtiest of motorcycle within 2-5 minutes, which is the fastest in the world, capable of washing over 230 bikes in under 10 hours.  Starting with a few retail touchpoints in Mumbai under the name – 'The EBW Store' the company has now forayed into international markets. The company has one manufacturing unit in Mumbai.The "EBW Store" promises to offer its customers an unparalleled experience in bike care and on-road assistance anywhere in India. The machine has been designed and manufactured in house by the team and has a provisional patent. It is extremely efficient in conserving water and power and requires one fourth of the water a conventional wash care requires. Furthermore, the water is recycled for constant use until it is deemed unfit for wash care, which then can be used for gardening purpose. The technology is supported by a strong IT backend and can be virtually monitored from the remotest corner of the world. The store creates employment opportunities for individuals thus contributing to the overall progress of the country and the economy. The EBW concept has improved the overall working conditions for the employees involved in the Bike works industry. A true "Make in India" venture.