First Annual Conference by Research Society of SKN Medical College, Pune 2020 – A grand Success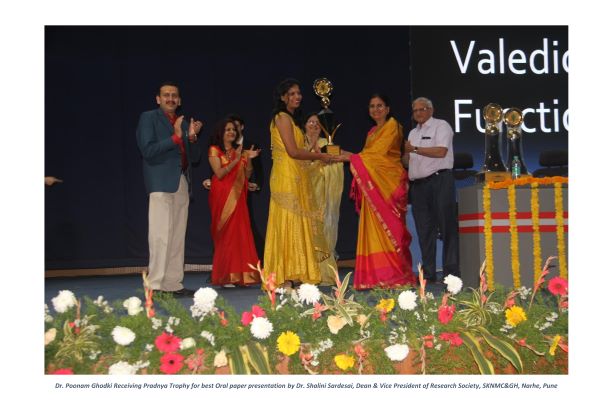 23 Feb 2020, Pune- Attended by 700 delegates and participants from all over the country, the first annual conference of Research Society of Smt. Kashibai Navale Medical College and General Hospital, Pune held on 17th and 18th February 2020, at the Hospital Auditorium, was a grand success. This conference was associated with pre conference workshops on Sports Medicine and Sleep Medicine and evaluation of diabetic complications. Being novel subjects of workshops, the workshops were well received and immensely success.
Many students were motivated for Sports Medicine and Sleep Medicine. Dr. B.N. Gangadhar, Padmashree Awardee, Director NIMHANS Bangalore, gave key note address on connectedness through yoga. He spoke about yoga and its effect in various brain areas to enhance inter human relationships and to gain internal happiness.
Dr. Ashok Jaryal from AIIMS Delhi, elaborated on how basic sciences, branches in medical fields help clinicians to manage their patients better. Dr.Vaman Khadilkar, Pediatric endocrinologist, Pune, opened up the burning issue of childhood obesity and new models to combat the same. Dr.Pratap Sanchetee Consultant Neurologist from Jodhpur, deliberated on healthy ageing and methods to sort out issues due to old age. Ms.Lakshmi Panat, IT Professional from C-DAC gave various demonstrations of applications which can be used in healthcare of patients. For children between 13 to 18 years of age, the symposium on adolescent issues directed toward challenges and solutions was appreciated by all. Oral papers and poster presentations by students and faculty was also held.
Dr. Leena Phadke, Secretary of Research Society briefed the delegates about the journey of the society. Dr.Shalini Sardesai, Dean of Smt.Kashibai Navale Medical College And General Hospital, and Vice-President of Research Society while addressing the delegates, spoke about the vision and mission of Smt.Kashibai Navale Medical College and General Hospital, availability of patient services at affordable costs and commitment of Smt.Kashibai Navale Medical College and General Hospital administration towards Research activities, with a special mention of "MEDIACE" an Annual National Level Conference of Students & Research Society Conference. The first issue of bi-annual journal and Souvenir of Research Society was released by Dr. B. M. Gangadhar and Dr. A. Pandit, Senior Paediatrition and President of Research Society, Pune.
This conference was organized by Department of Physiology and Medicine. Dr.Priya Rajiv Mardikar, Professor Physiology and Dr. Shreepad Bhat, Professor, Medicine were the organizing secretaries.
Prof. M. N. Navale, Founder President of Sinhgad Technical Education Society thanked the organizers, delegates and all participants for making the conference a grand success. Lauding the medical professionals, for their selfless contribution to the well-being of all, he said that it is one of the noblest professions, giving care, removing miseries of the suffering patients irrespective of caste, creed, religion, financial status or societal status. In keeping with the ethos of the profession, right from the very inception, Smt. Kashibai Navale General Hospital and Sinhgad Dental Hospital have been treating the poor patients free of cost.
Follow Punekar News: