Food distribution to Police and Homegaurds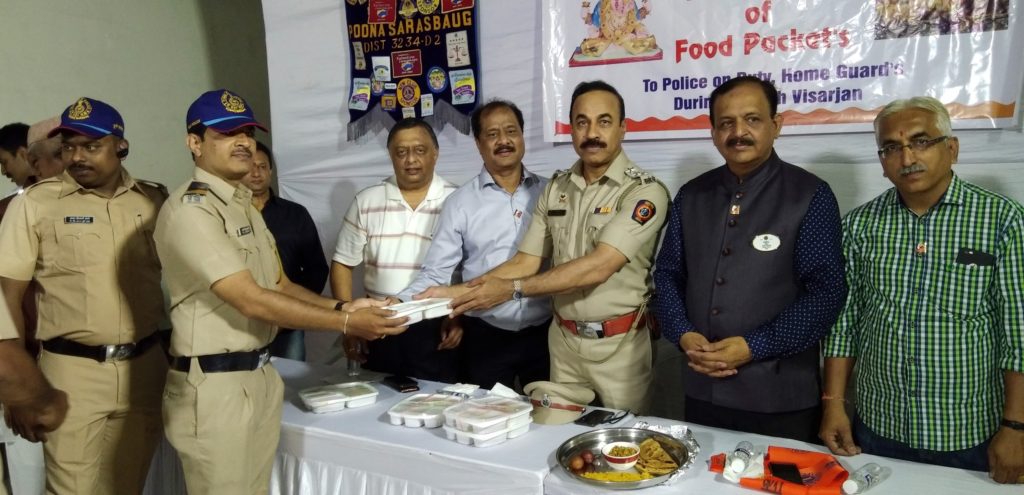 Pune: Lions Club of Poona Sarasbaug and Lions Club of Poona Sarasbaug Charitable Trust jointly arranged food distribution facility to on duty police, Homegaurds and Police Mitra in Ganesh Immersion procession on Sunday and Monday. Bhanupratap Barge, Asst Commissioner of police, Mukta Tilak, Mayor, Pune and Ramesh Shaha, District Governer, Lions Club of International inaugurated the food distribution center at Ranka Jwellers, Laxmi Road Pune. Fatechand Ranka, Past District Governor, Asha Oswal, Pravin Oswal, President of Lions Club of Poona Sarasbaug, Santosh Patwa, Secretary and Deepa Gandhi, Treasurer of Lions Club of Poona Sarasbaug were present on the occasion.
ACP Bhanupratap Barge expressed gratitude towards Lions club for giving homemade food to Police and other guards. This is 14th year of activity. More than 3000 people took food packets and 700 to 800 people took food at the center. Club also arranged tea and water for 24 hours, Fatechand Ranka mentioned. Ramesh Shah appreciated efforts of Lions Club of Poona Sarasbaug.