Forts in Maharashtra to be made known to the whole world through the movie 'Tanaji: The Unsung Warrior'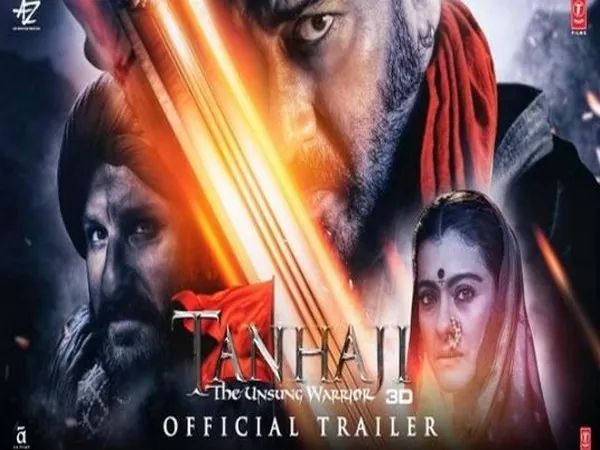 Mumbai, 14/1/2020: Directorate of Tourism, Maharashtra Government has associated with the movie 'Tanaji: The Unsung Warrior' to promote professional and encouraging tourism initiative. Tourism will be promoted and forts in Maharashtra, stories of long-forgotten brave warriors will be reminisced through this partnership. Tourism Department has taken the initiative to spread information on Maharashtrian forts and castles in the whole country and foreign countries through the movie.
'Tanaji: The Unsung Warrior' is T-Series and Om Raut directed movie made under the Ajay Devgan Films Banners. It's a historical drama. The movie premiered on 10th January2020.
The movie is based on the chivalry of Tanaji Malusare, a close assistant and confidant of Shivaji Maharaja. The movie includes star cast Ajay Devgan, Saif Ali Khan, Kajol, Sharad Kelkar, and Jagpati Babu.
As a part of this partnership, Tourism Directorate aims to attract citizens towards the forgotten beauty of forts in the states to celebrate our rich legacy. Tourism Directorate has associated with Ajay Devgan- the main male lead of the movie. Visits to the forts that make one remember about the brave warriors like Tanaji are promised through this. Forts of Maharashtra treasures invaluable memories of such brave warriors. A co-branded TVC has been created for this purpose and it's displayed on TV, cinema advertising and digital media.
Dilip Gawade, Director of Tourism Department informed more on the topic, "Our heritage sites are inspiring even today. These places preserve our glorious history. We must be aware of the chivalry of our ancestors and we should appreciate it. Like other states in our historically rich and diverse country, Maharashtra also has forts like Sinhgad, Raigad, Sindhudurg, and Pratapgad, which gives us a glimpse of our glorious history. We have started this co-branded mission with the movie to encourage people to visit these forts and to be more curious about such historical places in the state. Ajay Devgan is a popular actor and a respectable personality. Therefore, our concept to reach people would prove to be very important." Tourism Department has taken lead in making forts in Maharashtra known to the country and foreign through the movie. He told that they have started the mission through the movie- 'Tanaji: The Unsung Warrior'.
The spokesperson of the production commented on the partnership that considering the way cinema affects people; this collaboration would try to popularize long-forgotten legendary historical heroes of our state. Our next venture will also cooperate with this mission very well. We aim to bring chivalries of not-so-known warriors to the big screen in the future. We will try to shed light on historical events through such collaborations.
Photo and video competition on forts
Tourism The directorate has launched a photo and video competition based on forts in Maharashtra as an expansion of this unique initiative. This competition is open for amateur as well as for professional photographers. More information is available on Maharashtra Tourism's official social media handles.