'Ganja': Pune rural police seize 167 kg cannabis, 12 members of inter-state gang arrested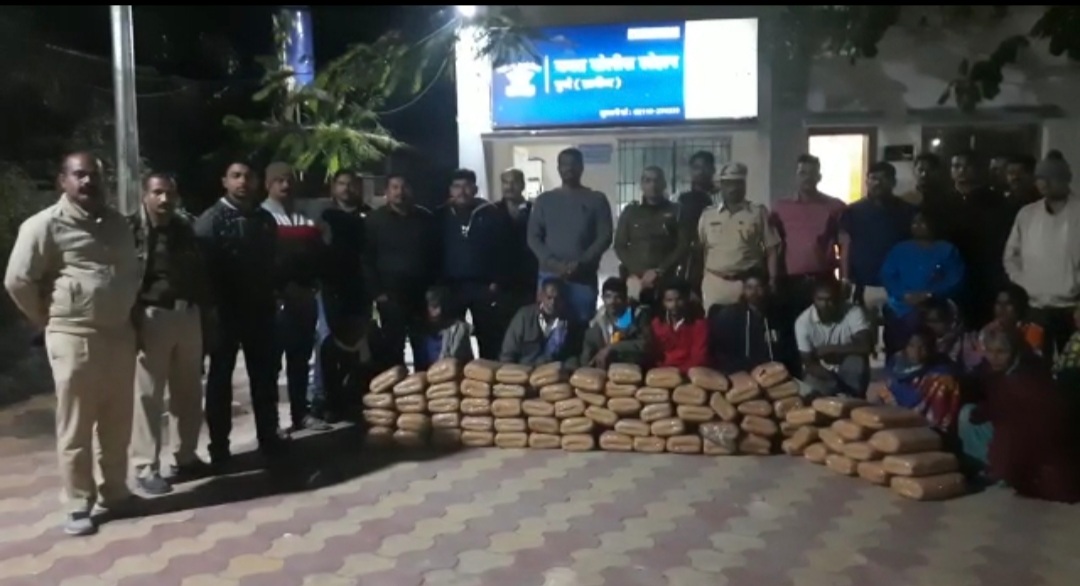 Mubarak Ansari
Yavat, 26th December 2021: The officials from Pune rural police have seized 167.25 kg of marijuana from two truck drivers who were on their way to Pune from Andhra Pradesh.
The operation was carried out near Patas Toll plaza and a gang of 12 persons was arrested around 1 am today.
A case has been registered against them at Yavat police station for offences under the Narcotic Drugs and Psychotropic Substances (NDPS) Act.
According to police, the seized 167.25 kg ganja is worth Rs 30.1 lakh while the two trucks are worth Rs 48 lakh.
Police Inspector Narayan Pawar of Yavat police station had received a tip-off about the smuggling of marijuana. Accordingly, he had formed two teams that nabbed the accused near the Indian Oil Petrol pump near Patas on the Pune-Solapur highway today.
"The accused had hidden the cannabis in packets near the driver seat. We have arrested 12 accused including five women. They were on their way to Pune from Andhra Pradesh via Karnataka. Further investigation is going on", said Inspector Pawar.
The arrested accused are Ravi Kumar Jageshwar Rao Pupalla, Ravi Kotya Ajmera (both from Andhra Pradesh), Prakash N. Venkateshwarrao of Vijayawada in Andhra Pradesh, Umesh Khandu Thorat from Manchar in Ambegaon taluka of Pune district, Yuvraj Kisan Pawar and Kisan Shalimar Pawar from Motala, Uttam Kalu Chavan from Karwand in Buldhana district, Rukminibai Ruprao Pawar, Meena Yuvraj Pawar, Mamta Uttam Chavan, Lalabai Devlal Chavan, and Lalita Hiralal Pawar, all from Buldhana district.
The action was taken under the guidance of Superintendent of Police (Pune rural) Dr Abhinav Deshmukh, Additional Superintendent of Police (Baramati division) Milind Mohite, Sub-Divisional Police Officer Rahul Dhas and Inspector Narayan Pawar.
The teams included Assistant Police Inspector Keshav Wable, PSI Padmaraj Gampale and police personnel Ganesh Sonawane, Vishal Gajre, Vikas Kapre, JM Bhosale, Bhanudas Bandagar, Ravindra Gosavi, Meghraj Jagtap, Mahendra Chandne, Nutan Jadhav, Pramod Gaikwad, Sujit Jagtap, Deepak Yadav, Tatyasaheb Kare, Ganesh Muthekar, Anand Aher, Dhavade, Satyawan Jagtap, Vijay Awale, Police Mitra Rama Pawar and Nikhil Avchat.