GGIS students spreads clean and green message in Wari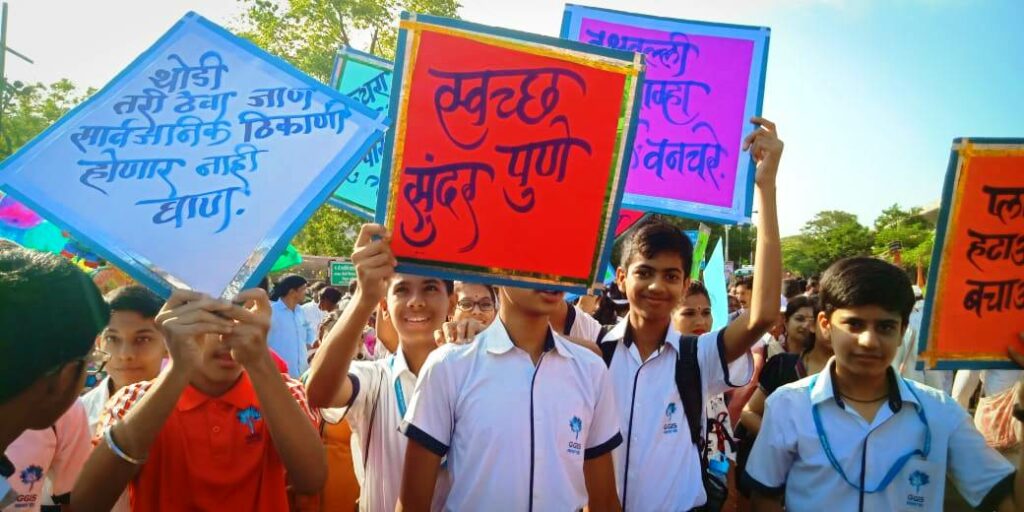 PUNE- More than 250 students of GG International School took part in annual Palkhi procession to sensitize and spread the message of cleaner, greener and healthier Palkhi 2019.
For the past 4 years the students from class 9th to 12th of the school have been working closely with the Municipal Corporation and the Sanitation Department, in order to sensitize the Warkaris about maintaining Cleanliness and Hygiene during the Yatra.
This year too, GGIS students entered the Palkhi procession from HA Circle, creating awareness, picking up garbage, documenting the procession for Documentary Film Making and then continued towards Jain Mandir where they offered SEWA in the shelters created for Warkaris. From daybreak till noon the students of Sr Secondary Section worked tirelessly to ensure a safe, clean and hygienic experience of Palkhi for everyone.
"We always have walked extra miles to teach our students the Indian traditions in a practical way. These efforts not only brings them closer to the roots but helps them reach out to a local community and as youth of this nation do their bit for the society" stated Principal, Ms. Bharti Bhagwani, GG International School.
"We have been taking part in this annual event with our students year after year. The students and staff work very hard and its takes a plan of 15 days at least to make this community outreach programme a success every year. This year we planned to document the whole procession in a Documentary Film" stated Sukhwinder Kaur ajd Dhruvi Bhatia, Academic Heads, GG International School.