Glimpse of rural Bengal in Pune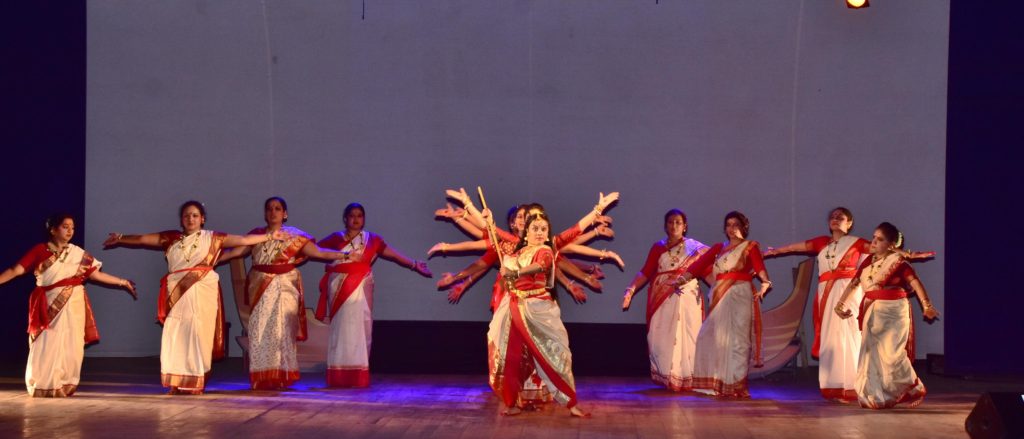 Pune – The Puneities have been familiar to the literature and culture of Bengal on several occasions. The city celebrates the Bengal festivals as vibrantly as in West Bengal. While non-Bengalis have got glimpses of Bengal through friends and media, the Bengalee Association of Pune (BAP) on yet another occasion brings forth the representation of unheard voices of Bengali culture at Pune Festival on Saturday, Sept 22nd 018 at Balgandharva Rangmandir.
Dr. Samar Roy Chowdhury, (Program Director) has showcased the cultural journey with musical extravaganza which travels to the non-Bengalis of this part of our Motherland right from Bengal through the rural folk songs, skit and dances which represent the rich cultural and historical heritage of the state.
We start with showcasing TRIVENI, under the able guidance of Debarati Basu accompanied by a troupe of vibrant singers. The episode depicts a musical representation and stories of valour & heroic deeds by our respected freedom fighters and revolutionaries in chronological order starting with Bankim Chandra Chatterjee, Swami Vivekanand, Netaji Subhash Chandra Bose.
The journey continues with a skit based on the Nobel Laureate Kobiguru Rabindranath Tagore titled Debotar Graash, on a hard hitting long poem against the medieval superstitions so rampant in rural India at the time and the evil inhuman practices that rose from it. The child artist Purahan Paul, with his mother Smt. Chaitali Roychowdhury in the role of Mokkhoda, alongwith Samiran Bhowmik as Dada Thakur and other performers will penetrate in the heart of the audience.
MATIR MANUSH seeks to bring the very essence of the varied dance forms from the state of Bengal. Mohor Mukherjee (Program Choreographer) accompanied with 30 dancers will enable audience to understand the rural culture of Bengal.
Highlight of folk dances are Chhau Dance is a tribal martial dance, primarily evolved in the south western district of Purulia but it is also performed in other states like Odisha, Jharkhand etc. and performed during the sun festival celebrated in Chaitra month of Hindi calendar. Bhadu from the south western Bengal is originated from the districts of Bankura, Purulia, West Burdwan and Birbhum. Bhadu Dance is performed mainly during the Monsoon. Bhatiyali is the song of the boatmen of Bengal. Baul dance forms a part of the religious rites of wandering ministrels of Bengal. Jhumur a dance form of the Tribals namely Santhals that originated in the eastern part of India, namely in Assam, West Bengal, Jharkhand and Odisha. Gaudiya Nritya is an ancient classical dance form of Bengal.
The epilogue of the evening will be MAHISASUR MARDINI Durgotsav, the iconic festival of Bengal.
Follow Punekar News: