Health Chakra Launches India's 1st Mobile Health Clinic In Pune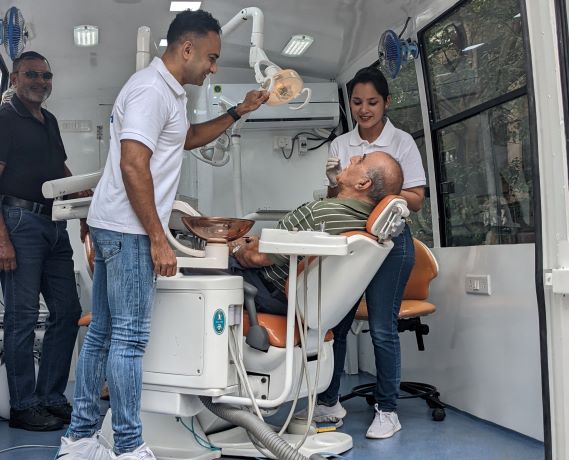 Pune, 20th May 2022: With the pandemic which lasted for a good two years, everyone realized the value of one's health and staying healthy was of prime importance for not only the bread earner but the entire family. Today, Health Chakra launched its 1st Mobile Dental Health clinic services in Pune, with an aim to provide Health Care services at the doorstep of those who need it.
The initiative was launched at the hands of Ravindra Binawade, Additional Commissioner, PMC amongst other dignitaries and members of the doctor fraternity at the head office of Health Chakra at Koregaon Park. This initiative is spearheaded by Dr. Ruchira Khanna and Dr. Ankit Khanna who have been working very successfully in Pune city since the last 16 years and are the founders of Health Chakra along with Malay Ghatak and Arun Sharma.
The Mobile Dental Health clinic will start offering services in Pune from Mohamadwadi area which has a cluster of approximately thirty odd societies with a population of about 50000 and more individuals.  Majority of the population is that of senior citizens for whom travelling to clinics and hospitals is a problem and they would prefer something in their society.
Currently Health Chakra has 4 centers in Pune at Koregaon Park, Wanowarie, Kondhwa and Mohammadwadi and are already providing state of the art dental services to its patients with the help of advance technology and equipment like:
Dental Scanner
Digital X-rays
Laser surgery
Laser Endodontics
Aligners etc
Speaking at the occasion Dr. Ruchira Khanna, Co-founder Health Chakra said, "The Health Chakra Mobile Health clinic van will offer tremendous value and will be of great use to IT professionals who prefer from working from home, mothers with infants and young children at home, busy corporate individuals who don't have time to travel for their health care appointments. This service will make it easy for all such individuals to take care of their health at the comfort of their home".
 Speaking at the occasion Dr. Ankit Khanna, Co-founder of Health Chakra said, "We aim to provide treatment to our patients in a very holistic manner.  We being doctors understand that each body part is related to another and are inter-connected, therefore solving a problem holistically will resolve the problem in a better way and give better patient relief and treatment."
Currently we are starting our Mobile Health clinic van with Dentistry treatments and solutions and gradually we plan to bring on different medical specialties in our services.  We want to help our patients achieve their health goals. Sometimes, traffic issues, parking issues, waiting times at clinics and driving to the clinic can be a hindrance in getting the right treatment at the right time. Also, at times, when in pain or sick, another person has to accompany the patient. Health Chakra Mobile Health-clinic van is the answer to all of the above, providing treatment to the patient at his/her doorstep.
We want everyone to understand that a good health and healthy lifestyle is the key to a happy life. Doing regular checkups and treating problems at an earlier stage is the key to this and we are providing you the ease to do so by getting health care at your doorstep.
Health Chakra is a Health-tech company and its main objective is to combine skill, knowledge and technology to make the best healthcare services easily accessible to you.