"I was fined for wearing a mask," Netizens Upset With Pune Police Action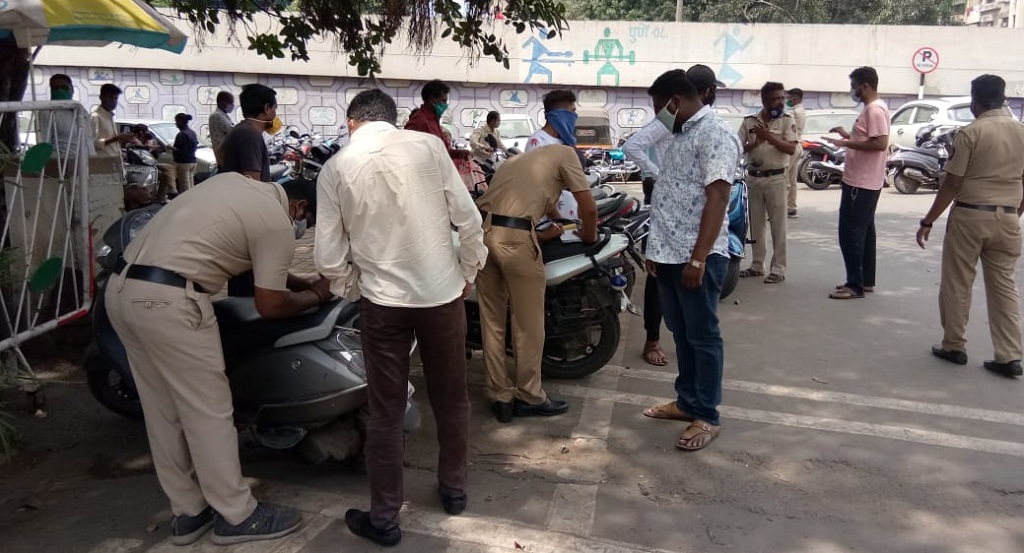 Pune, October 17, 2020: Many controversies of people fined despite wearing masks are taking rounds on social media. While the decision to impose fines on people not wearing the mask is commendable, several people have alleged that they have been forced to pay fine as the mask went beneath their nose levels while driving.
Punekarnews reporter Mehab Qureshi narrates his ordeal
While driving from Aundh road to Khadki, I was with my brother, who was wearing an N95 mask, and I had a cloth mask put on. The police personnel stopped us and imposed a fine as my brother's mask came down to nose level.
Upon asking PSI Sachin Pawar about this, he said that there is no written order in this regard. Meanwhile, we paid a fine of Rs 500 for something we had no control over whatsoever.
The quest for contacting authorities began.
Punekarnews.in tried establishing contact with PMC Commissioner Vikram Kumar, Pune Police Commissioner Amitabh Gupta, Joint Commissioner Ravindra Shisve and District Collector Rajesh Deshmukh. However, none of the authorities responded in this regard.
"We have issued an order for collecting fine from people for not wearing masks. However, there is no point if the mask is not worn properly", said Rubal Agarwal, PMC Additional Municipal Commissioner.
Pune police have collected a fine of Rs 12.5 crores from three lakh people for not wearing masks and spitting in public places.
Netizens expressed their concerns on Twitter. 
So suddenly #Pune #police are randomly stopping ppl even if their mask has just slipped down a bit while being in their car with windows closed 🤷🏽‍♀️ and on top of it they are not ready to accept digital payments. cash only @PuneCityPolice

— MusingsofM (@mithilakulkarni) October 6, 2020
Harrasment by Pune Police.@PuneCityPolice@PuneCityTraffic @CPPuneCity
In my own private car, I can't remove the mask for a few seconds even if I suffocate to death. Fined Rs 500 when thousands of people are roaming on the road and public places without masks.

— Anisha Chand (@anishachand2) October 1, 2020
Seshasai Boggavarapu-This is what I got as for nonresidential of Pune. I had a mask and mask was slightly went down while going on the bike alone and again adjusting that and at the same @PuneCityPolice caught me and even explaining the same, they are not listening to anything @narendramodi @PMOIndia 
Follow and connect with us on WhatsApp Facebook Twitter Linkedin YouTube Instagram