IDFC Bank's Micro ATM wins NetApp Innovation Award 2016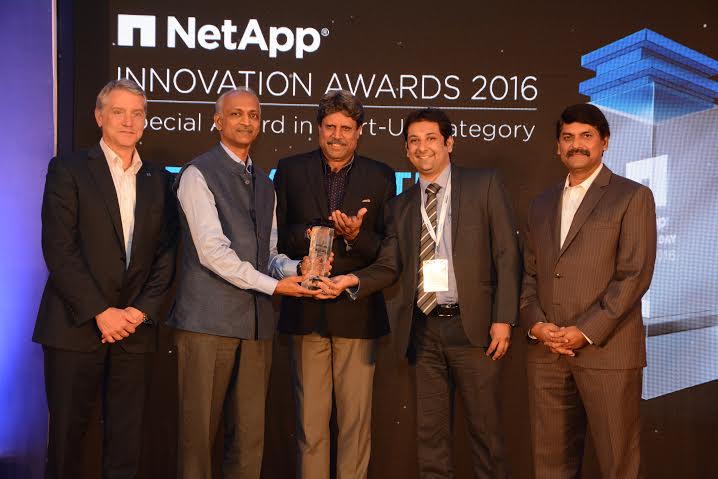 Mumbai, March ​11​, 2016:  IDFC Bank has won the NetApp Innovation Award 2016 for its innovative micro ATM product. The Bank's micro ATM is intended to expand access to financial services and promote financial inclusion in India's underbanked rural areas.
Ravi Shankar, Head – Bharat Banking, IDFC Bank, received the award from former Indian cricketer, Kapil Dev, who was the Chief Guest at the function, in the presence of Lee Caswell, Vice President, Product, Solutions and Services Marketing and Anil Valluri, President, NetApp India & SAARC, in Mumbai.
The award recognizes IDFC Bank for the pioneering work in the banking space through the concept of micro-ATMs, which will transform rural banking.
Speaking on the occasion, Ravi Shankar, said, "The award affirms IDFC Bank's commitment to improving access to banking services for the large urban and rural mass market segment. IDFC Bank's interoperable micro ATM aims to enhance the velocity of money in the local economy. The micro ATM initiative uses technology to create 24×7 access to banking services."
Anil Valluri said, "IDFC Bank with its breakthrough idea of using micro ATMs will enable last mile access to banking in the remotest locations in rural India. This will go a long way in contributing to economic welfare in these places."
IDFC Bank's Micro ATM initiative combines an innovative concept and a state-of-the-art machine, which integrates a tablet, biometric reader, printer and a micro ATM application. It can be used to perform a variety of financial and non-financial transactions using multiple identifiers such as mobile number, Aadhaar number, debit card and account number with authentication through Aadhaar biometric or ATM PIN.
As a bank with a public purpose, IDFC Bank is reaching out to the underserved locations and customer segments, currently excluded from the banking fold through its Bharat Banking division. IDFC Bank plans to expand its distribution network in a contiguous manner to deliver 'anytime, anywhere banking' in rural and semi-urban locations.
IDFC Bank was formally inaugurated on October 19, 2015 by Prime Minister Shri Narendra Modi in New Delhi. The Bank's business units include Bharat Banking, Personal and Business Banking and Commercial and Wholesale Banking.
The NetApp Innovation Awards recognize companies and people that aggressively and innovatively leverage technology to make IT dramatically more proactive, productive, and essential to creating business value.