"IGNITING FIRE AMONGST YOUNG TALENTS TO ENTER JUDICIAL SERVICES IS A DUTY OF EDUCATIONAL INSTITUTIONS"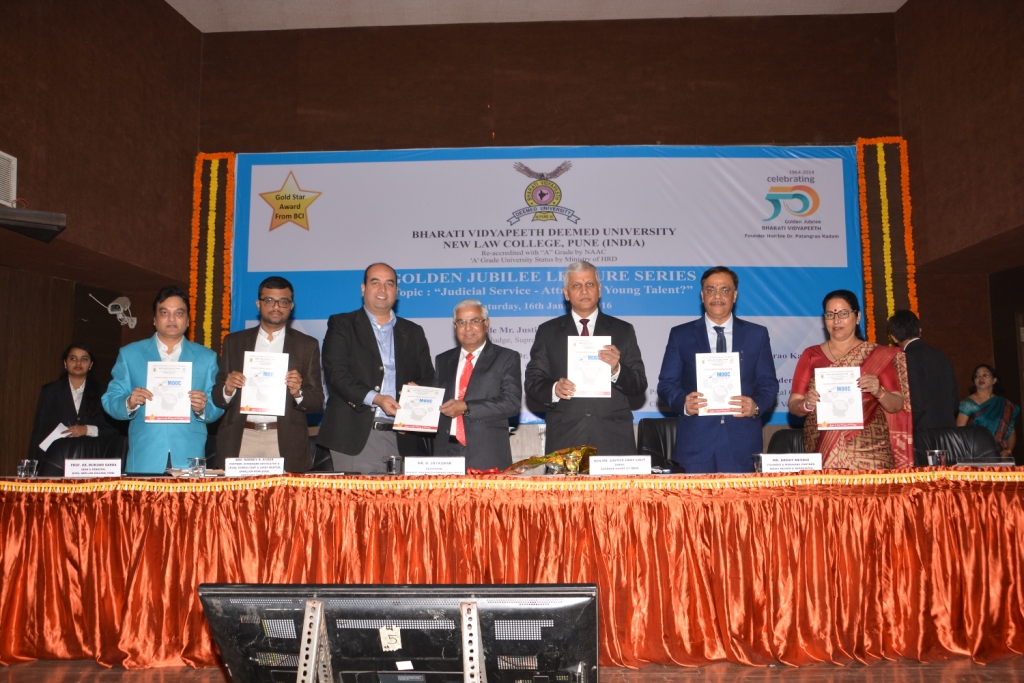 "JUDICIAL CAREER IS A NOVEL CAREER"
 – HON'BLE MR. JUSTICE UDAY LALIT
JUDGE, SUPREME COURT OF INDIA
HON'BLE MR. JUSTICE UDAY LALIT inaugurated the function of "GOLDEN JUBILEE LECTURE SERIES- JUDICIAL SERVICE: ATTRACTING YOUNG TALENTS" organized by Bharati Vidyapeeth's New Law College, Pune as on 16th January, 2016 at 11.00am.
HON'BLE MR. JUSTICE UDAY LALIT speaking on this occasion stated that, "Igniting fire amongst young talents to enter judicial services is a foremost duty of educational institutions, becoming a judge is an individual journey depending upon its own integrity and clear conscience. A king acting like a common man spells real greatness. A Judge is a head priest and a lawyer is a novice priest in the temple of justice. Nowadays young generation of lawyers are very techno savvy, they can easily get the latest judgments, materials, books online etc. This material which they posses is just a text but the context is missing, which they have to gain through experience only. For appointment of judges, judges choose their own successors, so the judiciary is a in pregnable bastion. In India there are vary few services where a person can directly enter judicial services e.g. IS. Passing of judgment gives maximum satisfaction to a judge, before giving a judgment judges has to see the impact of the judgment on the society at large. Decision making power is bestowed upon the judges although he has to follow the law of the land. Judges cannot back out in a situation of giving the judgment on crucial decisions. A judge should be true to its own conscience before giving decisions.
The lecture series was inaugurated at the auspicious hands of  HON'BLE MR. JUSTICE UDAY LALIT, Prof. Dr. Mukund Sarda Dean and Principal New Law College, Pune, Adv. Rodney D. Ryder, Mr. G. Jaykumar, Registrar, Mr. Abhay Nevagi, Adv. Ashwin Madhavan
In this program there was inauguration of 'MOOC' : MASSIVE OPEN ONLINE COURSES in Law which includes Certificate Program on Legal Writing and Drafting, Corporate Laws, Intellectual Property Laws, New Media Laws, Internet Law and Policy. The duration of the program shall be from 3 months to 6 months. There was also inauguration of NLC Mobile Application, Online Examination System and Digital Library developed by Daduf: A Digital Learning Platform by Anomaly Solutions PVT LTD and Magnum Technologies.
NLC Campus App includes:
Students can see important information related to admissions, moot code, exams and achievements.
They can apply for internships and share their own achievements with the college
Online time table and results
Alumni can stay updated and connected to the institute