India has a rich tradition of design – Ashoke Chatterjee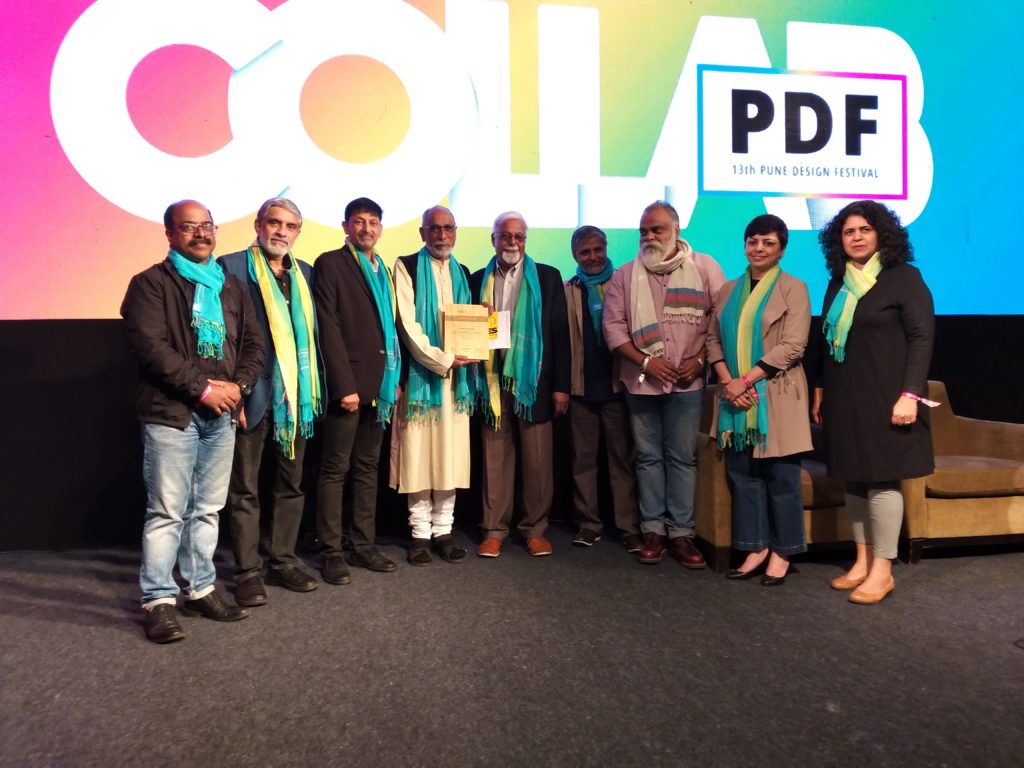 Pune, January 11: India has rich tradition of design, opined Ashoke Chatterjee, Advisor – Centre for Heritage Management and former Executive Director of National Institute of Design. He was delivering a speech at the inaugural session of 13th Pune Design Festival organized by the Association of Designers of India at Hyatt Regency on Nagar Road after being felicitated for his outstanding contribution to the world of design. Vikas Satwalekar, Satish Gokhale, Ashish Deshpande, Bala Mahajan, Suresh Arian, Ashwini Deshpande, Prakash Khanzode and Nishma Pandit were present on the occasion.
The Pune Design Festival and Expo are on till tomorrow (January 12th). The expo is open to all and there is no entry fee for the same. The expo will act as a one stop destination to gather information about design education for aspiring designers.
Speaking on the occasion Ashoke Chatterjee said, "India is probably is the only country in the world that has an unbroken tradition of design of thousands of years. Current excavation in Haryana, Sanchi Stupa, Ajanta have shown this fact. The Indian philosophy of design was based on 3 important values including service, dignity and love, which unfortunately don't look to be a part of today's design."
"India needs more designers than it is currently producing. So, scaling up of training and education of design subject is important. However, while scaling up the institutions engaged in design education must give due importance to the values on which Indian design tradition is based. Most of the design schools are running after degrees, which is not the way forward. The unconventional training methodology adopted by National Institute of Design in this regard about 4 decades ago was a path breaking one and played a major role in establishing design as s profession in India", he added.
According to him the sustainable goals set by the United Nations is nothing but setting the design agenda for future. This would be a big opportunity for designers.
The theme of this year's Pune Design Festival is 'Collaborate'. Commenting on this theme Chatterjee said that the ability of diversity to come together can create wonders. Persona, literature and the teachings of Saint Kabir signify the spirit of collaboration. Earlier to this talk Vasu Dixit, noted vocalist, Music composer and film makers mesmerized the audience with his live performance. Suresh Venkat played the host for the session during the day.
In the felicitaion photo from left Prakash Khanzode, Satish Gokhale, Ashish Deshpande, Ashoke Chatterjee, Vikas Satwalekar, Bala Mahajan, Suresh Arian, Ashwini Deshpande and Nishma Pandit.
Follow Punekar News: