Indian Railways Signs MoU with RailTel for implementation of Modern Train Control System Project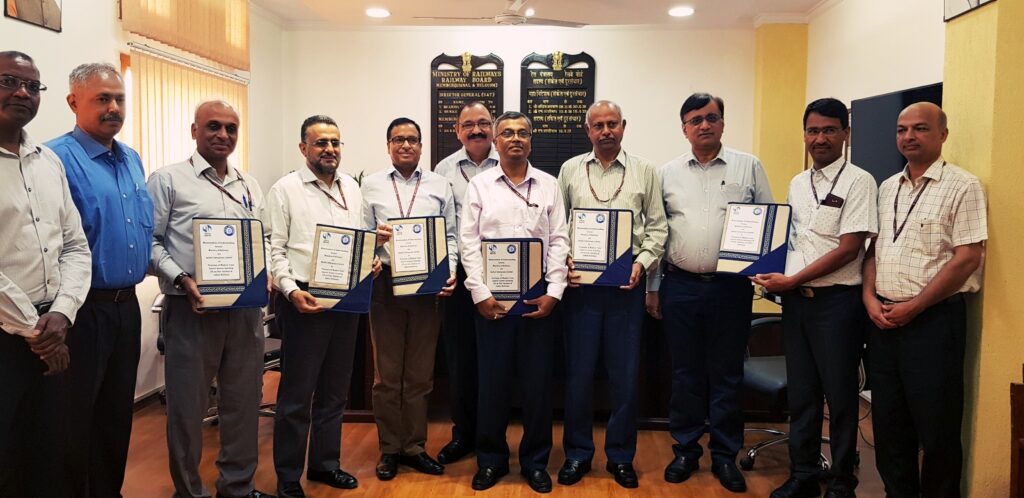 Mumbai, June 18,2019
Indian Railways signed MoU with RailTel Enterprises Limited (REL), a wholly owned subsidiary company of RailTel Corporation of India ltd, for the work of modernization of signaling system on 4 sections, which includes Automatic Train Protection System with Long Term Evolution (LTE) based Mobile Train Radio Communication System (MTRC) together with provision of Electronic Interlocking (indoor) wherever required.
The MoU was signed by Shri Pradeep M Sikdar, ED/Signal Development, Railway Board, Ministry of Railways and Shri A.K. Sablania, Director & CEO, M/s REL in August presence of Shri N Kashinath, Member/S&T, Railway Board and Shri Puneet Chawla, CMD/RailTel.
Shri Sunil Udasi, Chief Public Relations Officer, Central Railway informed that this project of Modern Train control system will be implemented on 175 RKMs on Nagpur (NGP) – Badnera (BD) Section on Central Railway, 165 RKMs on Renigunta (RU) – Yerraguntla (YA) section on South Central Railway, 145 RKMs on Vizianagaram (VZM) –Palasa (PSA) section on East Coast Railway and 155 RKMs on Jhansi (JHS) – Bina (BINA) Section on North Central Railway. These are some of the busiest routes on Indian Railway with heavy traffic.
Automatic Train Protection System and LTE based MRTC will improve safety, help reduce congestion in these rail networks and increase line capacity, improve punctuality. It will also help to increase average speed of trains. The Modern Train Control System shall be as per Open Standard, Interoperable with Multi-vendor support. Mobile Train Radio Communication System shall be deployed using LTE backbone for communication between Train Running staff, Drivers, Guards and Control Office. This system will also be used for working of Automatic Train Protection System. Initially, this system will be provided on 500 Locomotives.
Shri Kashinath, Member (Signal & Telecom), Railway Board, said that there is a need to implement Modern Train Control System to keep pace with modern signalling & communication systems being used all around the world, to ensure Safety of the Passengers and increase Line capacity to match with the challenges of running more trains on existing track.
Shri Puneet Chawla, CMD/RailTel said that RailTel Team is already on the job and has already taken inputs, feedback from industry representatives with respect to technology, interfaces, compatibility and interoperability of various sub-systems. Based on these inputs from all stakeholders, a blue print for speedy execution of the pilot project is ready for implementation.
The pilot project at estimated cost of Rs. 1609 crores is to be completed in 24 months. Modern Train Control system based on LTE based MTRC is one of the most ambitious modernization projects of Indian Railways, which envisages upgradation of signaling system at par with the world standards.
Once this pilot project is implemented successfully, Indian Railway propose to implement the same on important high density routes of the Railway network.
— — —
Date: June 18, 2019
This press release is issued by Sunil Udasi, Chief Public Relations Officer, Central Railway, Chhatrapati Shivaji Maharaj Terminus Mumbai.