Introducing Pune's Ultimate Supersaver: 'puneorders.in' – Your One-Stop Food Ordering Platform!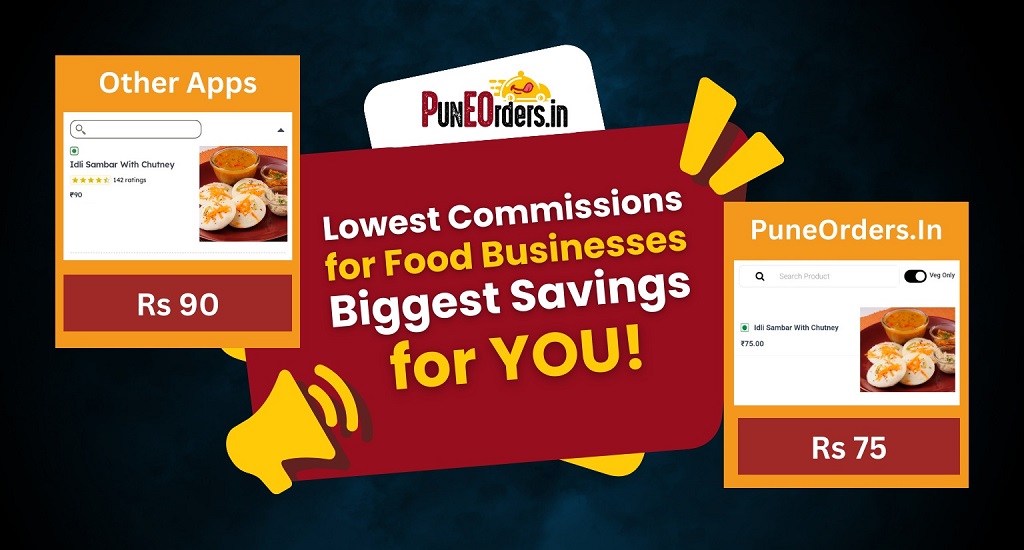 Pune, 12th September 2023: If you're a food enthusiast in Pune, the latest culinary innovation is here to tantalize your taste buds and lighten your wallet. 'puneorders.in' has arrived, promising the best prices, the most substantial savings, and a feast of flavors from Pune's diverse culinary scene. 
As restaurants pay lower commissions, customers can enjoy the same food items for less when ordering through puneorders.in compared to other online food delivery platforms.
In an age where supporting local businesses has never been more critical, 'puneorders.in' stands as a shining example of community support. This platform is dedicated to uplifting Pune's vibrant food industry, offering a spotlight for renowned restaurants, talented home chefs, and passionate bakers, allowing them to showcase their culinary creations to a wider audience.
Aniruddha Patil, the visionary founder behind 'puneorders.in,' stated, "No matter where you are in Pune, 'puneorders.in' ensures that the delights of your favorite restaurants, home chefs, and bakers are just a few clicks away. Say goodbye to the limitations of distance and indulge in a citywide culinary adventure."
But the allure of 'puneorders.in' doesn't end with restaurant meals. Are you a pet owner in need of specialized pet food delivered right to your doorstep? Perhaps you're an aspiring chef seeking the freshest produce for your home-cooked creations. Whatever your food-related needs may be, 'puneorders.in' offers a comprehensive solution.
The 'puneorders.in' mobile app is your gateway to culinary convenience. With its user-friendly interface, placing orders has never been easier. The app seamlessly integrates payment and delivery options, guaranteeing a hassle-free experience from start to finish. Bid farewell to long waiting times and welcome the convenience that's now just a few taps away.
'Puneorders.in' is the key to unlocking a world of flavors, convenience, and savings, all while celebrating and supporting local businesses. Don't miss out on this game-changing platform that's set to redefine how Pune orders its food.
Visit www.puneorders.in/en/ today to explore the future of food ordering in Pune. Your next delicious meal is just a click away! Embrace the culinary revolution with 'puneorders.in.'
Ad