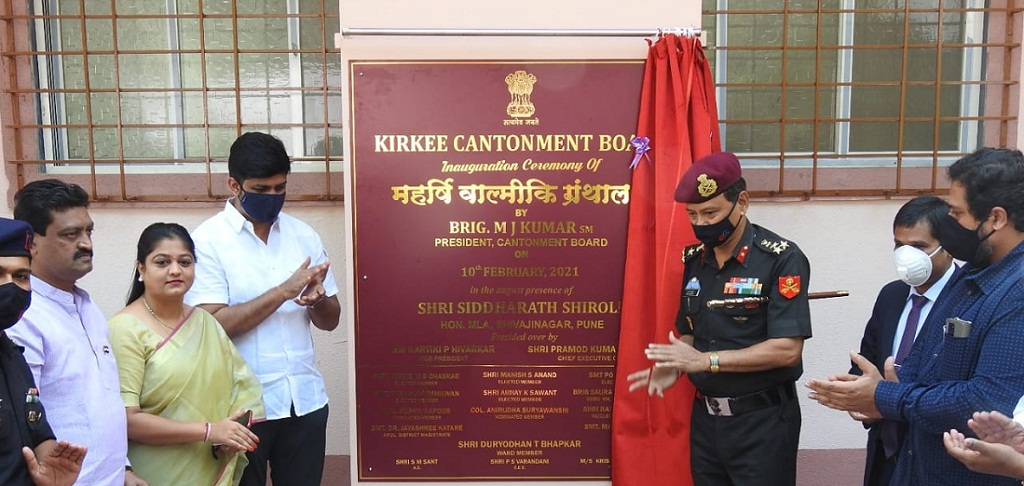 Sumt Singh
Pune, February 11, 2021: The Khadki Cantonment Board (KCB) has opened its new digital library 'Maharshi Valmiki Granthalaya' or 'Study Centre' for those deprived students who are preparing or willing to prepare for the Civil Service Examination, State Public Service or other examination such NDA, banking, railways, SSC, teacher, and other job oriented professional courses like MBA, IIT, medical, computer science, ITI, Law, journalism or any other courses.
Khadki Cantonment Board president Brigadier MJ Kumar, vice president Karthiki Hivarkar, CEO Pramod Kumar Singh, deputy CEO Mabel Christian, MLA Siddharth Shirole as well as Board members Duryodhan Bhapkar, Kamlesh Chaskar, Abhay Sawant and Manish Anand were present during the inauguration ceremony on February 10 (Wednesday). The study centre is located at Nehru Garden near Khadki Business Centre on Elphinstone Road.
KCB CEO Pramod Kumar Singh says that the motto is to help the meritorious deprived candidates/ aspirants for achieving their goals and to get the employment for securing their life.
"We found that a lot of candidates have no facility, but they have dream/aspirations to be an IAS, IPS officer or to get the jobs in other government services or to opt a profession. Hence facilities like books, study materials and academic environment with a modern technique were required to be given at one place", he said.
Facilities
· Study materials in form of books, notes, magazines and newspapers for current affairs.
· Study material – service wise and subject wise with three language English, Marathi and Hindi are available.
· Video lectures of multiple subjects and specific job oriented made available, PDF, PPT, audio lecture, E-BOOKS also provided.
· E-Books on the environment, history, Engineering, Medical, Language, religion, geography, economics, photography, painting& drawing, craft & hobbies, architecture, graphic design, music, fashion & beauty, finance, marketing, career, time management, leadership, economic, parenting, classic literature, historical fiction, mystery & crime, horror, poetry, romance, science fiction, drama, story, medical, fitness & diet, food & nutrition, fashion& beauty, home & garden, food & nutrition, environment, travel, spirituality, psychology, relationship, religion, self-improvement, politics, law. 
· Wi-Fi and high-speed internet for online courses, study materials, mock test, other test series for prelims, mains and interview.
· Group discussion desks, conference and video conference lectures, isolation desk for self-study both for boys' and girls' candidates.
· Multiple computers and 65-inch big monitors for VC and better classes and to see the video lectures.
· Digital library/ study material on every computer set.
· Virtual library for getting more knowledge through web links and accessing more information separate study sections for girls and boys.
· Self-study and group discussion.
· Virtual lecture through virtual guest faculties as per requirement.
· Lectures and training classes through mentors as per requirement. 
· Safety and Security – CCTV, security guards, fire extinguisher.
· Health, hygiene- separate girls and boys toilets on each floor with proper cleaning.
· Drinking water on both floors.
Registration or enrolment- 
· Survey is on and every candidate has to fill the specific registration form with certain information like their academic qualification and the stage of their preparation (prelims, mains, interview etc)so that special efforts can be made as per their requirements.
· Undertaking for abiding the library rules with the signature of a guardian is also required to avoid any unwanted circumstances. 
Books or study material on demand– 
· Enrolled candidates can place their requisition on the certain format provided by the library.
Hours- 
· 10.30 am – 5.30 pm (five days excluding Saturday and Sunday) 
Staff management- 
· KCB own staff will be deputed along with one mandatory female staff to make comfortable the girls' candidates.
· Facilities will be increased or modified as per the requirement of candidates.
Fees- 
· For the student, it will be NIL/ nominal or token so that only serious candidates may come.
Financial management- 
· CSR will be the major source for operation of centre. 
· Within last few days we have received multiple donations from various sources. 
· MLA funds are also coming.
Guest faculties- 
· Will also be on CSR basis and some will be called on honorarium basis.
Future plans-
· The study centre may be registered under centrally sponsored schemes for providing coaching fees to ST/SC candidates.
· Being a cantonment owned and operated library cum study centre; the centre may be enrolled under other schemes to get the funds under state govt or central govt.
· To motivate and to ensure the career and future of aspirants in best possible manner.