Know all about Garuds – IAF Special Forces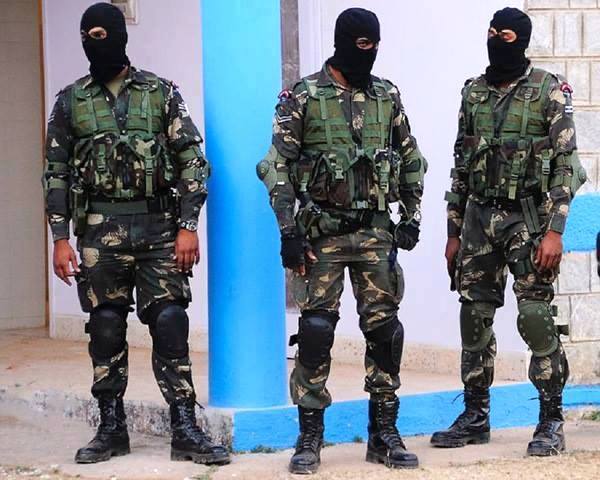 The Garuds (Special Forces of the IAF) were formed in 2003 towards providing specific in-house role capabilities to the Indian Air Force (IAF).
In 2001, there were attempts by terrorists to attack two major air bases in Jammu and Kashmir, the Indian Air Force commanders felt the need for a specialized force to protect these critical elements and to have a dedicated commando force trained in Special Forces techniques, Combat Search and Rescue, Reconnaissance,Counter Insurgency (COIN) Operations and Emergency in response to terror-threats to airfields.
At present there are about 2,000 Garuds protecting the air assets all over the country. IAF formed its first Garud Flight, teams as they are referred in the IAF, in year 2005 with 60 commandos initially and the force has been progressively growing since then. The need for forming such a force was felt after the Kargil Operations and terrorist attacks on IAF airfields in insurgency affected areas. The Garuds are trained to protect airfields from enemy and terrorist attacks, carry out hostage rescue operations, 'Radar Busting' etc. The Garuds also carry out the combat search and rescue missions (CSAR) for securing back Pilots from hostile territory.
Garuds are specially trained to be a Quick Reaction Force at important IAF bases, protect IAF high value assets, conduct search and rescue during the peace and war, and undertake counter-terrorism tasks and special missions. They are regularly tasked to assist civil authorities for disaster relief operations during calamities. Garuds have been effectively employed in Indian missions in support of the United Nations (UN) and during extrication of Indian national from war zones.
The initial Garuds trained in Commando Courses with the Indian Army, Indian Navy, ITBP, National Security Guards (NSG) and Special Frontier Force, imbibing best capabilities by their varied exposure. These Garuds were deployed in the Kashmir Valley for direct on-the-job exposure as well. Having built on the experience gained over the last 12 years, Garuds are now trained in-house by the IAF at the Garud Regimental Training Centre. Small batches of Garuds also train for specialist roles with other Services and Para-Military organizations. This special force of the IAF has participated in exercises with foreign special forces and given a good account of their training and capabilities. With their exposure to the best special force capabilities on land, at sea and in air, the Garuds are a valuable force multiplier in all kinds of combat and counter terrorism operations and are always a much- sought asset in difficult situations.
Arms
Small Arms used by Garuds include Glock 17, 19 and 26 9×19mm semi-automatic pistol, IMI TAR-21 Tavor with MORS sight 5.56×45mm assault rifle, IMI GTAR-21 Grenadier Tavor with Arsenal UBGL 5.56×45mm assault rifle, IMI STAR-21 Sharpshooter Tavor with Nimrod telescopic sights 5.56×45mm assault rifle, IMI CTAR-21 Compact Tavor with MORS sight 5.56×45mm assault rifle,INSAS 5.56×45mm assault rifle, AKMS 7.62×39mm assault rifle, MPi KMS-72 7.62×39mm assault rifle, PM Md.90 7.62×39mm assault rifle, IMI Galil 7.62 Sniper/Galatz 7.62x51mm semi-automatic sniper rifle, INSAS LMG 5.56×45mm light machine gun and IMI Negev SF 5.56×45mm light machine gun.
Training
Recruitment to the Garuds is done directly through airmen selection centers via advertisements. Garud trainees undergo a 72-week Basic Training course, which is the longest among all the Indian special forces but it also includes basic training. The total duration of training before a trainee can qualify as a fully operational Garud is around 3 years. The remainder of the phases concentrates on niche fields like jungle and snow survival, demolition, etc. Garuds also train at the diving school of the Indian Navy and the Army's Counter Insurgency and Jungle Warfare School (CIJWS). The final phase of training is active operations on being attached to Special Force Units of the Indian Army, which helps the Garuds in gaining operational experience.
* Garuds during terrorist attack at Air Force Station Pathankot
On receipt of intelligence inputs of a likely attempt by terrorists to infiltrate into military installations in Pathankot area, Air Force Station Pathankot was put on heightened alert status. Air warriors were issued arms and ammunition to protect vital assets. Air Force Garud Special Forces were reinforced from other Air Force Stations and were deployed at strategic locations around the airfield. Aerial surveillance was mounted using night vision and thermal imaging devices on board Remotely Piloted Aircraft, C-130J Special Operations aircraft and helicopters. First contact with the terrorists was made through a remotely piloted aircraft. On detection, the terrorists were immediately engaged by the Garuds. One Garud, Corporal Gursewak Singh, was martyred in the initial engagement. Terrorists opened fire on unarmed Defence Security Corps (DSC) personnel in the DSC Mess, where one of the DSC Jawans grappled with a terrorist and shot him dead. However, the DSC Jawan was killed by the other terrorists present there.
Swift response by the Station resulted in pinning down of the terrorists in a limited area, preventing their movement towards the sensitive Technical zone where bulk petroleum and weapon storage areas were located and also where aircraft were parked. A well coordinated effort by all security agencies including the Army, NSG, local police and Indian Air Force (IAF) succeeded in neutralising the terrorists. The airbase remained operational throughout and flights operated to and from the airfield during the period of engagement with the terrorists.
‪#‎Garud‬ ‪#‎Garuds‬ ‪#‎IAF‬ ‪#‎Specialforces‬ ‪#‎Pathankot‬ ‪#‎Pathankotattack‬