Kumbh Mela – Special train between Pune and Jhusi stations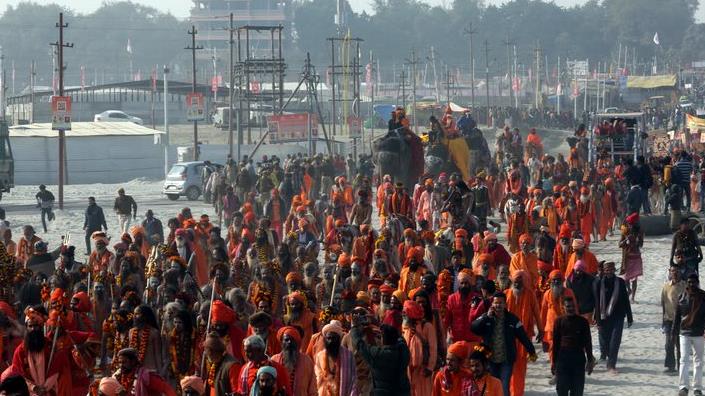 Pune – For the convenience of passengers and the additional crowd in Kumbh Mela, the railway has decided to run a superfast special train between Pune-Jhusi-Pune. Jhusi is a town in Prayagraj (earlier Allahabad) district.
01455 Pune-Jhusi Special train will depart from Pune at 20.20 hrs on 04.03.2019 and reach the third day on Wednesday, 06.03.2019 at 00.30 hrs.
01456 Jhusi-Pune special train will leave Pune at 06.15 hrs on Wednesday 06.03.2010 and reach Pune at 11.45 hrs the next day.
Stoppage: – Daund, Ahmednagar, Belapur, Kopargaon, Manmad, Bhusawal, Khandwa, Itarsi, Jabalpur, Katni, Satna, Manikpur, Allahabad
Structure: – 1 AC II Tier , 5 AC Three Tier, 6 sleeper, 4 general and 2 SLR coaches.
About Kumbh Mela
The Kumbh Mela (the festival of the sacred pitcher) is anchored in Hindu mythology. It is the largest public gathering and collective act of faith, anywhere in the world. The Mela draws tens of millions of pilgrims over the course of approximately 48 days to bathe at the sacred confluence of the Ganga, the Yamuna, and the mystical Sarasvati. Primarily, this congregation includes Ascetics, Saints, Sadhus, Sadhvis, Kalpvasis, and Pilgrims from all walks of life.
Kumbh Mela, in Hinduism, is a religious pilgrimage that is celebrated four times over a course of 12 years. The geographical location of Kumbh Mela spans over four locations in India and the Mela site keeps rotating between one of the four pilgrimages on four sacred rivers
Haridwar on the Ganges in Uttarakhand
Ujjain on the Shipra in Madhya Pradesh
Nashik on the Godavari in Maharashtra
Prayagraj at the confluence of the Ganges, the Yamuna, and the mythical Sarasvati in Uttar Pradesh
Pilgrims to the Kumbh Mela come from all sections of the religion ranging from Sadhus (saints) and Naga Sadhus who practice 'sadhana' and keenly follow a strict path of spiritual discipline, to Hermits who leave their seclusion and come to visit the civilization only during the Kumbh Mela, to seekers of spirituality, and to common people practicing Hinduism.
During the Kumbh Mela, a number of ceremonies take place; the traditional procession of Akharas called 'Peshwai' on elephant backs, horses and chariots, the shining swords and rituals of Naga Sadhus during 'Shahi Snaan', and many other cultural activities that attract millions of pilgrims to attend the Kumbh Mela.
To make Kumbh 2019 an event of unparalleled grandeur, the Government of Uttar Pradesh has undertaken multiple measures for ensuring the efficient running of the Mela. Unprecedented sustainable construction work is being done. Construction of flyovers, railway under bridges, road widening in the city and beautification of major intersections are few highlights of the massive construction and upgradation tasks being undertaken to make Prayagraj ready for Kumbh 2019.
Follow Punekar News: