LinkedIn announces India's Power Profiles 2018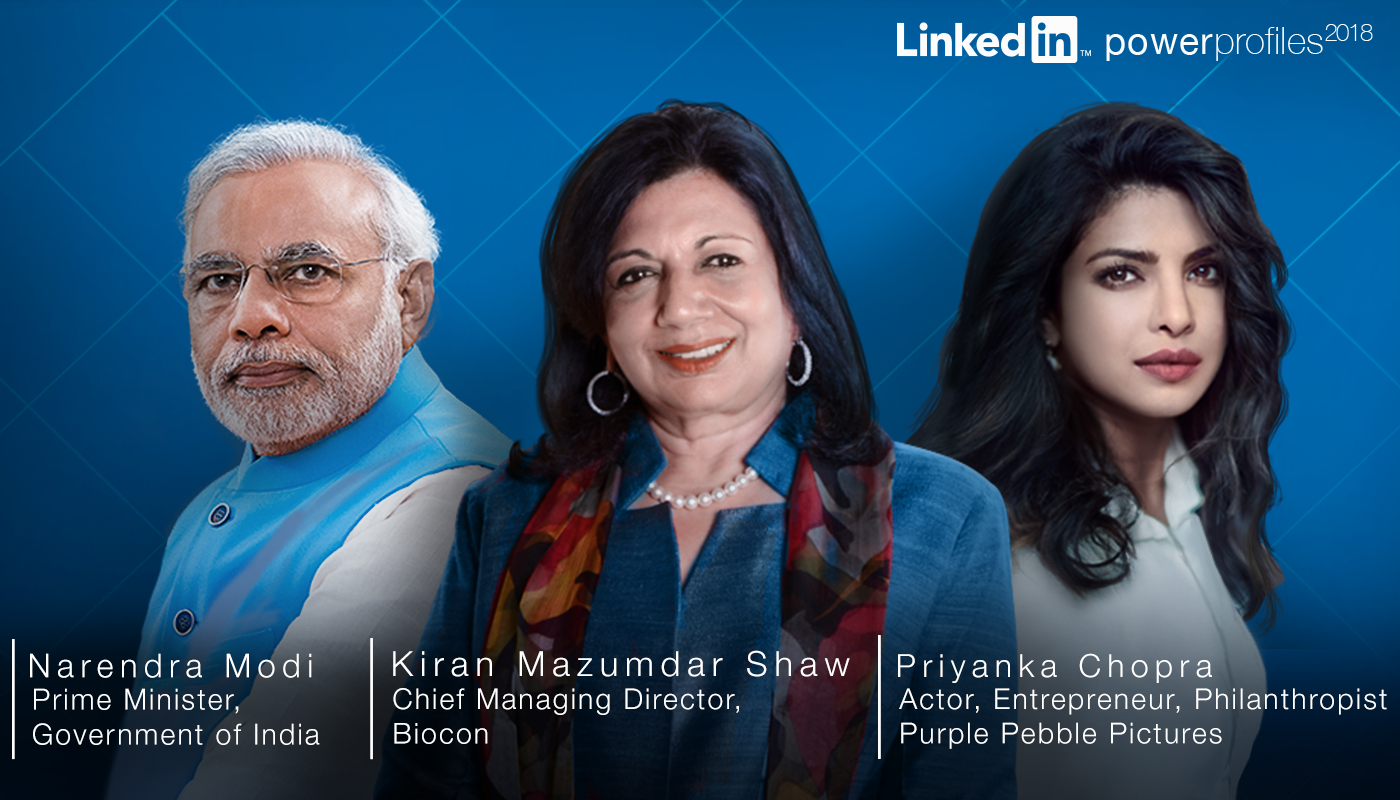 August 23, 2018: The world's largest professional network, LinkedIn is unveiling its fifth edition of India's Power Profiles 2018. The annual list is a showcase of the 'most-viewed' professionals in India across eight categories including Technology, CEOs, Finance, LinkedIn Influencers, Internet, Human Resources, Marketing & Advertising, and a newly introduced 'Social Impact' category. These top 73 professionals are industry experts with a strong voice, who shape trends of tomorrow, and have grown to become influential professional brands and opinion leaders.
Srividya Gopani, Director, Brand and Consumer Marketing, Asia-Pacific and China, "LinkedIn Power Profiles 2018 is a celebration of the most viewed professionals in India, those who are great examples of strong professional brands that inspire our 50+ million members across the country. These Power Profiles have not only had exciting journeys, but they participate in meaningful dialogue, offer perspectives, and continue to engage all our members, including young career starters. Success means different things to different people and we hope these inspiring professional journeys help others find theirs."
LinkedIn Power Profiles 2018 in India – LinkedIn Influencers
The Power Profiles that have been dominating the list year on year are Prime Minister Narendra Modi(LinkedIn Influencer); Bollywood superstar Priyanka Chopra (LinkedIn Influencer), Founder of Paytm Vijay Shekar Sharma (Internet); VP, Xiaomi and MD, Xiaomi India Manu Kumar Jain (CEOs); President & Global Chief People Officer at Cipla Prabir Jha (Human Resources); Communications consultant Karthik Srinivasan (Advertising & Marketing); and Founder & CEO of YourStory Media Shradha Sharma (LinkedIn Influencer). CMD Biocon Limited Kiran Mazumdar Shaw (LinkedIn Influencer) and Chairman, Accenture in India Rekha M Menon (CEOs) have also featured in the 2016 edition.
This year, the 'CEOs', 'Internet', and 'Technology' categories feature new names such as CEO & Co-Founder at Flipkart, Binny Bansal (CEOs); Country Manager for H&M India, Janne Einola (CEOs); CEO at Myntra and Jabong, Ananth Narayanan (CEOs); and Co-Founder & CEO at Nearbuy.com Ankur Warikoo(Internet).
LinkedIn Power Profiles 2018 in India – Technology
Women leaders Debjani Ghosh, President at NASSCOM (Technology), Nisaba Godrej, Chairperson, Godrej Consumer Products (CEOs), and Suchita Salwan, CEO & Founder, Little Black Book (Internet) are also some of the new entrants to this year's edition.
The 'Marketing & Advertising' list features veterans from some of the most talked about trendsetting brands of the year including Apple (Parul Mattoo, Apple India Head), Nykaa.com (CMO Hitesh Malhotra) and Jio (Satyarth Priyedarshi, Head of Product Marketing for JioChat).
Reliance Jio's VP of HR, Harjeet Khanduja has also been a LinkedIn Power Profile in the 'HR' category in 2016, and now once again in 2018.
Attesting to the growing trend of 'purpose' and 'giving back' as a core value for both companies and individuals, this year LinkedIn has introduced a new category, the 'Social Impact' category to recognise the most viewed professionals in this industry. These names include Ruchi Khemka, VP – CSR, Deutsche Bank India, Shruti Kapoor, Program Manager India at McKinsey Social Initiative, Kiran Verma, Founder of Simply Blood, Vineet Nayar, Founder & Chairman of the Sampark Foundation; Rachna Sharma, Founder & CEO Vision 2021, and Sheetal Mehta, Chief – CSR at Mahindra & Mahindra.
Check out this blog post on LinkedIn India's Power Profiles for 2018.
Methodology:
LinkedIn used member data to pull profile views from 2017 to 2018 to arrive at the LinkedIn India Power Profiles 2018 list. LinkedIn also applied filters to capture engagement levels, besides views. Engagement includes visits, profile completeness and other actions on the platform. LinkedIn employees were excluded from the list.
The complete list of the LinkedIn India Power Profiles 2018
CEOs

Technology

Internet

Manu Kumar Jain

MD, Xiaomi India

Taru Kapoor

General Manager – India, Tinder and Match Group

Alok Rodinhood Kejriwal

Co-Founder & CEO, Games2win India

Rekha M Menon

Chairman & Sr. MD, Accenture India

Anant Gupta

Founder, Chairman & CEO, TECHCELX

Ankur Warikoo

Co-Founder & CEO, nearbuy.com

Binny Bansal

Co-founder & CEO, Flipkart Group

Bipin Preet Singh

Founder & CEO, MobiKwik

Vijay Shekhar Sharma

Founder & CEO, Paytm

Janne Einola

CEO – Country Manager, H&M India

Girish Mathrubootham

Founder & CEO, Freshworks Inc.

Sriharsha Majety

CEO & Co-Founder, Swiggy

Sanjiv Mehta

Chairman & MD, Hindustan Unilever

Harmeen Mehta

Global CIO & Head of Digital, Airtel

Suchita Salwan

Founder & CEO of Little Black Book

CP Gurnani

CEO & MD, Tech Mahindra

Mahesh Babu

CEO, Mahindra Electric

Bhavish Aggarwal

Co-Founder & CEO, Ola

Ananth Narayanan

CEO, Myntra

Debjani Ghosh

President, NASSCOM

Pavithra Kanakarajan

Product Manager, Google

Anant Maheshwari

President, Microsoft India

Harshil Mathur

CEO & Co-Founder, Razorpay

Porush Jain

Founder & CEO, Sportskeeda

Nisaba Godrej

Executive Chairperson,
Godrej Consumer Products

Abhinav Lal

Co-Founder & CTO, Practo

Manish Tiwary

VP, Amazon

Amitabh Ray

MD, Ericsson Global Services, India

Ashish Goel

Founder & CEO, Urban Ladder
LinkedIn Influencers

Finance

Human Resources

Priyanka Chopra

Actor, Entrepreneur, Philanthropist, Purple Pebble Pictures

Tapan Singhel

MD & CEO, Bajaj Allianz General Insurance Co. Ltd.

Prabir Jha

President and Global Chief People Officer, Cipla

Narendra Modi

Prime Minister of India

Adhil Shetty

CEO, Bankbazaar.com

Ruhi Gupta

VP – Talent Acquisition, Morgan Stanley

Shradha Sharma

Founder & CEO, YourStory Media

Amit Shah

Sr. President & Country Head, YES BANK

Nathan SV

Partner and CTO, Deloitte India

Vani Kola

MD, Kalaari Capital

Rajiv Sabharwal

MD & CEO, Tata Capital

Shilpa Vaid

Chief HR Officer, Arvind Lifestyle Brands

Ravi Venkatesan

Chairman of the Board, Bank of Baroda

Hansi Mehrotra

Founder, The Money Hans

Arpita Pamnani

AVP, HR – Talent Acquisitions, DCB Bank

Kunal Bahl

CEO & Co-Founder, Snapdeal

Rachna Bahadur

MD, Goldman Sachs

Harjeet Khanduja

VP-HR, Reliance Jio

Ronnie Screwvala

Co-Founder, Unilazer Ventures

Sneha Oberoi

CFO, Wockhardt Hospitals

Vishpala Reddy

Regional HR Director & Head – Uber, Asia Pacific

Santosh Desai

MD & CEO, Futurebrands

Aashish P Sommaiyaa

CEO, Motilal Oswal Asset Management

Madhavi Lall

MD, Head – HR, India, Deutsche Bank India

Kailash Satyarthi

Nobel Peace Laureate & Founder, Kailash Satyarthi Children's Foundation

Srikanth Balachandran

Director, Airtel

Kiran Mazumdar Shaw

CMD, Biocon Limited

Rajkamal Vempati

Head – HR, Axis Bank
Marketing & Advertising

Social Impact

Satyarth Priyedarshi

Head of Product Marketing, JioChat

Vineet Nayar

Founder & Chairman, Sampark Foundation

Parul Mattoo

Head- Demand Generation, Apple India

Kiran Verma

Founder, Simply Blood

Hitesh Malhotra

CMO, Nykaa.com

Rachna Sharma

Founder & CEO, Vision 2021

Karthik Srinivasan

Communications consultant

Ruchi Khemka

VP & Head – CSR, Deutsche Bank, India

Manmeet Vohra

Head Marketing, Visa

Sanu Mathew

CSR Head, GMRVF

Shilpa Dureja Puri

Director Marketing, Digital & Experiential,
Microsoft

Sheetal Mehta

Chief – CSR, Mahindra & Mahindra

Prashanth Challapalli

COO, Leo Burnett Orchard

Shruti Kapoor

Program Manager India at McKinsey Social Initiative

Sourav Shah

Head of Digital Marketing & CRM,
Jubilant FoodWorks

Mahboob Waris

Founder & MD at Patient Primus
###