Lockdown: No Traffic on Pune-Mumbai Expressway, 190-year-old Amrutanjan Bridge to be demolished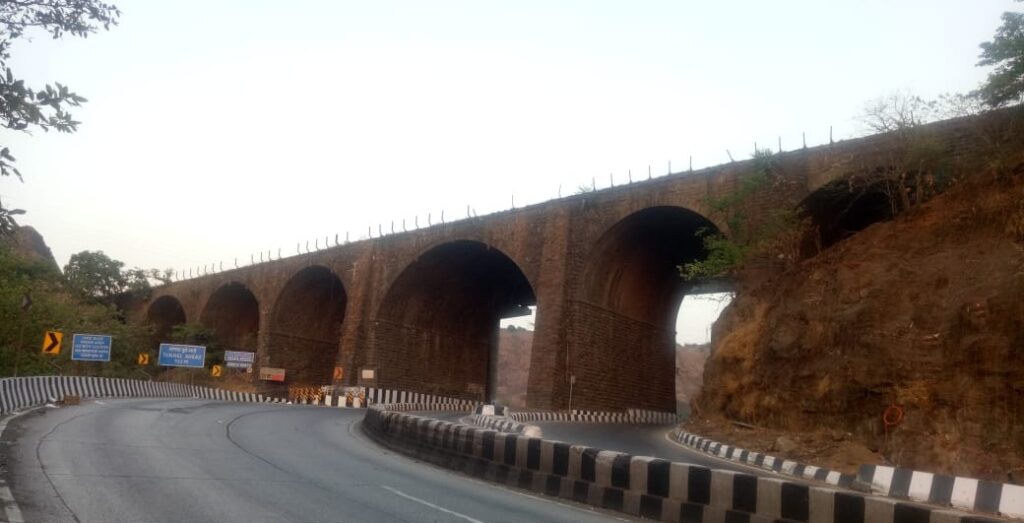 Lonavala (Pune), April 3, 2020: The Maharashtra State Road Development Corporation (MSRDC) has obtained permission from the Raigad district collector to finally demolish the historical Amrutanjan Bridge, which has been causing hindrance to the traffic on the Pune-Mumbai Expressway.
The bridge located near Khandala ghat was built by the British in 1830 but it has been unused after another bridge parallel to it was built, during the construction of the Expressway, in the late 1990s, which passes under the bridge. The road is S-shaped under the bridge leading to several accidents. Also, people have been doing stunts, photography and many have lost their lives there.
As per press release issued by the Highway Safety Patrol (HSP) Superintendent of Police (Thane) Digambar Pradhan, the Expressway is currently almost deserted due to the nationwide lockdown in the backdrop of Coronavirus outbreak. There were already plans to demolish the bridge as it has been causing accidents and becoming a hindrance to smooth traffic flow on the Expressway. But due to heavy traffic, it could not materialise. Now, the bridge will be demolished using explosives between April 4-14, 2020.
Therefore, between April 4-14, to ensure no vehicular movement affects the demolition work, there will be traffic diversion from Pune side at Anda Point, while from Mumbai side there will be a diversion at Lonavala exit. The traffic will be routed through the old Mumbai-Pune highway. At present vehicles engaged in the transportation of essential commodities are plying besides few vehicles granted permission due to some emergency.
According to MSRDC, the bridge was built within 352 days in 1830 by British Captain Hughes, who is credited with the construction of the railway line between Mumbai and Lonavala. The bridge remained a vital link between the two cities. Later, there was a huge hoarding of headache-balm Amrutanjan on the façade of the bridge and people started referring to it as Amrutanjan bridge.
The Mumbai Pune Expressway (officially Yashwantrao Chavan Expressway) is India's first six-lane concrete, high-speed, access controlled tolled expressway. It spans a distance of 94.5 km connecting Mumbai, the capital of Maharashtra state and the financial capital of India, with Pune, the cultural and educational capital of Maharashtra. The expressway, which was fully operationalized in 2002, introduced new levels of speed and safety in automobile transportation to Indian roads. It is one of India's busiest roads.