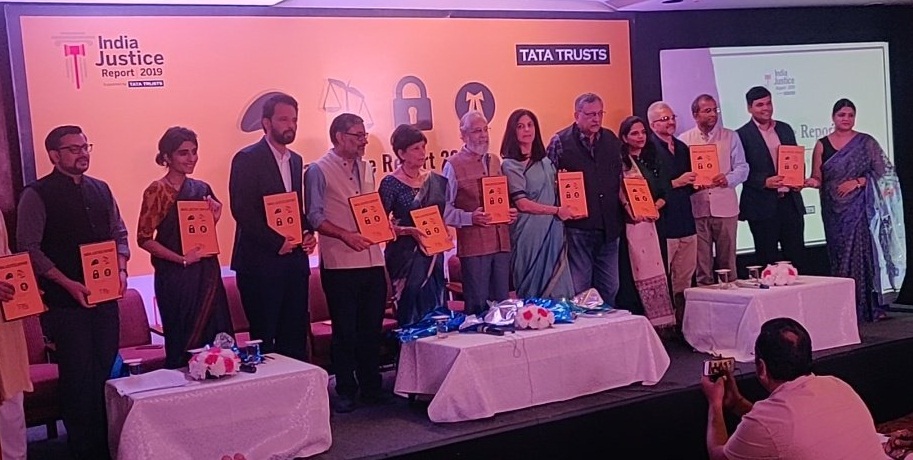 New Delhi, November 7, 2019: India's first ever ranking of States on their capacity to deliver Justice to citizens, announced here today, lists Maharashtra at the top of the 18 Large and Mid-sized States (with population of over one crore each), followed by Kerala, Tamil Nadu, Punjab and Haryana. The list of seven Small States (population less than one crore each) was topped by Goa, followed by Sikkim and Himachal Pradesh.
The ranking is part of the India Justice Report (IJR) 2019, an initiative of Tata Trusts in collaboration with Centre for Social Justice, Common Cause, Commonwealth Human Rights Initiative, DAKSH, TISS- Prayas and Vidhi Centre for Legal Policy.
Through a rigorous 18-month quantitative research, the India Justice Report brings together, in the first such exercise, otherwise siloed statistics, from authoritative government sources, on the four pillars of Justice delivery – Police, Judiciary, Prisons and Legal Aid. These four pillars have to function harmoniously for citizens to be satisfied with Justice delivery.
Each pillar was analysed through the prism of budgets, human resources, personnel workload, diversity, infrastructure and trends (intention to improve over a five-year period), against the State's own declared standards and benchmarks. Basis these filters, the Report assesses how all the 29 states and seven UTs have capacitated themselves and, out of them, ranks the 18 Large and Mid-sized and seven Small States introducing a spirit of competitiveness. It showcases the strengths and deficits in each State and UT, helping each to pinpoint interventions.
The Report also highlights stark conclusions, when aggregated for an all-India picture. Vacancy is an issue across the pillars of the Police, Prisons and the Judiciary, with only about half the States having made an effort to reduce these over a five-year period. For instance, the country, as a whole, has about 18,200 judges with about 23% sanctioned posts vacant. Women are also poorly represented in these pillars, constituting just 7% of the Police. Prisons are over-occupied at 114%, where 68% are undertrials awaiting investigation, inquiry or trial. Regarding budgets, most States are not able to fully utilise the funds given to them by the Centre, while the increase in spending on the Police, Prisons and Judiciary does not keep pace with overall increase in State expenditure. Some pillars also remain affected by low budgets. India's per capita spend on free legal aid—which 80% of the population is eligible for — for instance is 75 paise per annum.
Speaking at the launch, Justice (retd.) Madan B. Lokur said: "This is a pioneering study, the findings of which establish beyond doubt very serious lacunae in our Justice delivery system. It is an excellent effort to mainstream the issues concerning our Justice system, which in fact affect every aspect of society, governance and the economy. I fervently hope the Judiciary and the Government will take note of the significant findings, and the States too will act to urgently plug the gaps in management of the Police, Prisons, Forensics, Justice delivery, Legal Aid and filling up the vacancies."
What the Report Found:
National Main Findings
Nationally, high vacancies in the justice system; 22% in the Police (1st Jan 2017), 33% – 38.5% in Prisons (31st Dec 2016) and in the Judiciary 20% – 40% (2016-17)
Over five years, Gujarat was the only State to reduce vacancies across all posts across the Police, Prisons and Judiciary. Jharkhand saw an increase in the same posts over five years (CY 2012-2016 for Police and Prisons, and CY 2013-2017 for Judiciary)
No State/ UT is able to meet all its diversity quotas (ST, SC and OBC); Karnataka comes closest — having met its ST and OBC reservations, and missing its SC reservation target by four per cent
Women are poorly represented across the Justice system. They account for seven per cent of the Police (2017), 10% of Prison staff (2016) and about 26.5% of all judges in the High Court and subordinate courts (2017-18)
The average area covered per rural Police station in 28 States and UTs, exceeded 150 sq. km, a benchmark given in 1981 by the National Police Commission. Legal services clinics, created for easily accessible Legal Aid and assistance, served 42 villages on average, nationally (2017-18)
The Justice system is affected by low budget allocations. The per capita spend on Legal Aid was just 75 p (2017-18). Punjab was the only Large state whose Police, Prison and Judiciary expenditures were able to increase at a pace higher than the increase in overall state expenditure (FY 2012-2016)
As of 2016-17, only six States i.e. Gujarat, Daman and Diu, Dadra and Nagar Haveli, Tripura, Odisha, Lakshadweep, Tamil Nadu, and Manipur managed to clear as many court cases as were filed. As on August 2018, Bihar, UP, WB, Odisha, Gujarat, Meghalaya and A&N Islands, had nearly one in four cases pending for more than five years
Undertrial prisoners, awaiting investigation, inquiry or trial, account for 68% of the inmate population (Dec 2016). In 33 States and UTs, the share of undertrial inmates was above 50 per cent (Dec 2016). Over five years, only 13 States and UTs were able to annually reduce this population.
Nationally, as of March 2018, there is a shortage of 4,071 court halls against the sanctioned number of judges.
On average, there's only one correctional staff for every two prisons with only 621 correctional staff across 1412 prisons (31st Dec 2016)
The Report found that across States there are massive shortfalls in all the four key pillars:
Police:
| | |
| --- | --- |
| Number of States and UTs where women account for more than 10% of the Police force. | 8 |
| Number of States/UTs that filled at least 80% of posts reserved for SC, ST and OBC officers (Karnataka and Andhra Pradesh) | 2 |
| Number of States/UTs that used all the money allocated to them by the Centre for the purpose of modernising their force (Nagaland) | 1 |
| Average vacancy across police staff categories in States | 22% |
| Number of States/UTs that have reduced vacancies at both constable and officer levels over a five-year period. | 10 |
Prisons:
| | |
| --- | --- |
| Number of States/ UTs in which vacancy at the officer level exceeds 20% | 24 |
| Number of States/UTs in which vacancy at the cadre level exceeds 20% | 20 |
| Number of inmates handled by the one sanctioned correctional staff in UP | 95,366 |
| Number of States/ UTs where Prison occupancy exceeds 100% | 19 |
| Number of States/ UTs where share of women in Prison staff is below 10% | 17 |
Legal Aid:
| | |
| --- | --- |
| The number of States which used their full budget allocation from NALSA | 0 |
| Number of States/ UTs whose contribution to their Legal Aid budget was more than 50%. | 16 |
| Number of States/ UTs where the share of women among panel lawyers is above 20%. | 20 |
| Number of States and union territories where the average number of villages covered by a Legal Aid clinic is less than six. | 6 |
| The average number of villages serviced by a Legal Aid clinic in Uttar Pradesh. | 1603 |
Judiciary:
| | |
| --- | --- |
| Number of High Courts where judge vacancy is below 20% (Sikkim) | 1 |
| Number of subordinate courts where judge vacancy is below 20% | 16 |
| Number of States that currently have a shortage in court halls against sanctioned judges | 24 |
| Share of cases in Bihar subordinate courts that have been pending for above five years | 39.5% |
| Number of States that had a case clearance rate above 100% in both High Court and subordinate court levels (Odisha and Tripura) | 2 |
The India Justice Report evidences such gaps and deficits at the level of each State and UT, allowing perusers to realise the urgency needed in repairing the system. This will allow duty holders and policymakers to identify where weaknesses are and undertake appropriate interventions with ease, working towards improving the overall capacity of the Justice system to deliver to all citizens
Commenting on the Report, Justice (retd.) B.N. Srikrishna has said: "We need more such reports that shine light on the Justice sector as a whole. I would urge the government to partner with civil society in improving Justice delivery across the country."
Ms. Shireen Vakil, Head of Policy and Advocacy at the Tata Trusts, said: "The India Justice Report, the output of a rigorous data-led quantitative research for the last 18 months, assesses together for the first time all the pillars of Justice delivery – Police, Judiciary, Prisons and Legal Aid — as one system because all four need to function harmoniously. The India Justice Report is meant to be a useful tool to help further the delivery of justice. Thus far, all studies have been siloed, probing one or the other of the four. The report will be presented to State Governments."
Ms. Maja Daruwala, Chief Editor, India Justice Report 2019, said, "Access to Justice has to be available to all. It is the right of each one of us. It has to be easily available affordable and efficient. And it must be fair. The data shows that the capacity to deliver is falling far below the demand. This is a matter of great urgency. We hope that the discussions around the ranking will prompt States to make strenuous efforts to improve the delivery of Justice."
Dr Rajiv Kumar, Vice Chairman of the NITI Aayog, has said, "I am very pleased to note that Tata Trusts has brought out this ranking of States on Justice. The NITI Aayog would like to extend all the support possible in taking this exercise to State Governments so that we can foster a healthy competition towards improving the capacity of their Police, Prisons, Judiciary and Legal Aid. I think it is absolutely crucial that we appreciate the close link between a robust and effective Justice delivery system and the country's overall socio-economic development".
Mr. Amitabh Kant, CEO, NITI Aayog, has said, "This Report beautifully dovetails with the Government's efforts to initiate new structural reform measures as well as hasten the ongoing ones. I do hope that Tata Trusts and other partner organisations do not stop at this and continue to amplify the findings of the Report through stronger engagement with Justice delivery institutions".